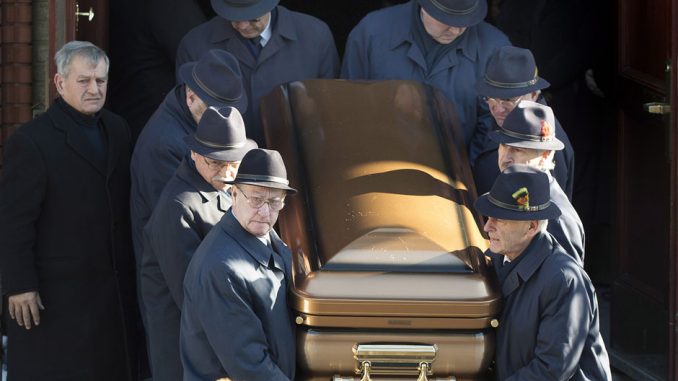 Funeral service of well-known Montreal Mafia boss, Vito Rizzuto, was witnessed by hundreds of mourners, along with bystanders and police, as it took place on Monday in the same church where his son and father were remembered after their violent deaths. Bells were rung as Rizzuto's gold-coloured casket was brought out of the Notre-Dame-de-la-Defense Church in the heart of Montreal's Little Italy.

Soon after the service concluded, friends and family members of the deceased left the church in a series of almost a dozen limousines. In addition to that, elaborate flower arrangements were tied to the bumpers. The traditional Roman Catholic service took approximately an hour to sum up. Soon after the ceremony concluded, the priest who oversaw the ceremony, Igino Incantalupo, affirmed that "it was a very simple funeral," while adding that "people displayed a very, very surprising level of calm and seriousness."

67-year-old Rizzuto passed away due to natural causes while in a Montreal hospital last Monday. His natural death follows the violent and tragic deaths of his son Nick in 2009 and his father Nicolo in 2010. Vito Rizzuto' son, Nick Rizzuto, was shot dead on the street, while his father, Nicolo Rizzuto, was shot by a sniper in his Montreal mansion. Consequently, police was present in enhanced numbers outside the church on Monday, as cop cars directed traffic away from the busy street while investigators in unmarked vehicles could be seen snapping photos of mourners. Despite the bone-chilling cold, a crowd of people watched the scene unfold from across the street.