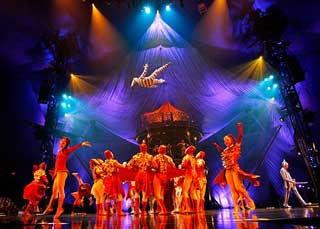 Myrtle Jenkins-Smith works her magic again losing $1 million taxpayer's money on Cirque du Soleil this year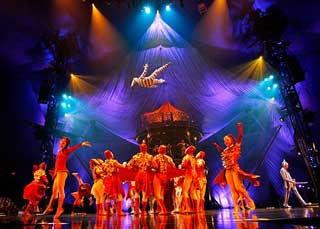 That adds another losing venture for PEI sponsored by Ms. Jenkins-Smith. She achieved notoriety first with the failed
Alanis Morissette
concert.

Canada Day Weekend a Bust
Doug Newson President of Tourism Charlottetown wouldn't disclose the exact losses for the Canada Day Weekend festivities renamed "Summerfest". He is, however, looking for a $1 million loan or grant from the Province to cover their losses.

"That target is moving around," President Newson told CBC. "It will be in the $1 million range. It could be a little bit less, it could be a little bit more."
In the past Tourism Charlottetown has earned half it's annual income from the Canada Day Weekend. Now they are facing a $1 million loss.
Back in June, Myrtle Jenkins-Smith the Executive Director of Tourism Charlottetown, was bullish on the prospect for Cirque du Soleil.
"Ticket sales are going very well, phone ringing off the wall for the last number of weeks as people realize now we have this," Jenkins-Smith told CBC.
"The provincial government will spend $250,000 to make the Cirque show possible," wrote Paul MacNeill in the
Eastern Graphic
. It's a lot of money for taxpayers to invest. Some will object and grumble. But it's an investment that should bring significant dividends for the whole Island, and that makes it worthwhile."
Cirque du Soleil was a dumb idea then and a dumb idea now. It's all about marketing which skills Tourism PEI and Ms. Jenkins-Smith are little shy on.

Marketing tourism
Marketing is largely about branding. The Charlottetown, PEI brand established over many years for the Canada Day Weekend was The Festival of Lights. Love it or hate it, the weekend was synonymous with the term.
It meant music, generally rock and roll, with a big social atmosphere and some complaints from downtown residents over vandalism and drunks.
Changing the name of the festival was a bad mistake. It took years to build the brand. In one stroke of marketing stupidity they eliminated all the links on the internet and all the memories of people who might want to go.

Summerfest was the new name, ironically close to the name Jenkins-Smith used for her failed Alanis Morissette concert.
Was it in Summerside, PEI? That was the logical first idea of everyone including me. I looked for tickets to The Festival of Lights on the internet. There was nothing to tell me it had changed names but when I found "Summerfest" I moved to something else to do because I didn't want to travel to Summerside for the day. Not that Summerside is a less desirable venue: I simply wanted to stay in Charlottetown.
Second marketing mistake was to book Cirque in the first place. You can't create a market for something on one pass. How many Islanders have seen Cirque? Not many I'd venture.
Therefore, acceptance of this high priced show as an attraction is likely poor in the community.
Did anyone ever tell Tourism Charlottetown and Jenkins-Smith it's hard to break in a new act at the top? Cirque is not new in Montreal, Toronto, or Las Vegas but they are new to PEI.
How did Cavendish Beach break a new idea – country music weekend – last year? PEI and the surrounding provinces and states already had more than a million people listening to country music on a the radio, in their cars, on the stereo and on TV. That's an identifiable audience who might buy tickets even to a slightly off-the-beaten-track location.

What's next for Tourism Charlottetown
Newson said they had signed a $6 million, three year contract with Cirque and are trying to get out of it. More red ink there as they will likely have to pay a break fee. Cirque has bookings far into the future and can easily argue losing the week in Charlottetown will cost them revenues.
"We've realized that the risk and the exposure with that type of event is something that we just can't continue," said Newson. "At this point in time we are in negotiations with Cirque to probably get out of the next two years of the contract." (CBC)
The Province is said to be hiring a consultant to review the financial stability of Tourism Charlottetown. The taxpayers of PEI continue to pour money down a hole.
Isn't that the job Jenkins-Smith was supposed to perform? Here's what Newson said in the Guardian back in the spring of 2010.
"(Doug) Newson said that under Jenkins-Smith's leadership as CEO of the organization, TCI will develop a new strategic plan in the weeks ahead that will strengthens TCI's mandate to attract visitors and to stimulate economic growth."
Charlottetown Guardian
I think the consultants should have a look at the losses from changing horses in mid-stream. If we lost $1 million this year establishing the beginning of the market for Cirque in the maritimes, it might pay us to keep the contract and market the event using better talent than Tourism Charlottetown.