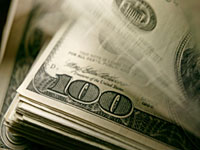 Is a weaker dollar good for the U.S. economy? That was a question for Fast Money Traders Thursday morning as the dollar index continued to hit fresh three-year lows following the Fed's decision to keep rates low for an extended period.

"The dollar is under assault," wrote Dennis Gartman in The Gartman Letter. "There really is no other way to explain it."

But while the dollar was falling from the combination of Fed monetary policy and weaker-than-expected GDP data, the stock market was near flat Thursday as traders weighed the implications the declining currency for corporate earnings. The Commerce Department said today that GDP growth slowed to 1.8% in the first quarter. The decline followed yesterday's cut to full year GDP estimates by the Fed from 3.4% to 3.9% to 3.1% to 3.3%.

On one hand, a weaker dollar is good for major U.S. exporters, materials companies, and energy firms. Because commodities are priced in dollars, the weak dollar tends to lead to higher commodity prices and higher earnings in dollar terms for the likes of Exxon Mobile, Freeport-McMoRan and Alcoa.

However, to the extent that the dollar is weak because of poor U.S. economic growth, a weak dollar is a bad signal for stocks – particularly companies highly leveraged to U.S. household consumption.

Brian Sozzi, a retail analyst at Wall Street Strategies, is expecting retail stocks to weaken in the back half of the year due to commodity-driven consumer spending declines.

"The consumer will be hit with price increases from all angles," said Sozzi in a telephone conversation. "There is a good chance that gasoline prices will average $4 a gallon and companies are raising prices. A $900 freezer at Home Depot may soon be $970. Maybe that stops the consumer from buying."

* Today's blog is written by Catherine Holahan

For the best market insight, catch 'Fast Money' each night at 5pm ET and the 'Halftime Report' each afternoon at 12:30 ET on CNBC.