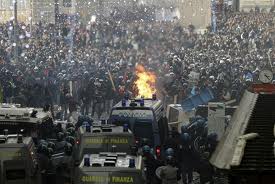 Since the turmoil in Egypt intensified last week, grains have solidly outperformed gold as the revolt signaled a global transition from mild concern about rising inflation to sheer panic about food inflation-induced insurrections around the globe.
"The event in Egypt could lead to another jump in global grain prices as political leaders in many countries step up food imports and restrict food exports in an attempt to reduce the likelihood of domestic food riots," wrote Jacqueline Madu, Credit Suisse Emerging Markets Economist in a note to clients.
The PowerShares DB Agriculture Fund (DBA) is up 3 percent since Wednesday as the Market Vectors Egypt Index ETF (EGPT) is off by more than 7 percent. Gold is little changed. The agriculture ETF is up 34 percent over the last 12 months, surpassing the SPDR Gold Trust (GLD) at the start of this year, as key components of the fund, such as corn, soybeans, wheat and sugar, surged.
Egypt is among the largest importers of wheat on the globe. Other Middle East countries that could face turmoil without securing food supplies include Syria, Libya and Jordan, investors said. China has already instituted some price controls on food in order to keep stability. Restrictive economic and social policies combined with rising costs for the poor to feed their families are a formula for an uprising.
Flooding in Australia and decreased acreage produced in the U.S. got the rally in grains started long before the Egypt upheaval began, but some foreign governments believe the Federal Reserve's policy of keeping interest rates so low for such a long time is the real scapegoat behind a global inflation outbreak that has suddenly gotten serious.
"Watch to see if foreign politicians and central bank governors begin to ramp up their criticism of the US Federal Reserve monetary policy that is perceived as a cause of the global inflation," said Andrew Busch, global currency & public policy strategist at BMO Capital Markets. "From riots to tighter monetary policy, food inflation will continue to drive global instability."
Gold was the hottest trade of 2010 as everyone from hedge fund manager John Paulson to Sovereign wealth funds looked to bullion as a store of value in a world where many countries were trying to devalue their paper currencies. Now, for many countries, they don't need a store of value, but rather a store of power.
"There are simply too many countries facing food shortages for their people as the prices for proteins, grains, and foodstuffs have escalated beyond their abilities to purchase and it has become a problem that government must solve in order to stay in power," said Jim Bower of Bower Trading, in a note this morning.
Bower quoted a Byzantine proverb in his note: "The nation with too much bread has many problems: the nation with too little bread has only one problem."
For the best market insight, catch 'Fast Money' each night at 5pm ET and the 'Halftime Report' each afternoon at 12:30 ET on CNBC.
Ref: http://www.cnbc.com/id/41352448
John Melloy is the Executive Producer of Fast Money. Before joining CNBC, he was an editor for Bloomberg News, overseeing the U.S. Stock Market coverage team.