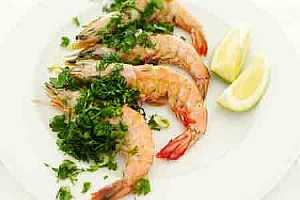 Steamed Prawns and Mango Salad with Fresh Coriander
Ingredients
Medium sized prawns: 250 gm
(de-shelled and headless)
Carrots: 50 gm (peeled and diced),
Leeks: 50 gm
Celery: 20 gm
Bay leaves: 2 gm
Peppercorn: 2 gm
Lemon juice: 2 gm
Dijon mustard: 5 gm
Olive oil: 20 ml
Mango: 100 gm
Sugar 10 gm
Sweet paprika
powder: 1 gm
Sweet chilly sauce (optional)
Salt and pepper to taste
Preparation
Blanch prawns in water with carrots, leeks, celery, bay leaf, peppercorn and lime juice. Let it cool and remove prawns to the side.
Marinate them in salt, pepper, lemon juice, fresh coriander and mustard. Chop the mango into bite-sized dices. Marinate in salt, black pepper, olive oil, lemon juice and sweet paprika powder. Optionally, you can marinate them in sweet chilly sauce. Skewer two pieces of prawns and two pieces of mango alternatively on a four-inch satay stick. Serve chilled.
Cucumber Cups with Pineapple and Pomegranate Salsa
Ingredients
Cucumber: 250 gm
Pineapple: 100 gm
Pomegranate seeds:
50 gm
Rock salt: 2 gm
Plain salt: 1 gm
Roasted cumin: 2 gm
Sugar: 1 gm
Fresh mint leaves: 5 gm
Olive oil: 1 tbs
Paprika
powder to taste
Preparation
Cut cucumber into 1 inch-thick discs and scoop out the insides half way through to create a cup. Check and make sure that the cucumber is not bitter.
Make a salsa by chopping the pineapple into fine dices, just as big as the pomegranate seeds. Add salt, pepper, olive, mint, paprika powder and sugar. Let it rest. Fill salsa into cucumber cups and garnish with fresh coriander. Serve chilled.
Cucumber, Mint and Melon Skewers
Ingredients
Cucumber:
100 gm (diced)
Watermelon: 100 gm (diced, seeded)
Musk melon (diced
seeded)
Fresh mint leaves: 20 gm
Lemon juice: 30 ml rock
Salt and sugar to taste
Preparation
Chop the cucumber, watermelon and musk melon into equal bite
sized dices.
Marinate in rock salt, lemon juice and a little sugar. Serve skewered.
Boiled Eggs Stuffed with Tuna Salad
Ingredients
Eggs: 8
Tuna chunks in oil: 2 cans
Onions: 50 gm
Red bell pepper: 20 gm (diced)
Parsley: 20 gm
Lemon juice: 2 gm
Grated lemon rind: 1 gm
Olive oil: 20 ml
Mayonnaise: 50 gm
Black olives: 50 gm
Sweet paprika powder, salt and black pepper to taste
Preparation
Hard-boil the eggs and let them cool. Peel, cut into halves and carefully remove yolks. Mix tuna, onion, parsley, salt, pepper and lemon juice together. Add paprika to taste and adjust seasoning as required. Add mayonnaise to bind ingredients together.
Spoon the salad into the egg halves. Garnish with chopped parsley, freshly ground pepper and sliced black olives.