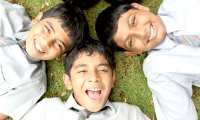 EXPECTATIONS 'Will it be another Taare Zameen Par?' – That's the first thought that comes to the mind before one plays on the music of Stanley Ka Dabba. After all, the world is aware that how the man at the hot seat, Amole Gupte, was closely involved with the making of Darsheel Safary-Aamir Khan starrer as well. The musical team is different here though as instead of Shankar-Ehsaan-Loy and Prasson Joshi, the men entrusted to do the job are Hitesh Sonik (as composer) and Amole Gupte (who brings himself on as the lyricist). Since this is an entirely new team, one does get a tad apprehensive about what would eventually be in store.
MUSIC One thing noticeable about the tracks in Stanley Ka Dabba is that each of these is a solo number with only a solitary song featuring a female voice. First to come is 'Life Bahot Simple Hai' which, both musically as well as lyrically, carries a feel of a television commercial. Yes, there is simplicity in sound as well, something which goes well with the idea behind the song. However the end result is just about okay and not really the kind that would make you go gaga over it. Next to arrive is an out and out original number which is about a 'dabba', i.e. a tiffin box. Boasting of a catchy rhythm that gets etched in your mind after being heard 3-4 times, 'Dabba' is a Sukhwinder Singh solo where he goes totally restrained behind the mike. It is obvious that he was conscious of the fact that this is a children's film and hence doesn't go overboard in his rendition. Lyrics too belong to the kind that one associates with Gulzar. Yet another simple song with a 'desi' feel to it, this one should look good on screen. From the very first note, 'Nanhi Si Jaan' sounds like a Shankar-Ehsaan-Loy composition and one of the major reasons behind that is the fact that it is Shankar Mahadevan himself who has come behind the mike. A number with slight Western touch to it with the sound of drums in the background accentuating the overall effect, 'Nanhi Si Jaan' is the first song in Stanley Ka Dabba that actually reminds one of the soundtrack of Taare Zameen Par. If the film turns out to be a success, this song would certainly be one of the highlights. Boasting of a subtle start, 'Tere Andar Bhi Kahin' is a Vishal Dadlani solo as he too restrains himself from going full throated and instead goes totally subtle for this theme track which makes for a quiet hearing. A situational song that belongs to the kind that becomes more popular after being seen on the screen rather than just heard, 'Tere Andar Bhi Kahin' haa a poetic feel to it and due to that has more appeal for adults rather than kids due to the messaging it comes with. No wonder, there is a child version added which is titled 'Tere Andar Bhi Kahin – Aditya Rox'. Crooned by Aditya Chakravarty, this 100 second version is strictly for the screen. For the first time in the album a female voice is heard with Hamsika Iyer crooning 'Jhoola Jhool'. Sounding like a 60s lullaby, this one doesn't quite make you jump with joy as it makes for a very average listening. Last to arrive is 'Thirsty – Stanley's Theme' which is a near three minute long musical piece which is slow, subtle, gentle and goes well with the genre that Stanley Ka Dabba belongs to. It should do well as a part of the film's background score.
OVERALL Stanley Ka Dabba is a decent soundtrack with songs like 'Dabba' and 'Nanhi Si Jaan' promising to be popular, though if and only if the film succeeds at the box office. Not really the kind that would make a huge impact commercially, the music of Stanley Ka Dabba is strictly situational.
OUR PICK(S) Dabba, Nanhi Si Jaan