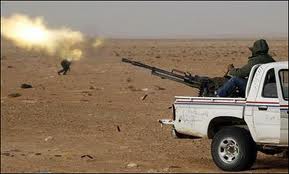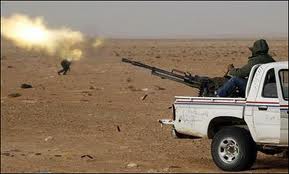 Opinion: Predictions said Libya would turn into a stalemate. Have we arrived at that point? The rebels are disorganised and poorly equipped. Gaddafi has trained troops who are well armed. The headlines have named various centres as falling back and forth into the control of loyalist forces then opposition forces. There doesn't seem to be a decisive action one way or another, just a continuing jockeying for position.
VOA is reporting that Abdel Fattah Younes, the head of Libya's rebel forces has criticized NATO for failing to quickly carry out airstrikes in the western city of Misrata. These delays have allowed loyalist forces to advance and as a consequence caused civilian deaths. NATO is explaining that Gaddafi is using civilians as human shields and hiding his armour in populated areas which is preventing NATO from identifying and targeting his forces. Rebel officials are disputing these claims.
This war of words comes after rebels were forced to retreat near the eastern town of Brega.
Diplomatic Efforts
The Washington Post writes that Italy has become the third country after France and Qatar to officially recognise the opposition Transitional National Council as Libya's legitimate government. Kuwait said it expected to follow suit in the coming days.
The Gaddafi regime has made overtures on the diplomatic front in an attempt to end the fighting. Acting Libyan Foreign Minister Abdul Ati al-Obeidi has visited Greece and Turkey presenting a plan whereby Gaddafi would turn control of western Libya over to his son Saif al-Islam. However such an idea has been flatly rejected by the rebels. Their precondition is that Gaddafi and his regime must leave and this includes Gaddafi's sons.
The U.S. Treasury and British Foreign Office are proposing to remove restrictions on assets and travel if Gaddafi's family and top aides publicly withdraw support for the regime. While not finalized, the plan is an attempt to crumble the regime from within, isolating the Libyan leader and leaving him no choice but to step down and give up power in the country. The question remains as to where he would go since many countries are not too welcoming towards Gaddafi but it is an effort to win the war without any more fighting.
As a first step towards luring more loyalists away from Gaddafi, on Monday, the United States lifted financial sanctions against former Libyan foreign minister Moussa Koussa. Koussa secretly left Libya and flew to Britain last week in a much publicized break with the Gaddafi regime. How he is handled will be controversial as his treatment is seen as a means of enticing other officials to leave, but it is well known that he was complicit in the Lockerbie bombing and there are those who want to see him brought to justice for it.
Telegraph TV – Apr 6/2011
Rebel leader condemns NATO inaction
The leader of the Libyan rebels says that NATO is not doing enough to protect the citizens of Misurata.
Opinion
Surprisingly enough, there doesn't seem to be much to report. Why not? It would seem we have a stalemate. Bombing from the air can only do so much and at this point, it is up to the rebels. Will Gaddafi just get tired of the whole thing and leave? He must realise that there is no way he's going back to the way things were. As the joke goes, you can't get the toothpaste back into the tube. The rebels will not accept him staying in power and the international community would not object if he disappeared from the scene.
Click HERE to read more from William Belle
Article viewed at: Oye! Times at www.oyetimes.com