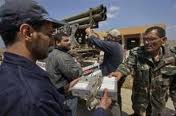 Read my lips: No ground troops.
CNN published an article today entitled, "Does Libya mission need ground troops after all?" in which they report that the European Union is prepared to go in for "humanitarian assistance" if the United Nations would support such a move. The EU has said that less than 1,000 troops would be used to "contribute to the safe movement and evacuation of displaced persons" and support humanitarian agencies in their activities.
Various news outlets are saying that Britain, France, and Italy are going to be sending military advisers to work with the rebels. They reiterated that this involves only advisers; no ground troops will be involved. VOA adds that the Obama administration is planning on giving $25 million in "non lethal assistance" to the Libyan opposition in the form of vehicles, fuel trucks, protective vests and non-secure radios.
Misurata remains a hotbed of action as the Montreal Gazette writes about the latest clashes which continue unabated by anything NATO has done. While several more people have been reported killed over the last day or so; it is estimated hundreds have been killed since pro-Gaddafi forces laid siege to the port city with no end in sight.
In a column in the Telegraph "In Libya and London, we're getting into a frightful mess", the paper points out the conflicting situation for foreign powers about Libya. In regards to British advisers: For these officers are not flying to Libya with the intention of arranging a ceasefire. They are going to turn the rebels into an effective fighting force that is capable of removing Gaddafi from power.
Is this going to be enough? Nobody wants Gaddafi to remain but the rebels seem to be incapable of doing all that is necessary to get him out. Now what? Is an escalation of foreign intervention inevitable?
Euronews – Apr 20/2011
France joins UK in sending military officers to Libya
France has confirmed that like Britain, it is to send a small number of officers to Libya to advise the National Transitional Council. The news came as President Nicholas Sarkozy met the rebel leader Mustafa Abdel Jalil in Paris, and promised that France would intensify air strikes against Colonel Gaddafi's army. No details were given as to how this would happen. The French government insists it will not send ground troops to Libya in whatever shape or form, despite appeals from Libyan rebels.
Associated Press – Apr 20/2010
Director of 'Restrepo' Is Killed in Libya
Oscar-nominated film director and war photographer Tim Hetherington was killed Wednesday in the besieged city of Misrata while covering battles between rebels and Libyan government forces.
Click HERE to read more from William Belle
Article viewed at: Oye! Times at www.oyetimes.com