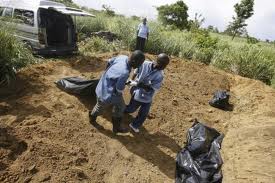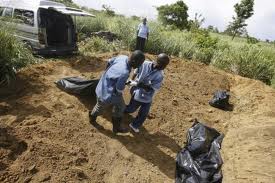 Opinion
Every day at noon, I eat my lunch while watching the news over the Internet as presented by TV5 Monde from France. I find this gives a different perspective on what's happening in the world and covers what is going on in various former French colonies. The ties between France and the Ivory Coast are strong.
Today's newscast spoke about the new president's call to return to work then as a human interest piece, followed the technical director of the Cultural Palace, Ehounoud Angou Honoré as he returned to his office. Unfortunately, a couple of weeks ago, the day that Gbagbo was arrested, there was a wave of rioting and looting and this government centre was one of the targets. People from the neighbouring districts came took everything they could get their hands on.
As Mr. Honoré leads the news crew to the building, they film the front door lying on the ground; it has been ripped completely off its hinges. Once in his office, Mr. Honoré describes where his bookcases were, where his computer was placed, etc. All this is in the past tense as there is little left in the room at all. A filmed tour of other parts of the building show the destruction of looters who have carted off everything and anything of value. Who knows what the cost will be to restore the building to a functioning centre of culture.
I have no idea of what the final tally will be, but I've seen reports suggesting that thousands of people have died since the election, mainly from Gbagbo men trying to suppress support for Ouattara. As I sit in the comfort of my home in Canada, another country coming up to a election which according to this morning's polls will see Canada with another Conservative minority, I can't quite imagine the disorder, the chaos, and the bloodshed the Ivory Coast has been witness to from a political process on the brink of a civil war. It strikes me as unbelievable that Gbagbo would ever consider anything which has happened over the past 4 or so months as justifiable because he disagreed with the results. I said this before in other articles and I'll repeat it again. Can you imagine such a thing happening in Canada? Harper and the Conservatives contest the election results then send out goon squads to kill supporters of the Liberals?
How could such a thing take place in the Ivory Coast? We talk about "civilised nations", but what just happened in the Ivory Coast is anything but civilised. It is horrifying to watch this and it is reminder – I've said this a million times in these pages – that we all are lucky just for the simple fact that we are living in Canada.
The latest: IB Coulibaly is dead
Coulibaly was a pro-Ouattara "warlord" who fought to oust Gbagbo. Guillaume Soro is another warlord who also fought to oust Gbagbo but appears to have been a rival with Coulibaly for a position in a post-Gbagbo country. Soro is currently both the Defense Minister and prime minister. At the moment it has been suggested that Coulibaly was murdered but by whom and for what reason? Rumours are flying around that Coulibaly's ambitions under Ouattara may have gotten in the way of others with like ambitions. Nobody is saying anything definitive, at the moment, but speculation about the Soro camp is rampant.
Various newspapers are pointing out that within the Ivory Coast; there are a number of "warlords" with their own militias and their own ability to commit violence. The question raised has been whether or not Ouattara is capable of bringing these diverse groups together without further bloodshed. In referring to my "opinion piece" above, the big difference between the Ivory Coast and Canada seems to be that our political groups are not armed to the teeth while being willing and able to shoot anybody who disagrees with them. Civilised indeed.
Al Jazeera – Apr 24/2011
Post-election probe into Ivory Coast's mass killings
Human rights groups such as Amnesty International are investigating reports of mass killings and human rights violations in western of Ivory Coast – violations they allege were committed by Alassane Ouattara's forces and Laurent Gbagbo soldiers during months of post-election violence.
References
Ehounoud Angou Honoré
Directeur technique du Palais de la Culture
Wikipedia: Abidjan
Wikipédia: Palais de la culture (PCA)
site officiel: Palais de la culture
Click HERE to read more from William Belle
Article viewed at: Oye! Times at www.oyetimes.com