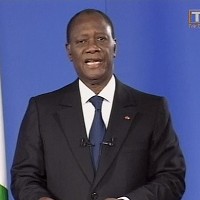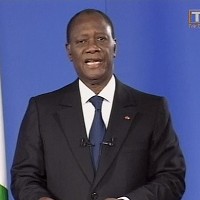 The challenger of the ousted president Laurent Gbagbo during the runoff poll of November 28, 2010,
Mr Alassane Ouattara has taken oath on Friday in the commercial capital Abidjan after five months of dispute and political violence.
Indeed, Ouattara was regarded by the
The international Community (UN, AU, ECOWAS, EU and the United States) as the winner of the Ivoirian presidential elections while the constitutional council recognized Mr Laurent Gbagbo as the elected president. That situation sparked a post electoral conflict between Gbagbo and Ouattara's supporters.
Regarding the powerless and untrained of Ouattara's army French and UN troops have been instructed to take the floor and fight Gbagbo loyal army. After two weeks of bombing at the presidential residence, the French army defeated the pro Gbagbo security forces by april 11, killing thousands young people present in the neighborhood of the residence during the battle.
Mr Laurent Gbagbo arrested and deported in the northern part of the country has been grilled this Friday by prosecutors about the post-electoral violence that engulfed the country.
Mr Alassane Ouattara finally, was sworn into office standing and raising his hand before the president of the constitutional council Mr Yao Paul Ndré. Polical parties, government officials, diplomats and representatives of armed forces assisted to the ceremony.
Mr Ouattara former rebels helped by the UN and French armies are continuing to battle remnants of pro-Gbagbo forces.
In Yopougon where Gbagbo supporters remained active graves have been discovered and the UN investigators have been sent there. A witness of the Yopougon reported that the former rebels named Republican Forces killed many young people there.
The UN High commissioner for Human Rights said Friday that it will also investigate reports that both Ouattara and Gbagbo forces have killed civilians.
Amnesty international investigated and reported last month Duekoue massacre where ethnic cleansing has been operated by Ouattara Republican Forces.
Mr Ouattara promised to form a truth and reconciliation commission and hold accountable those responsible of criminal acts during the post electoral crisis.
Article viewed at: Oye! Times at www.oyetimes.com