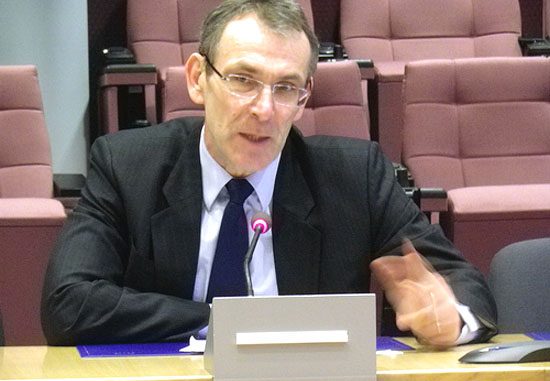 The European Union, EU will on Friday unveil its support for South Sudan as a new nation to gain its independence on 9 July, through its development boss. Gurtong has learnt from the EU Head Office in Juba.
The EU Commissioner for Development Andris Piebalgs who will unveil the support initiative is scheduled to arrive in Juba on the 13th of May. The EU Commissioner is visiting Juba for the first time since the region's historic referendum.
Gurtong learnt that, Commissioner Andris will visit the region from the 13th -14th May of 2011. "Piebalgs will underscore the Commission's willingness to do all it can to support the new country of South Sudan when it gains independence on 9 July," Mr. Jesús Orus Baguena, head of the EU office in Juba said in a statement to the press yesterday.
During his visit to South Sudan, Commissioner Piebalgs will deliver a public speech in Juba, that's expected to emphasize EU's commitment to support South Sudan as a priority country in Africa.
Gurtong further learnt that, while speaking to a Juba based newspaper, Andris Piebalgs said, "I want to assure you that, the European Union is ready to support the country and the people of South Sudan at this critical juncture. We are committed to doing all we can to help the country's poorest people so that they are able to look to a more optimistic future when work begins on 9 July."
While in South Sudan, Piebalgs will visit an EU funded project in Juba, which contributes to food security in the region by providing training and expertise in crop forecasting, as well as raising awareness of the issue amongst stakeholders.
Andris is scheduled to arrive in Khartoum first and expected to meet the Sudanese Vice-President, Ali Osman Taha, and the GOSS President, Salva Kiir Mayarditt, as well as other representatives of both governments and from the international donor community.
He is also expected to talk about the private sector investment which is crucial in boosting South Sudan's economy and get the country on the road to international economic growth.
After independence, South Sudan will be one of the world's poorest and least developed countries, with one of the highest infant-mortality rates and the lowest education indicators as research indicates.
Over 98 % of South Sudanese electorate voted overwhelmingly in a self-determination referendum in January this year.
Article viewed at: Oye! Times at www.oyetimes.com