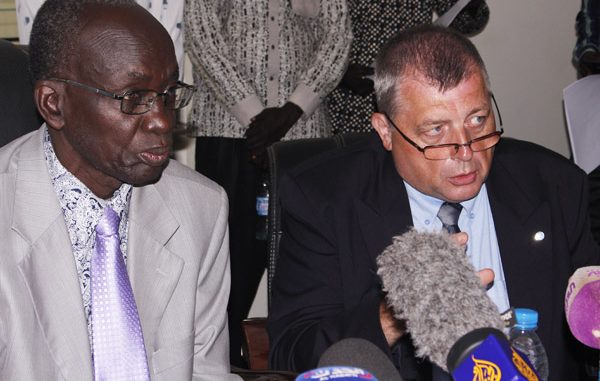 The famine which was declared in Leer and Mayendit, two Counties of former Unity State has declined after immediate and sustained response by humanitarian agencies in the country, the Integrated Food Security Phase Classification (IPC) report revealed on Wednesday.
JUBA, 21 June 2017 [Gurtong]-"Famine is no longer occurring in Leer and Mayendit Counties, and further deterioration was prevented in Koch and Panyijar Counties of former Unity State as a result of immediate and sustained multi-sector humanitarian assistance delivered to the affected population since March 2017, said Isaiah Chol Aruai, Chairperson of the National Bureau of Statistics.
However, the situation remains dire across the country as a number of people are still struggling to find food every day and has has grown to 6 million-up from 4.9 million in February, which is the highest level of food insecurity ever experienced by South Sudan, according to the IPC report.
The IPC reports on the status of food security and nutrition situation in the country, by the government through the National Bureau of Statistics, and its UN partners of World Food Program, UNICEF and FAO.
"Immediate and sustained humanitarian response helped in preventing further deterioration in to famine," said WFP'S Country Representative Joyce Luma. She said the efforts should continue to prevent going back to famine.
According to the UN agencies and government, about 45,000 people will still be facing humanitarian catastrophe in Leer, Koch, and Mayendit Counties in former Unity State, and Ayod in in former Jonglei State.
The UN agencies warned that over 45,000 people in former Unity and Jonglei States are still experiencing catastrophic conditions and face prospects of starvation if humanitarian assistance is not sustained. 25,000 people in former Unity State and 20,000 people in Jonglei, where the situation has rapidly deteriorated because of conflict that displaced many people.
"We have to continue otherwise we could go back, Mahimbo Mdoe, UNICEF Country representative said.
He said the country should find a long-term solution to prevent starvation and famine, since what they are doing is just helping people in the short run.
"There is no solution in South Sudan without peace, humanitarian response is temporary, the long term solution is peace and reconstruction," Mdoe said.
According to the IPC report, worsening conditions are seen across the country; with a number of people facing emergency levels of hunger at 1.7 million up from 1 million in February.
Serge Tissot, FAO Country representative said FAO has provided fishing, crop and vegetable growing kits to more than 2.8 million people, including 200,000 in the famine affected areas, and vaccinated more than 6 million livestock to save lives through livelihoods.
Mdoe said UNICEF together with other partners treated more than 76,000 children with severe malnutrition, also provided over 500,000 people with clean water and a further 200,000 people with access to sanitation facilities.
Aruai said the government and its humanitarian partners are working to ensure timely and functional food security and nutrition information systems to allow early warning.
Famine can only be declared when very specific conditions are met. At least 20% of families in an area face extreme food shortages with a limited ability to cope, acute malnutrition rates exceed 30%, and the death rate per day exceeds two adults out of every 100,000 in the population.