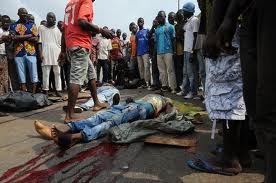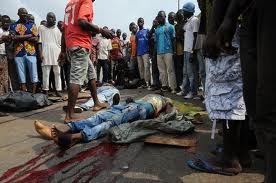 Monday will see the African Union take a stab at resolving the political stalemate which has gripped the country for several months now. The leaders of Burkina Faso, Chad, Mauritania, South Africa and Tanzania are expected to arrive in Abidjan with the intention of meeting with both incumbent President Laurent Gbagbo and the United Nations-certified winner of November's presidential election, former Prime Minister Alassane Ouattara. The heads of state panel supposedly has one week to find a solution to the standoff which would be legally binding to all Ivorians. However, there is a measure of doubtful effectiveness in anything they may come up with since the African Union has no means of enforcing its decision.
Based on statements made by both sides in this political conflict, the absurdity of this situation which is neither moving forward nor backing seems destined to remain as is. Mr. Gbagbo continues to repeat that he was re-elected when the constitutional council rejected nearly 10 percent of all of the ballots cast as being fraudulent and Mr. Ouattara continues to declare that he is the president based on the results announced by Ivory Coast's electoral commission and certified by the United Nations.
If that isn't enough to make anybody throw up their hands in frustration, Gbagbo says the panel must not challenge the legitimacy of the constitutional counsel declaration that named him the winner in the election. On top of it, Ouattara refuses to share power with Gbagbo and says he will not accept a recount of the ballots.
The United Nations says that post-election violence has claimed nearly 300 lives. International sanctions are taking a toll on the Ivory Coast's economy: a ban on cocoa exports and the closing of most major banks.
Opinion
Is this nuts? Is this legal? Would such an absurdity ever happen in Canada? Why is there a constitutional counsel and an electoral commission? How can both institutions seemingly have the same power in this struggle? How can a constitutional counsel or anybody, for that matter, throw out nearly 10 percent of the ballets? How can the electoral commission grant the crown to the other candidate? I don't get it. Have we ever seen such a state of affairs in Canada? Anybody missing Houphouët-Boigny?
In the end, there can only be one winner. Somebody has to go. Hmmm, all of a sudden I once again have that song by the Clash running through my head: "Should I Stay Or Should I Go". For those of you who don't remember, I actually added the lyrics of the song to the article I wrote about Mubarak on the day before he resigned. See Oye! Times, Feb 11: Egypt's multiple choice: Mubarak a) Goes b) Stays): music video and complete lyrics to the Clash song.
Considering the certification of the electoral winner by the United Nations, I am inclined to tell Gbagbo to call it day, you've had your moment in the sun now it's time to pass on the baton. 300 dead? International sanctions? Economy in the toilet? Come on, man, for the good of your country!
Let's face it, if Gbagbo doesn't leave by his own accord, we're back talking about a military intervention to remove him from power. The Economic Community of West African States (ECOWAS) had suggested back in December sending to the Ivory Coast their multilateral armed force ECOMOG (Economic Community of West African States Monitoring Group). This force is mostly made up of Nigerian forces with support from other ECOWAS members — Ghana, Guinea, Sierra Leone, The Gambia, Liberia, Mali, Burkina Faso, Niger, and others.
Gawd, if that happens, we're going to be looking at a lot more than just 300 dead.
Gbagbo! For the good of your country!
Click HERE to read more from William Belle
Article viewed at: Oye! Times at www.oyetimes.com