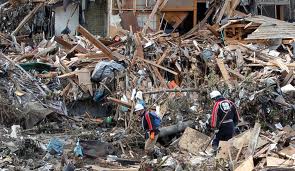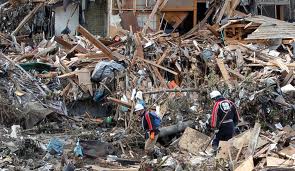 CNN is reporting that the official death toll from the March 11th 9.0 magnitude earthquake and tsunami now stands at 14,000 with another 14,000 still missing. Police are saying that over 130,000 people have been displaced.
On Monday, robots were sent into the reactor buildings at Fukushima and the workers controlling them have recorded high levels of radiation. (see video below)
Reuters is saying that TEPCO, the Tokyo Electric Power Company is trying to plan for paying compensation claims. However, unlike BP who had a lot of assets to sell to weather the storm caused by the Gulf oil spill, TEPCO has few assets. The paper estimates TEPCO's claims could very well surpass the $20 billion in claims BP has received in the past year. Intervention by the Japanese government has been bandied about but up to now, no one has as of yet uttered the word nationalization. Nevertheless, as the crisis drags on, analysts are seeing that the potential costs of compensation going up and up and at some point will exceed TEPCO's ability to pay.
In response to government pressure, TEPCO has released a plan which would see the stabilization of the nuclear crisis over the next six to nine months. However, opposition parties are saying too little too late and are suggesting rather strongly that Prime Minister Naoto Kan resign. Monday saw the release of some polls conducted by several Japanese newspapers showing widespread dissatisfaction with the handling of the nuclear crisis by Kan's administration.
The Mainichi Daily News says that experts have called into question the feasibility of the controversial timetable unveiled by the Tokyo Electric Power Co. (TEPCO) for bringing its crippled Fukushima No. 1 Nuclear Power Plant under control. With problem after problem cropping up as work continues to restore normal functioning of the cooling systems, various specialists are critical of the starting points being made by TEPCO. "These presumptions are in themselves ridiculous as they haven't been confirmed as facts. The plan is nothing but pie in the sky," lambasted Keiji Kobayashi, former instructor at Kyoto University Research Reactor Institute.
Russia Today – Apr 18/2011
Scary frontier footage of Fukushima ruins, images of robots inside reactor
Two robots sent into the reactor buildings at the Fukushima nuclear plant have found massive amounts of radiation, barring any workers from entering. The plant's operator also announced a new 9 month plan to stabilize the situation, proposing to cover the reactors with a Chernobyl-like sarcophagus. The situation at the nuclear complex remains critical, with radiation leaks and difficult access hampering progress.
Time Video
How Japan's Fukushima Nuclear Plant Disaster Happened
The 9.0 magnitude Japan earthquake has created one of the most serious nuclear crises the world has ever faced. TIME explains how the Fukushima catastrophe unfolded
[This is an excellent 4 minute video on how the Fukushima reactors function and what went wrong after the natural disaster. This is well worth looking at.]
Click HERE to read more from William Belle
Article viewed at: Oye! Times at www.oyetimes.com