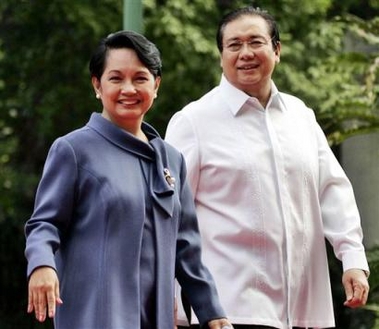 Former President of Philippine Gloria Macapagal Arroyo and her husband Jose Miguel "Mike" Arroyo pleaded not guilty before the court on Wednesday regarding the overpriced contract of the Chinese telecommunication company ZTE Corporation.
Mrs. Arroyo is already in police custody for another corruption case that was filed on her in the previous year. Mr. Arroyo has been accused of manipulating the price of the contract by the Chinese company. He is believed to have taken bribe in the case and raised the price of the contract with the consent of the President of that time. As soon as the matter surfaced, Arroyo had to cancel the contract pertaining to the increased pressure from the public and announced that the contract process will be revised if the public considers that it was not fair.
Gloria Arroyo resigned from the office of the President in 2010 and was taken over by Benigno Aquino III who had won the seat on claims of bringing the former President to justice regarding the corruption cases and had promised the people to root out corruption from the country completely. The former President and her husband have submitted their pleas to a special anti-corruption court. Gloria Arroyo was arrested and taken to the military hospital due to her not-so-good health with a warrant not allowing bail.
Article viewed on Oye! Times at www.oyetimes.com