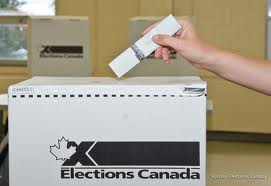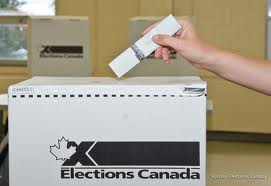 As I sit here on this lazy Sunday, catching up on a few personal things, reading the news, sipping a nice cup of java, I am reflecting on the political state of affairs of our great nation. I have mentioned before in these pages that I am lucky, we are all lucky to be living in Canada. Pick up a newspaper and read about Yemen or Syria and you bet we're lucky. There is no secret police knocking at our door and the chances of getting shot when going to the store are nonexistent. Whew, thank God for small things, eh?
Nevertheless, things are not perfect in these lands from sea to shining sea. In fact, as per usual with all things political, we have quite a hotbed of dissent in trying to figure out the best course of action. The electricity may still be on, but some are saying we're all going to hell in a handbasket. (Yes, Wikipedia has an entry on that saying.) True? False? Exaggeration?
In the Wikipedia article entitled "Canadian federal election, 2011", I read the statement, "This is the first time in the Commonwealth of Nations, that a government has fallen on a contempt motion and it is without precedent in countries governed by a Westminster-style parliament." To support such a statement, Wikipedia cites the following three sources.
CTV – Mar 25/2011
Harper government topples on contempt motion, triggering May election
By Bruce Cheadle, The Canadian Press
MPs voted 156-145 in favour of a Liberal motion today citing Stephen Harper's minority Tories for contempt of Parliament and expressing non-confidence in the government. The contempt charge marks a first for a national government anywhere in the Commonwealth.
Toronto Star – Mar 25/2011
Walkom: Yes, contempt of Parliament does matter
By Thomas Walkom, National Affairs Columnist
The Conservatives say their government's contemptuous approach to Parliament doesn't matter. … For all of its imperfections (and they are many), the only thing close to a democratic national body in Canada is the House of Commons. To be contemptuous of its members is to disdain those who elected them. Canadians get precious few chances to determine what their leaders do. When voters elected a minority government in 2008, they were signalling that they didn't trust Stephen Harper's Conservatives (or indeed any other party) to run the nation's business single-handed.
[This is a good analysis. You should read Mr. Walkom's entire article.]
The Ottawa Citizen – Apr 8/2011
Gardner: Are we going to reward contempt of Parliament?
By Dan Gardner
It's easy to forget that, in the mad rush of events leading up to the election call and the noise that followed, Stephen Harper's government was formally found to be in contempt of Parliament — by vote in the House of Commons — for refusing to disclose the cost of several items on its agenda. It was what formally brought down the government. You might say it's what this election is about.
[This too is a good analysis. You should read Mr. Gardner's entire article.]
Found in contempt
Stephen Harper, or the Harper government, has been found in contempt. They have failed to follow parliamentary procedure; they failed to follow the laws of the land. That is why we're having an election. Stephen Harper has done what no man has done before. Whether here in Canada or in Britain where our political system comes from, no parliament has ever been found in contempt. Ever. In Canada we have had 13 minority governments and in Britain, they have had 18 since 1834. I repeat: no parliament has ever been found in contempt. Ever.
In the Oye! Times article of April 14, 2011 "All hail another Conservative minority!" I wrote that Harper will go down in history, but not for the reasons he would like. Minority governments? Proroguing parliament? How about this latest non-confidence motion with its charge of contempt? The Toronto Star (Apr 13/2011) wrote:
The bottom line of all this is we're having an election because a majority of MPs voted in favour of a motion that said confidence had been lost in the government, because a committee had found it in contempt.
A Canadian government has never before been found in contempt but Harper doesn't give much weight to a finding that might go down in the history books.
He tends to shrug it off, as he did during the debate: "First of all, everybody should realize the so-called contempt motion Mr. Ignatieff speaks of is not a ruling of a court or a ruling of the Speaker, it was simply a case of the other three parties outvoting us. We don't agree with that."
A majority: rewarding bad behaviour
Do we, the public, have any idea of what being found in contempt means? Are we paying any attention to this? Somehow it seems the election is in full swing and the entire issue is off the table. With the debates, with the campaigning, we're all back trying to decide on who's got the better shtick.
But, but, but we come back to the main problem I've mentioned before. We don't have an alternative with any pizzazz. Yes, Jack's a good guy, but Gilles doesn't have a hope in wherever outside of his province, so we come back to the only viable alternative and that's Iggy. Who? Iggy Pop? Ah, now then we would have a candidate! (I'm kidding. Iggy Pop is a rock singer.)
The Liberals headed by Michael Ignatieff just don't have the pizzazz and while it seems frivolous or trite, pizzazz is an important part of politics. Somebody with pizzazz can capture our imagination and invigorate our enthusiasm, but right now, the Liberals are not coming across with any pizzazz. I'm repeating myself: the Conservatives are where they are by default. They are not in power because we want them; they are in power because there doesn't seem to be anybody else of worth. If Pierre Trudeau showed up, Harper would be out in ten seconds flat.
Final Word
Stephen Harper is not a dummy. He's a smart man; he's an experienced politician; he can be charming and funny and he plays a not bad piano for an amateur. I actually think the piano is a nice touch; I believe those "supplementary talents" can make a leader stronger in a leadership role.
However, Mr. Harper seems to have a side to him where he is contemptuous towards those he has to work with. I'm talking about other politicians and I suspect the general public who may not fully agree with "his vision". A politician or a leader has the role of bringing us all together and getting us to pull in the same direction. With minority government after minority government, Harper has been repeatedly stymied in his quest and this latest contempt charge is merely a manifestation of his frustration over the entire process. Do I dare utter the D word, that a dictatorship would be more to his liking? No problem with carrying out your will; no problem with parliamentary procedure.
As Dan Gardner of the Ottawa Citizen said above, a majority government will reward contempt and if we give Harper a majority, we should all be worried.
liberalvideo – Apr 23/2011
Not so fast, Jack
The Liberal Party of Canada today launched a new online and radio ad called "Not so fast, Jack" which offers a reality check on Jack Layton and the NDP. The ad reminds voters that the NDP has refused to take a principled stance on the gun registry, has an unrealistic platform promising $70 billion in new expenses and is fielding an inexperienced team of candidates.
"NDP Reality Check. In this election the NDP refuses to be principled and support the gun registry. They're promising 70 billion dollars in new spending they can't possibly pay for.And they have incredibly inexperienced candidates. After 26 years as a career politician, shouldn't Jack Layton know better. The NDP: Evasion on gun control and chaos on the economy. Higher Taxes. No real team. Uh … not so fast Jack."
http://www.youtube.com/watch?v=TV37nQyzqKA
April 19/2011
Stephen Harper is an Evil Astronaut
S**t Harper Did
Well, excuse my French, but that is the name of this web site. They offer "facts" about Stephen Harper with links to sources to back up their points. The following are a couple of examples. True? False? Exaggerations? I leave that to you, the reader, to determine. However, I do provide the links to the supporting materials.
Stephen Harper thinks that what doesn't kill you can only make you stronger. Unless it kills you.
In 2008, Luc Pomerleau, a biologist at the Canadian Food Inspection Agency, discovered secret government plans to weaken regulations & allow corporate food producers to conduct their own safety inspections. Pomerleau leaked the news and was immediately fired. Then the listeriosis meat outbreak killed 17 Canadians.
Read about Luc Pomerleau in The Ottawa Citizen…
If you get a friend request from 'Ben Dingprivacylaws', don't accept. It's Harper.
On April 3rd, 2011 Harper had his people lurk a teenager's Facebook page and then kick her out of an event because she had posed for a photo with the Liberal leader Michael Igantieff. This should come as no surprise from Harper – he tried and failed (4 times!) to create a law that would allow the government to obtain your personal information from an internet provider – without a warrant.
Read about his attempts to change the law on CBC.ca…
References
Wikipedia: Canadian federal election, 2011
The 2011 Canadian federal election (more formally, the 41st Canadian General Election) will be held on Monday, May 2, 2011 to elect members to the House of Commons of the 41st Canadian Parliament.
The writs of election were issued by Governor General David Johnston on March 26, at the request of Prime Minister Stephen Harper, whose Conservative government was defeated in the House of Commons on a motion of non-confidence which declared the government to be in contempt of Parliament. This is the first time in the Commonwealth of Nations, that a government has fallen on a contempt motion and it is without precedent in countries governed by a Westminster-style parliament.
official web site: S**t Harper Did
Facebook: S**t Harper Did
Twitter: S**t Harper Did
Don't Stop Believing in the Conservative Party of Canada
I like to be fair and give equal time, so here's a little diddy from the Conservative Party. Actually it is kind of inspiring and it makes me forget that Stephen was found in contempt.
Click HERE to read more from William Belle
Article viewed at: Oye! Times at www.oyetimes.com