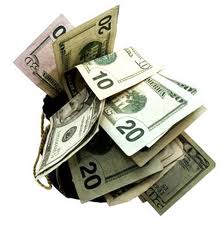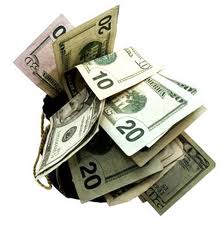 Where there's life, there's hope. And when there's hope, there's me jumping up and down like a fool thinking I've won. I've been wondering how the media outlet
iNews880
keeps writing about "where" the winning tickets were sold, so yesterday, I wrote to the author of the article, Thomas Dias and he was kind enough to reveal his secret. While the OLG site does not give this tidbit of geographical information, a sister site, the Western Canada Lottery Corporation does and I note that their page on
the winning 6/49 ticket
shows that the ticket – yes, a single ticket – was purchased on Ontario. That's why I'm jumping up and down like a fool. Now, do I go on-line and check the numbers right now or do I enjoy the rest of the long weekend relishing the thought of how fifteen million bucks would change my life? [chuckles] Why not wait until Tuesday? If I've won, I can't collect my winnings until Tuesday when the OLG offices open and if I've lost, why spoil the fun?
In any case, my thanks to Mr. Thomas Dias of iNews880 for cluing me in on where to find the location of the winning lottery tickets.
By the way, according to the WCLC site, the Lotto Max of this past Friday, $33 million, was won by one ticket sold in Edmonton. Heck, if you're going to win, why not win big?
So, for the rest of your Sunday, how about catching up on a little reading?
I air a few thoughts about the up-coming vote in The Canadian Election: T minus 8 days.
Anybody looking for a weekend getaway? Why not consider Stratford, Ontario and the Stratford Shakespeare Festival. Check out the article "Stratford, the Bard, and a Getaway"
Am I the only one old enough to remember the computer called the Commodore 64? It's a trip down memory lane. See the article "The Commodore 64 is making a comeback. What!?!"
Any Royal watchers out there? see The Royal Wedding: the guests, the dress, the tweets
See you all around on the pages of Oye! Times.
6/49: Wed, April 27, 2011: $3,000,000
Lotto 6/49: One chance in 13,983,816
Lotto Max: Fri Apr 29: $10 million (No MaxMillions)
Lotto Max: One chance in 28,633,528
All the latest winning numbers
You can visit the Lotto web site and check out all the latest winning numbers including Poker, 49, Lottario, Keno, Pick 4, Pick 3 and Payday. Of course, all the Encore numbers can be found there as well.
Click HERE to read more from William Belle
Article viewed at: Oye! Times at www.oyetimes.com