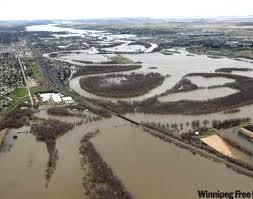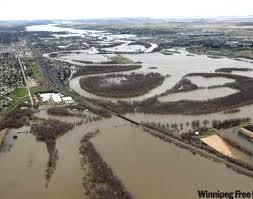 The people southeast of Portgage La Prairie, Manitoba must now face the day they have been dreading. The swollen Assiniboine River has reached a point where many feared a breach of the dikes would flood a vast area causing widespread damage. In order to avoid a major problem, authorities are going to make a controlled breach in the dike to relieve pressure on the river. This will cause a deliberate flood albeit a smaller flood. It has been estimated that 150 homes will be affected however these homes have been shorn up with sandbags as added protection against the waters.
Manitoba Premier Greg Selinger has promised to compensate those affected by this controlled flooding for any damages and lost income. He apparently reiterated on a radio broadcast that this intentional flood was needed to avoid a natural flood which would be much larger and affect many more people. This controlled breach means water would spread slowly and in a controlled manner.
Excavators are scheduled to begin tearing a hole in a dike this morning. It is reported that the water will initially flow at a rate of 500 cubic feet per second or enough to fill an Olympic-sized swimming pool every three minutes. This will be increased gradually every day to a maximum of 3,000 cubic feet per second. Estimates are saying that the water will spread only three kilometres downstream in the first 24 hours and take more than a week to cover the entire projected area of 225 square kilometres. Authorities stated that an uncontrolled breach would mean that over 500 square kilometres would more than likely have been flooded.
Guelph Mercury – May 12/2011
Explaining the controlled release of water (video)
http://www.guelphmercury.com/videozone/530998
CBC – May 14/2011
Manitoba flood diversion on for Saturday (video)
http://www.dailymotion.com/video/xip6fe_manitoba-flood-diversion-on-for-saturday-premier_news
Manitoba Government – May 13/2011
Premier of Manitoba Live Public Address
References
Wikipedia: Assiniboine River: 2011 Flood
The 2011 flood on the Assiniboine River was caused by above average precipition in Western Manitoba and Saskatchewan. Initially, it was predicted that the flood along the Assiniboine River would be similar to the flood of 1995. During the winter of 2010-2011 the Shellmouth Reservoir was emptied in preparation, to store water for the coming spring flood. As the year progressed, the estimates on the flood were revised upwards.
Click HERE to read more from William Belle
Article viewed at: Oye! Times at www.oyetimes.com