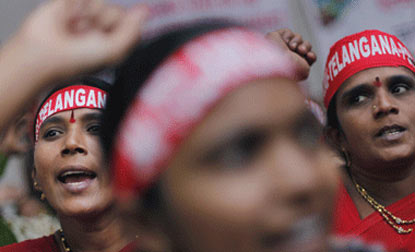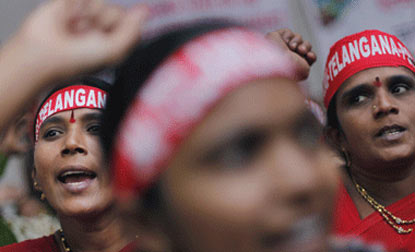 The Lok Sabha this Tuesday looked like a battle field during the consideration of the highly controversial Telangana Bill. The meeting accelerated with the Congress members seen protecting the Home Minister Sushilkumar Shinde and other top leaders from protesting members. It also saw the CPI(M) and the Trinamool Congress as two arch detractors in West Bengal politics who were seen opposing the creation of Telangana bill, apparently with the concerns of demand for Gorkhaland.

To avoid any pepper spray type of situation, the Congress MPs like Aaron Rashid, Lal Singh, Bhakta Charan Das, Hamdullah Syed, Mahabal Mishra and others gathered around the front rows of the treasury benches especially to target the UPA Chairperson Sonia Gandhi and the Home Minister while the Bill was taken up for consideration. An emotional Congress MP Ponnam Prabhakar took ashirwaad (touched the feet) from Congress President Sonia Gandhi, before the Lok Sabha adopted the highly controversial bill to form a separate Telangana. The MP from Karimnagar bowed before Gandhi as she took a leave from the House for a while.

The TRS chief K Chandrashekhar Rao, a prime supporter of Telangana, was seen walking to the Leader of the Opposition Sushma Swaraj and then thanking her for the BJP support to pass the bill. Jaganmohan Reddy, a local lawmaker who opposed this division and whose father is also a former chief minister of Andhra Pradesh, commented in disgrace, describing the day as a 'black day in India's history'. 'While the introduction of this bill itself was done undemocratically …the way the bill has been passed has killed democracy in broad daylight,' said Jaganmohan Reddy to the reporters after the vote in Lok Sabha had taken place.