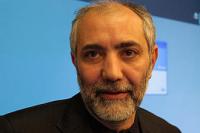 Security officials have forced the family of Green Movement leader Mir Hossein Mousavi to call off a memorial service which was to be held on Sunday to commemorate Mousavi's father, Mir Esmail Mousavi, who passed away on Wednesday at the age of 103.
Top Mousavi aide, Ardeshir Amir-Arjomand, told Radio Farda that Iranian authorities had cancelled the ceremony which was to be held at Tehran's Nour Mosque on Sunday.

Mir Esmail Mousavi, father of former prime minister and current Green Movement leader Mir Hossein Mousavi died at his home in Tehran on Wednesday at the age of 103. Mousavi and his wife Zahra Rahnavard were allowed to say their final farewells to their father on Wednesday night, though the couple were accompanied by a sizeable number of security forces. The two have been under strict house arrest since February 14, when Green Movement supporters held mass-scale protests in solidarity with the uprisings in the Arab world.
On Thursday, security forces arrested at least seven people attending a funeral held for the Mousavi elder, including Mousavi's son-in-law and brother-in-law whose son Ali Mousavi was killed by state-hired assassins during opposition protests on 27 December 2009. Mousavi's website said Mir Esmaeil's body was taken by officials in plainclothes to an ambulance as mourners had gathered in front of his house.
"When the father of Mir Hossein Mousavi passed away, the security forces created an atmosphere dominated by security forces, and multiple photos were taken of anyone who was present there [at the funeral] and pictures were even taken of this great man's dead body. This shows their lack of respect for any moral or religious principles," Amir-Arjomand told the
Persian-language Radio Farda.
"It's clear how they treated the body; they beat up people and arrested many."
"With their accord [that of the security apparatus], it was decided to hold a ceremony [for the deceased] at the Nour Mosque in
Fatemi Square,
but following the great pressure they exerted [on the Mousavi family], this memorial service was cancelled last night. In reality, calling off the ceremony was done by them [the authorities]," he added. "Why should this happen?
Does a simple memorial service for the father of Mr … Mousavi lead to security concerns? Does it endanger the gentlemen's [the authorities'] security?"
"The issue is that these men claim to represent God, and yet they act like pharaohs and are very much afraid. Deep down in their hearts, they know how weak the base of their rule is and a memorial service for the father of Mr Mir Hossein Mousavi makes their powerbase tremble."
Following the death of Mousavi's father, authorities called a number of political prisoners on furlough back to prison including Mohsen Mirdamadi and Abdollah Ramezanzadeh. Ardeshir Amir-Arjomand said the real reason behind the move was the regime's "concerns" that the prisoners would join the funeral processions. He also argued that authorities were using those detained during Thursday's ceremony as a bargaining chip in order to ensure no further events would be held in honour of Mousavi senior, calling the move an "ugly and immoral" act.
Up until now, many prominent religious and political figures have offered their condolences to Mousavi over the death of his father, including former presidents Hashemi Rafsanjani and Mohammad Khatami as well as Grand Ayatollahs Sanei, Dastgheib and Bayat Zanjani.
Among those arrested during Thursday's funeral was Mohammad Reza Nourollahian, cleric and advisor to Mousavi. According to opposition website
Kaleme
, he was arrested in a brutal fashion during the procession and is currently being held in Tehran's Evin prison. Nourollahian, a moderate cleric and former Intelligence Ministry deputy, was interrogated for five hours at the Special Clergy Court before being taken to Evin prison while insulted and handcuffed. Security forces told the cleric his charges were "disrupting public order, provoking the people to act against the country's internal and external security, threatening government agents, and behaving against clerical dignity [and norms]." Despite the charges against Nourollahian, his only crime was to object to the authorities' shameful disruption of the funeral of Mousavi's father and the security forces' maltreatment of mourners paying their respects to the deceased. The detained cleric is also a former staff member at the house of Supreme Leader Ali Khamenei and a respected figure amongst both reformists and conservatives.
Click HERE to read more
Article viewed at: Oye! Times at www.oyetimes.com