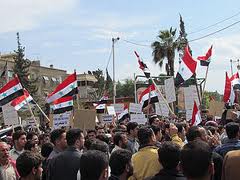 Associated Press states that over 750 people have been killed since protests started in Syria on January 26, 2011. One report claims that over 8,000 people are missing or detained as the Syria cracks down on its own people.
The Wall Street Journal writes that Syrian tanks are shelling Bab Amro, a district about six miles, or 10 kilometers, from the city center of Homs. Nine people have reportedly been killed. 11 more were killed during the shelling of Al Hara, a town near Deraa in the south of Syria.
The Sydney Morning Herald says the European Union warned that new European sanctions could target Assad, after measures against the regime took effect on Tuesday with the president's younger brother heading a list of 13 officials targeted for their involvement in the brutal crackdown.
Protesters are demanding free elections, the release of political prisoners, constitutional changes that would strip the ruling Baath party of its hegemony over Syria as well as new media and political parties laws.
Last month, under pressure from the international community, Assad lifted nearly five decades years of emergency rule but the heavy-handed crackdown on pro-reform protesters has continued unabated.
AFP reports that the EU sanctions are largely symbolic and will do nothing to deter Assad and his regime.
England's Guardian talks of the Surain regime taking to Twitter to try and stamp out protests. Suspected government agencies have been flooding certain hashtags like #Syria, #Daraa, and #Mar15 in an attempt to cover up any possible protest messages from propagating on Twitter. If somebody puts in a message, it is quickly scrolled off the list of the latest messages by a flood of pro-regime messages.
Associated Press – May 11, 2011
Report: Syrian Troops Shelling Residential Areas
The Syrian army shelled residential areas in the country's third-largest city, sending people fleeing for cover in a sharp escalation in the government's attempts to crush a popular revolt against President Bashar Assad's autocratic rule.
Al Jazeera – May 11/2011
'Surge' in weapons sales to Syria
Arms exports to Syria from neighbouring states are reportedly on the rise since the unrest in the country began in March. Lebanon and Syria share an often porous border and some experts say that not all the arms being smuggled across it are for self-defence. Al Jazeera's Zeina Khodr reports from Beirut where various weapons are available on the black market.
References
Wikipedia: 2011 Syrian Uprising
The 2011 Syrian uprising is an uprising occuring in Syria, which began on 26 January 2011. It is influenced by concurrent protests in the region, and has been described as "unprecedented." Like the revolutionary movements in Tunisia and Egypt, it has taken the form of protests of various types, including marches and hunger strikes. It can be said to amount to a sustained campaign of civil resistance.
Wikipedia: Siege of Baniyas
The Siege of Baniyas is a military operation conducted by the Syrian military in the city of Baniyas against what the government calls terrorist groups, while the opposition called it a crackdown against pro-democracy protestors.
Click HERE to read more from William Belle
Article viewed at: Oye! Times at www.oyetimes.com