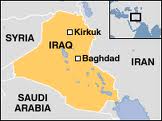 Kirkuk was the scene Wednesday of a triple car bombing that left 8 dead and 104 wounded. The attacks have been blamed on the Sunni militant group Ansar Al-Islam although there have not yet been any claims of responsibility. The triple blasts occurred around 10:25 am (0725 GMT) in this oil-rich city, the centre of a major land dispute between Iraq's central government and its autonomous Kurdish region. This area sits on some of Iraq's biggest oil reserves.
According to AFP, Ansar al-Islam is a Sunni militant group created in 2001 by veterans of the 1980s Soviet war in Afghanistan and had its headquarters in Iraqi Kurdistan, near the border with Iran. Shortly before the US-led invasion of Iraq in 2003, US special forces and fighters from Iraqi President Jalal Talabani's Patriotic Union of Kurdistan fought Ansar al-Islam, whose fighters fled their headquarters. In September 2003, many Ansar al-Islam members formed the soon-to-be renowned militant group Ansar al-Sunna.
Reports state that around 10:30 a.m. on Wednesday a pickup truck apparently carrying milk slammed into a wall surrounding the Kurdish security headquarters and exploded. The building was destroyed. A car exploded a minute later near a police patrol about a half-mile away then a third car bomb exploded near a police patrol just a few blocks from the first explosion. Authorities believe the pickup truck was driven by a suicide bomber. 2 policemen are among the dead.
Associated Press – Feb 9/2011
Deadly Kirkuk Bomb Caught on Camera
A suicide bomber and some booby-trapped cars blew up in the oil-rich Iraqi city of Kirkuk Wednesday. Officials said at least 7 were killed and 80 wounded. (Feb. 9)
Click HERE to read more from William Belle.
Article viewed at: Oye! Times at www.oyetimes.com