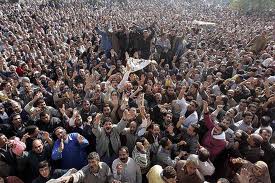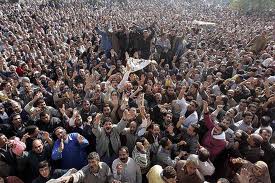 In a show of solidarity with protesters, thousands of workers in various industries walked off their jobs Thursday. It is reported that thousands of doctors and medical students, dressed in white coats, marched in central Cairo. Another 3,000 lawyers marched from the capital's lawyers syndicate to Tahrir Square. Apparently the artists syndicate, textile workers and public transport employees, including bus drivers, also joined the strikes.
Tahrir Square remains the focal point of the protests which continue to demand Mubarak's immediate resignation. The entire square has turned into an organised protest camp.
Away from the square in other areas of Cairo and Egypt, there have supposedly been union-organised strikes and walkouts.
No turning back
There is little doubt that the point of no return has been crossed. The protests have become so widespread, the government has no choice but to do something and that thing must be reform. With the whole world watching, with so many people involved, authorities, it would seem, have no choice but to give in to the demands. The question is how.
Certainly any attempt to use force to dissuade the protesters has failed. While an investigation has yet to be done, common belief holds that Mubarak's supporters were definitely behind the violence that has occurred between protesters and what can only be described as hired thugs over the past week and a half.
Numbers are no confirmed but it has been reported that over 300 have been killed and over 5,000 injured during the protests which started on January 25.
U.S. Pressure
If the protesters are not enough, the U.S. seems to be reassessing its own position towards the Egyptian government stepping up pressure for the government to implement reforms as per the wishes of the people. This is putting the Mubarak government in a delicate balancing act between remaining in power, trying to put into effect some orderly transition to a new order and caving in immediately to the protesters demands of Mubarak leaving immediately.
DemocracyNow.org – Feb 9/2010
Egypt's pro-democracy uprising is seizing new momentum one day after hundreds of thousands turned out for one of the largest protests in Cairo's Tahrir Square to date. A gathering of protesters led to the evacuation of the Egyptian cabinet building today, and tent camps are also being set up outside the Egyptian parliament. Egypt's labor movement has launched new strikes across the country, with an estimated 10,000 workers taking part. Democracy Now! senior producer Sharif Abdel Kouddous interviews Mona el Seif, a demonstrator outside the Egyptian parliament building.
Unions boost Egypt protests continue their call for President Hosni Mubarak's resignation
Feb 9/2011
Click HERE to read more from William Belle.
Article viewed at: Oye! Times at www.oyetimes.com