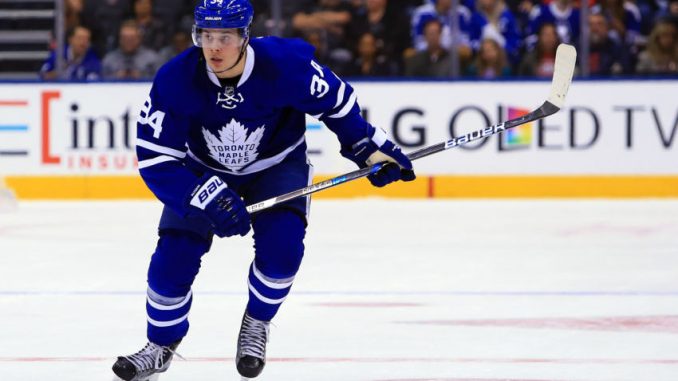 Washington Capitals beat Toronto Maple Leafs 2-1 to advance to next round. Here is the summary of Game Six – Friday, April 23, 2017
| | | | | | |
| --- | --- | --- | --- | --- | --- |
| | 1 | 2 | 3 | OT | FINAL |
| WASHINGTON | 0 | 0 | 1 | 1 | 2 |
| TORONTO | 0 | 0 | 1 | 0 | 1 |
GAME SUMMARY | EVENT SUMMARY | FACEOFF SUMMARY

ON THE SCORESHEET
Auston Matthews put Toronto on the board with a goal at 7:45 of the third period. Matthews scored goals (4) in four consecutive games.
Morgan Rielly registered the primary assist on Matthews' third period goal. Rielly registered four assists in six games this series.
Zach Hyman also registered an assist on Matthews' goal in the third period. Hyman recorded points (1-3-4) in four consecutive games.
Frederik Andersen stopped 34 shots in the overtime loss.
SHOTS FIRED
The Maple Leafs had a 38-36 edge in shots in all situations. Both teams registered 35 shots at 5-on-5.
Washington had a 70-67 lead in shot attempts in all situations and a 65-62 lead in shot attempts at 5-on-5.
William Nylander led the Maple Leafs with five shots on goal.
Matt Hunwick and William Nylander each registered eight shot attempts.
OF NOTE…
Toronto is now 57-56-4 all-time in playoff overtimes and 37-33-1 in playoff overtimes at home.
With tonight's game going to overtime, the Maple Leafs played five overtimes in one playoff series for the first time since the 1951 Stanley Cup final vs. Montreal. Toronto won that best-of-seven 4-1.
The Maple Leafs were 2-for-2 on the penalty kill and 0-for-1 on the power play in tonight's game.
Tonight's attendance was 19,740.
Nazem Kadri won 89 percent (8 won, 1 lost) of his defensive zone faceoffs and was 12-for-17 (73%) on the draw when matched up with Washington centre Nicklas Backstrom
Matt Hunwick and Morgan Rielly were on the ice for a team-high 29 Maple Leafs shot attempts at 5-on-5 in tonight's game. Both skaters had a 5-on-5 shot attempt percentage of 56.9 percent (29 for, 22 against).
MAPLE LEAFS LEADERS
| | |
| --- | --- |
| Faceoff Wins | 14 (Kadri) |
| Faceoff Win Percentage | 74% (Kadri) |
| Hits | 7 (Martin) |
| Blocked Shots | 5 (Gardiner) |
| Takeaways | 3 (Hyman) |
| TOI | 28:07 (Hunwick) |
| Power Play TOI | 0:22 (Five players tied) |
| Shorthanded TOI | 2:22 (Marincin) |
| Shifts | 41 (Rielly) |
| 5-on-5 Shot Attempt Percentage | 64.7% (Kapanen, Martin) |
POSTGAME QUOTES:
HEAD COACH MIKE BABCOCK
On mixed emotions after tonight's loss:
Well you're disappointed for sure. You have an opportunity to get to overtime again, you have a chance. They were way better than us in overtime, I thought. But, from our perspective, we've got to play a really good team, a really well-coached team with really good players. We got to find out where we're at and where our players are at. Until you've been through the playoffs with players, you don't really know the level of the player you have. You learn a lot about your team. I'm really proud of our guys. I think from where we were and expectations coming in – I never even knew Mitch could make the team – so many different things. They grow – our young guys are good. To build a program like [Washington] have that you're a contender every single year, you've got to keep going. Now, today's disappointing any way you look at it. I've got to give myself a good talking to, probably one of the worst after losing out in the playoffs. At this press conference, I've got to give myself a little tightening before I got in here. The reality is it's a great year for our team. It would have been great to play game seven in Washington.
On if he can share what he learned about his guys in these six games:
No.
On why he can't:
I'm just not going to. I might even do it next year; I'm just not doing it.
On what the team can take from this season:
We've had great growth with the team, unbelievable actually, from the start of the year. It's been a really exciting year. I was telling someone today, if you're not from Toronto and you come to Toronto, you have no idea how spectacular it is. From you people and the media coverage to the fanbase and the love of the team, it's like nothing you've ever seen. If you're a good player and you like winning, this is the best place you could ever play. I've never seen anything like it. It's fantastic. Now we've got to have a team to match that opportunity. That's what we're going to try grow to. We've got lots of good, young kids.
On Washington playing their best in the series after Toronto went up 1-0:
I thought so too, I really did. I didn't think we had the puck much after that. You have a chance to walk out the door, it's overtime in your building, you're at elimination. You pushed them, really pushed them, they pushed us. They were better. You've got to get to a certain level of game to find out what your peak is. Just because you can play regular season games enough to get your team into the playoffs doesn't mean you can win a championship. Those are way different people, way different players. As a coach and as a management team that have been there a long time, you see what it takes. In the playoffs, there's nowhere to hide, you just look across at the guy. Kadri knew he was going out against Backstrom every single time. That was first. They knew 92 was coming second against Matthews. There's no tricking anybody. Trotzy wasn't tricking me, I wasn't tricking him, it was here it is. Let's get at 'er. You found out about a lot of guys.
On Andersen's performance:
Outstanding. I thought he was really good. When they got it going at times and we made some mistakes sorting things out because of their speed through the neutral zone, I thought he was really good. That's an important building block for our team. I thought we did a great job last summer to get us a goalie that we can call a franchise goalie. I still think there's a learning curve there and learning his place in the game. You find out what fitness level is all about in the National Hockey League, so he'll have to have a big summer. A lot of our guys need that. [Kadri], if he's going to play against the best players, you've got to be more fit and he understands that. A lot of our young people, they're light yet but so were those guys a couple of years back. You've got to earn the pounds, the training, so it's a big summer for our team.
FREDERIK ANDERSEN (34 SAVES)
On tonight's game:
It's a very, very tough feeling right now, but being part of this community, being part of this team, the support we have here is unbelievable. There's a lot to build off but it's tough right now.
On being excited for the future with this group:
Of course, you want to look ahead but take a couple of days and enjoy how much we've grown this year. We'll use these feelings as motivation for next year.
On being cheered off the ice:
I just heard the one for the team. It was awesome. The kind of support we have here is probably the best in the League. You don't see that strong hockey community everywhere else.
AUSTON MATTHEWS (1 GOAL)
On tonight's loss:
It's not the best feeling, but I think when you look around the locker room after the game, just sitting here, I think we gave it our all. I think we left it all out on the ice. Every one of us is proud of each other. I think we have a bright future, we have unbelievable support from the city of Toronto and Leafs Nation. I think for us the future is definitely bright.
On playing playoff hockey:
I think the experience itself, it's hard grind hockey. We played the best team in the League, I think we definitely gave them all they could handle. Like I said, I think we're definitely going to hold our heads up high. It's obviously not the best feeling but we definitely have to be proud of each other in this locker room.
On the season coming to a close:
We definitely showed that we're a team that's looking to get better. For us, we didn't want the journey to end this soon but that's hockey, that's sport for you.
On his goal:
It was just a pretty fortunate bounce. It just popped right there and I just tried to make a play. I was kind of bobbling it a little bit so I just tried to make a play and get it on net and I was fortunate for it to go in.
On what he said to Ovechkin in the handshake line:
Good luck on the next series. Obviously, he's been one of the best players in the world since he came in the League and I've gotten to know him a little bit through the all-star game and playing against him. He's obviously a competitor. You've got to give kudos to them, they played a very hard series as well.
On his pride in the team:
Very proud. I think we definitely turned a lot of heads with where we were and where we are now. For us, we definitely want to be in the same situation we are next year, but hopefully a different outcome.
MORGAN RIELLY (1 ASSIST)
On tonight's loss:
It's pretty fresh right now. It's a strange feeling. On one side, you can take pride in the way we battled and the way we competed, but on the other side it sucks to lose. That's the reality. It's a good team over there, but right now it's just a matter of taking everything in, being around one another. Like I said, it's a strange feeling, it's unfortunate but that's life.
On if he had any regrets about tonight's performance:
I wish we would have won, that would be the first one I think. Other than that, the guys battled hard all night. I thought our goalie was probably the best I've ever seen him. Like I said, there's lots of good things that we can take pride in, but when you look back at the game there's always little things you'd like to change and little things you wish you could have done differently. That's life, that's sports and they, like I said, they're a good team. They're going to go on and they've been doing this a lot longer than we have. Credit to them.
On if the team surprised itself with its performance in the series:
I don't think we really surprised ourselves. I think that we came out, we worked the way we were supposed to work, we executed to the coaches' gameplan for the most part and we battled. At this time of year when you go out and battle, that's what's going to happen. It's going to be close games, one-goal games and that's what it was all series.