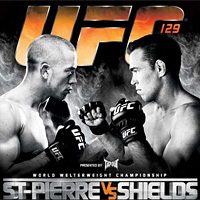 On Thursday afternoon, all the fighters on the main card of UFC 129 held open workouts for media at Direct Energy Centre. The workouts weren't anything more than a glorified photo op with the fighters doing a few drills – certainly nothing to brag home about.
Georges St-Pierre's (GSP) session was a farce and only lasted a couple of minutes. GSP pretended to disarm a knife-wielding attacker (a fake knife, of course) to amuse the crowd and alleviate the stress and seriousness of the fight. Watch the video below.
http://www.youtube.com/watch?v=HxOKAi2GG5w
http://www.youtube.com/watch?v=Uhbi-lddBow
GSP said that he doesn't really train in the week leading up to the fight and just concentrates on trimming his weight for the weigh-ins with an obvious emphasis on diet.
The rest of the fighters at least attempted to make their workouts look serious but the forgettable sessions were trumped by the post-workout Q&A with the media. But even then, the answers were nothing new as the fighters have been asked the same questions over and over again.
Even so, here are a few memorable quotes from the fighters headlining the event – GSP and Jake Shields:
Memorable Quotes from Georges St-Pierre:

"I don't dislike Jake. He's one of the fighters I admire the most. In fact, he's one of the guys I wanted to fight for a long time. As a real champion, I want to this guy. I wanted this fight a long time ago and Jake wanted this fight a long time ago. I consider Jake Shields like a champion. He had like five titles in different organizations in different weight class, something I had never done before. He's done stuff I never did and I want to be the one that stop Jake Shields. He want to fight me and I want to fight him as well. Normally, when I'm fighting for a title, I'm the champion and so I'm taking the challenger. The challenger wants to fight me, I'll take it. But now I have extra motivation for this fight, which is not trash talk. It's something that most people probably don't understand. We don't trash talk, we respect each other. But believe me when Saturday night the cage will close, it's going to be something different."
"My training is very simple. If you train in a place where you're the best, you're training is not good. My trainer makes sure that when I'm training, I don't always come out on top. Sometimes they have to figure out a way to put me in a situation that I'm going to get beat and I'm going to have to find a way to survive. Sometimes I'm winning, sometimes I'm losing. For this fight against Jake Shields, it's been a long time since I fight I a guy and I know Jake Shields is going to be able to bring the best out of me. I'm going to have to use some of the weapons that I never used before. I'm very excited for this fight."
Memorable Quotes from Jake Shields:
"I'm not really too concerned with turning my favour, I just want to go out there and put on a great fight and beat him. I think I'll slowly win fans over and go out there and start bringing it. I think he is under more pressure – we're both dealing with issues. I'm dealing with being in a hostile territory and where he's dealing with tremendous amounts of pressure right now. So I think it kind of evens out."
"I haven't really thought about the crowd too much just been thinking about the actual fight, trying to block them out. It would be pretty cool to silence them and who knows maybe I will turn some to my side even if we go out there and have a really good war. I think some of the fans will be pretty happy. Of course there will be GSP fans but I want to make them my fans as well."
"I think he's unpredictable and I think that's what makes his game plans so good. He quite possibly will try to take me down and I think he will stand with me. I think he'll do both. I think he'll try to confuse me and throw me out of my game and mix it up, so I'm ready to fight on my feet and on the ground."
Pictures from Thursday's Events
Oye! Times had two photographers on site to shoot the events on Thursday at Direct Energy Centre for the open workouts and the launch of the UFC Octagon Nation Tour at Yonge & Dundas Square.
To view highlights of the open workouts and Q&A sessions click below:
To view video of the UFC Octagon Nation Tour at Yonge & Dundas Square click below:
To follow me on twitter click
HERE
Download or stream
the 500 Level podcast with co-hosts Aman Dhanoa and Ben Trattner as they discuss news, opinions, and views on Toronto sports from the Upper Deck. Leafs, Raptors, Jays, Argos, TFC – nothing is off limits. It's good to be a fan!
Also available on iTunes
Contact Aman Dhanoa at aman@oyetimes.com

Article viewed at: Oye! Times at www.oyetimes.com