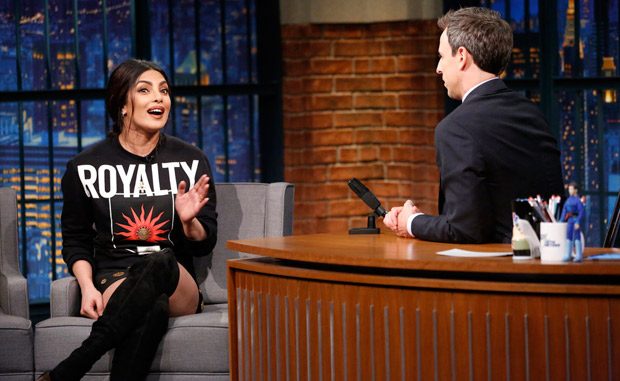 You can publish this article on your website as long as you provide a link back to this page.
This article was last updated on April 16, 2022
Priyanka Chopra is a global icon now. She has appeared on several coveted talk shows this past week like The Ellen Show and Chelsea Show. On Wednesday, she appeared on Late Night with Seth Meyers.
On the show, Priyanka Chopra started off with talking about her show Quantico and how much she loves doing her own stunts. She also talked about how New York City and Mumbai are similar in terms of spirit.
Later, Priyanka Chopra was questioned by Seth Meyers about her American accent on Quantico and whether she had trouble with it. Clearly, it was a dig at her American accent on the show but Priyanka struck back saying, "My Indian accent is my fake accent." She did mention that she had trouble with some of the phrases and she learned about rolling her 'Rs'. She even gave a glimpse about her movie Baywatch and how she has perfected the slow motion run which the TV series was known for.
On the work front, Quantico season 2 is currently airing on Mondays. Meanwhile, Priyanka Chopra's movie Baywatch is slated to release on May 19, 2017.

Source: Bollywood Masala original article at Watch: Priyanka Chopra finally talks about her fake American accent