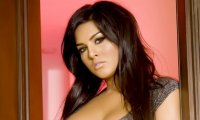 This article was last updated on April 16, 2022
Canada:

Oye! Times readers Get FREE $30 to spend on Amazon, Walmart…
USA:

Oye! Times readers Get FREE $30 to spend on Amazon, Walmart…

Sunny Leone speaks to Subhash K Jha on life as a porn star.
Are you recognized on the road back home in Canada?
Not when I am without makeup. Only when I'm all dressed up with my hair and makeup.
You made a conscious choice to be an adult actress. What was your parents' reaction to your career choice?
I informed my parents after I won the Penthouse cover-of-the-year and 100,000 dollars. It was impossible to keep it a secret. How would they react? Obviously there was a confrontation between us. They were upset at first. Eventually they came to terms with the fact that it is what I've chosen to do with my life. With time they came to know I'm still their daughter, still the same person.
You're truly blessed to have such understanding parents.
Yes, I am
While you were inside Bigg Boss house your ex-fiance Matt Erikson apparently released your first adult-film together without your consent?
I am not sure about what has actually happened. But in the adult industry there are certain rules that must be followed. If for some reason he has released content that he does not own, then …
Was your parting with Matt unpleasant?
We didn't see eye-to-eye. It didn't work out. I am a happy person today. I'm a better, wise person today. I know exactly what I want in a man now.

What do you want in a man?
Exactly what I have in Daniel (Weber). He is everything that I could ever imagine. We own a business together.
Do you hope to marry this guy?
Over and over again.
What are your plans now?
To try and get back to a normal life, as much as possible. I will be in Mumbai till after the Grand Finale of Bigg Boss.
Mahesh Bhatt is waiting to sign you?
Every Indian girl abroad grows up watching these beautiful actresses in Hindi films on television, dreaming if she could ever be part of it. I am no different. But the option (of doing a Hindi film) wasn't there. Now it is there. So I'd love to work with Mahesh Bhatt.
Who among the Indian actresses do you find beautiful?
I think Aishwarya Rai is absolutely gorgeous.
Are you considering a career in Bollywood?
I hope so. To be a part of that gallery of beautiful actresses I grew up watching…is a mesmerizing thought. The last Bollywood film I really enjoyed was Salman Khan's Bodyguard. That was the last film I watched before I went into Bigg Boss house.
Mahesh Bhatt was deeply moved by his encounter with you?
When Mr Bhatt came into the House it was the first time I could speak freely on the show. I didn't have to censor what I was saying, or to choose my words carefully so as to not give away my identity. He knew who I was. He knew my background. Mr Bhatt and his daughter had been following my career for quite some time. For the first time since I went into Bigg Boss I was able to be who I was and talk freely without fear of others getting judgemental.
You are Punjabi?
Yes. But I was born and raised in Canada and America. When one lives there and the language of communication in the household is not Hindi or Punjabi, then one doesn't know these languages. Inside the Bigg Boss house every time there was a situation or an argument it was difficult for me to take it forward in Hindi.
You looked very pained on the show?
I did? There were lots of arguments. I had never been so vulnerable in my entire life. But it was a learning experience. I laughed a lot on the show. I've never laughed so much before. That made it easier for the weeks to go by.
You can publish this article on your website as long as you provide a link back to this page.