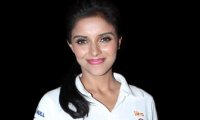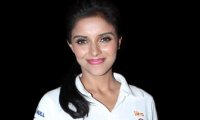 Less than a week remains for the release of
Housefull 2
and while one waits to see how does 'The Dirty Dozen' strike with the film, one actress who is calm as ever is Asin. Not quite known for her nervous pangs before the release of her films, courtesy her long standing career down South and two 100 crore Bollywood biggies (
Ready, Ghajini
) already in her kitty, Asin is as joyous as ever in her conversations. One wonders if this can also be attributed to the fact that it was with her that Sajid Khan decided to open the promo of
Housefull 2
despite many other stars in the film.
"I don't think so; these are actually very minor things. I don't over analyse things", smiles Asin who is arriving on the big screen almost a year after Ready, "After all, this is a multi starrer and there are so many prominent stars in the film. Then there are also legendary actors like Rishiji, Mithunji and Randhirji so their presence has to be respected."
She is particularly happy about the fact that no one has missed out on his or her space despite Housefull 2 being a crowded affair. "I totally give it to the director here. It is obviously Sajid's way of telling this story to the audience with utmost conviction so that all of us are presented well despite such a crowd", smiles Asin.
While she indeed seems to be happy with the world created for her, what with a new Asin on display, especially with the song 'Right Now', it is also visible that she has an eye for working in hardcore commercial entertainers.
"Well, though I would love to do different kind of films, at this point in time and stage of my career, I would love to work in commercial cinema. Hopefully, even in such affairs I am getting roles that have scope for performance as well", opines Asin, "I guess currently I am happy to be a part of such films that reach out to every nook and corner of the country and connect with a larger section of audience."
From the 'connect' perspective, what about her real life connect? Even though there is a quartet of Jollys in her upcoming film, how about her own real life Jolly with whom there may be a connect soon?
Laughs Asin, "I haven't found my Jolly yet. Just like all fathers in Housefull 2 are trying to get the right Jolly for their daughters, may be there would be someone out there for me as well."
We look forward to the announcement Asin! ."