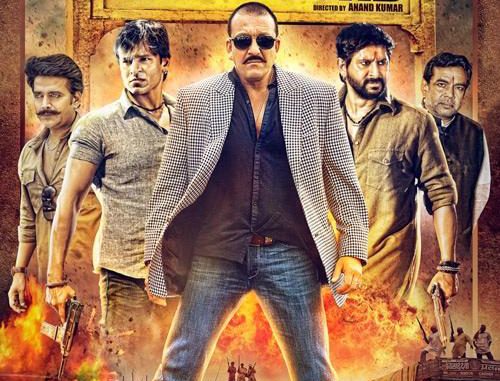 Movie Review
Zila Ghaziabad
Cast: Sanjay Dutt, Arshad Warsi, Vivek Oberoi, Minissha Lamba, Charmy Kaur, Ravi Kissen, Chandrachur Singh, Sunil Grover, Ashutosh Rana and Paresh Rawal
Directed by: Anand Kumar
Review by: Faisal Saif
Ratings: * 1/2
Zila Ghaziabad is a film which almost took 4 years in the making. There were also many speculations in the Trade and Media about this film's script going through many changes. Anand Kumar started off this project which is said to be based on some true stories about the 90's era war between 'Gujjar' community in Ghaziabad. But sadly what across the screen is a repetitive 'Wanna Be' Dabangg.
The film tells gang-war tale of the nineties which involved two powerful gangs led by Satbir Gujjar (Vivek Oberoi) and Mahendra Fauji (Arshad Warsi). Fauji is a right-hand henchman of Ghaziabad's political figure called Chairman (Paresh Rawal). Satbir, a school teacher by profession with idealistic views, whom the Chairman equally favors because of his education background is helpful in cracking deals that Fauji's guns cannot. And Satbir is also Chairman's would-be son-in-law. When the Chairman refuses to cough up too much money for the marriage of Fauji's sister, his greedy and crafty brother-in-law takes advantage of the opportunity to poison Fauji against Satbir. Fauji joins hands with Chairman's arch rival Rashid (played by Ravi Kishan) to kill Satbir. Now enters Pritam Singh (Sanjay Dutt) the grey-shaded cop to play mind games against the most feared gangs.
Talking about the Performances, Sanjay Dutt is very dull as the Cop. His One Liner's neither entertains, Nor enlightens. Also the Age-Factor can be clearly seen on the actor's face. Arshad Warsi and Vivek Oberoi shines in their respective roles. Ravi Kissen is awesome once again. Ashutosh Rana is decent and Paresh Rawal has a very limited scope despite of a Strong Character presence. Minissha Lamba too had a limited screen-space. Charmy Kaur looks completely mis-casted as the love interest of Vivek Oberoi. The chemistry just don't go. Sunil Grover has a noticing role in the film and walks away with the cake.
Director Anand Kumar is handicapped by his own script. He tried to make an 'Action Masala' film, But created a Script that had too many confusing plots. The only thing Anand Kumar concentrated on was giving every character a 'Ray-Ban' sunglasses. The Camera-Work, Angles and Shot-Takings, Everything looked 'So Inspired' by Salman Khan's Dabangg 1 and 2. Even the 'Ghaziabad' song!! Musically, The film is Irritating and a Let-Down.
The film is Long and Boring. There are few, And i strictly mean very few scenes which (Tries to) hold your attention. Rest, The film is like showing 'Biryani' in the Menu and serving 'Daal-Rice'
If you want to save your 2 Hours 20 Minutes along with your Hard-Earned money, Avoid Zila Ghaziabad.