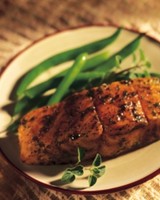 You can publish this article on your website as long as you provide a link back to this page.
This article was last updated on April 16, 2022

Ingredients:
1/4 cup tightly packed parsley
1/4 cup tightly packed cilantro
1-1/2 teaspoons chilli powder
1/2 teaspoon salt
1/4 teaspoon garlic powder
1/4 teaspoon onion powder
1/4 teaspoon ground Mediterranean oregano
1/8 teaspoon freshly ground black pepper
3 tablespoons olive oil
4 salmon fillets, about 4 to 5 ounces each
1/2 teaspoon salt
Method :
In food processor process all herb paste ingredients until smooth.
Season the salmon fillets with salt and spread about 1 tablespoon herb paste on flesh side of each
salmon fillet. Cover and marinate in refrigerator for 1 to 12 hours.
Place marinated fillets in centre of cooking grate. Grill 6 to 10 minutes or until fish is opaque and flesh flakes easily with a fork.
Makes 4 servings.