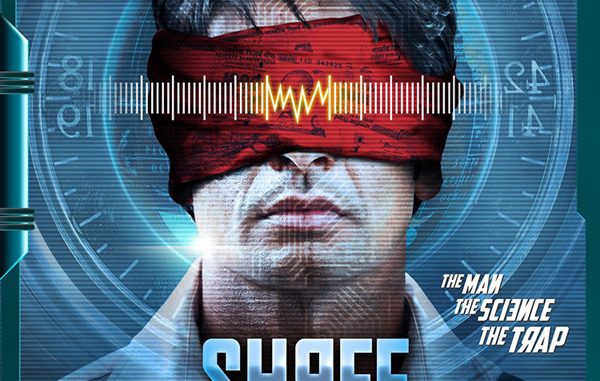 Movie Review
Shree
Cast: Hussain Kuwajerwala, Anjali Patil, Paresh Ganatra, Rio Kapadiya, Shivani Tanskale
Directed by: Rajesh Bachchani
Review by: Faisal Saif
Ratings: * * *
Let me first assure you that Shree is a film which requires a lot of mind-games and scientific knowledge. Yes the film is an Intelligent (or) Over-Intelligent Sci-Fi Thriller which cannot be easily digested. But the tight screenplay and direction keeps you hooked to your seats till the climax. Though you may also find the Climax little abrupt.
Shreedhar Upadhyay a.k.a Shree (Hussain Kuwarejwala) works as a small executive in a Mobile Phone company called Air Net which is headed by Jairaaj Randhawa (Rio Kapadiya). Jairaaj is looking forward for one of his scientific experiment which has already gone wrong on 8 other people when performed. Shree (Who is unaware of the experiment) is his 9th and the last option. Shree has an ordinary routine life along with his girlfriend Sonu (Anjali Patil) who he plans to marry one day.
But Shree's destiny brings him face-to-face with Jairaaj Randhawa and his Experiment. In return of a beautiful life (As promised by Jairaaj), Shree takes up the responsibility to become the last hope for the Experiment.
Shree promises and assures his life's 12 Hours to Jairaaj Randhawa and his team in order to face the Experiment. Little he knew, These 12 hours will make him a man with Extra-Ordinary powers and lots of blood on his sleeve.
I will not reveal the Experiment as according to me, It is the real charm in the film.
Speaking about the Performances, Hussain Kuwajerwala has already proved himself on small screen. He is a talent which has a bright future ahead. Rio Kapadiya is natural and performs his part well. Shivani Tanskale's character in the first half looked like Yet-Another sidekick of the villain-boss in the start, But as the second hour started, Shivani surprised me with her amazing performance. The only irritating and loud (I mean over-loud) actor in the whole film was Anjali Patil. I cannot believe she is the same actress from Prakash Jha's 'Chakravyuh'. Was she over-confident on her acting skills while shooting this one?
Rajesh Bachchani wrote and directed the film. The script does have flaws in it but as i said earlier, The screenplay is so tight and shocking that it makes you eager to watch how the rest of the film unfolds. And this is where Rajech Bachchani comes out as a winner. There is again some Scientific Explanations about the whole episode of Shree and the Experiment performed on him. To get that Explanation digested, You have to consume some kind of knowledge in science-geographical theory. Music of the film is a huge let down. Cinematography and Editing of the film is good. Going by the production value, It looks like the film is being made on a medium budget.
But i will still appreciate the film because somebody like Rajesh Bachchani (Director) and Vikram M.Shah (Producer) went ahead and dared to make a film which is a Tight Sci-Fi Thriller and has no star-cast (I mean big names) at all. Maybe they made this film with whatever limited availability they had, But the effort is decent.
Shree is a roller-coaster of thrills and shocks and is definitely recommended if you are a Sci-Fi thriller fan.