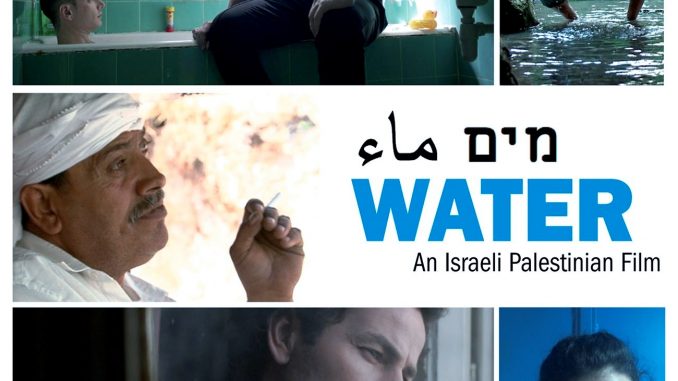 Movie Review:
Water
Directed by: Nir Sa'ar, Maya Sarfaty (Still Waters), Mohammad Fuad (The Water Seller), Yona Rozenkier (Raz and Radja), Mohammad Bakri (Eye Drops), Ahmad Bargouthi (Kareem's Pool), Pini Tavger (Drops), Tal Haring (Now and Forever)
Review by: Faisal Saif
Ratings: * * *
This Seven Short-Films project is funded and supported by numerous organizations including artistic director Yael Perlov and producers Kobi Mizrahi and Maya de Vries charged Seven Israeli and Palestinian filmmakers with creating short films or fiction or documentary on the topic of water. The effort is to bring together the Israeli and Palestinian community together for Love and not Hate with this simple necessity, As agreed by the makers at The 4th Jagran Film Festival (2013) where the film was the opening film.
Water tells seven stories with seven short films which starts off with a young couple from Tel Aviv who are forced to share a fountain with a group of Palestinian workers, between ancestral fears and hints of solidarity (Still Waters by Nir Sa'ar e Maya Sarfaty). The next one is about a Palestinian water seller supplies tanks and wells in the Bethlehem area, as it is left dry by the settlers (The Water Seller by Mohammad Fuad). An Israeli soldier on the verge of a nervous breakdown and a Palestinian peasant who violates curfew to water his watermelons. Together, they try to tame a donkey. (Raz and Raja by Yona Rozenkier).
A famous actor and his two sons have a particular relationship, based on misunderstandings and eye-drops with their neighbor who is an old woman who survived the concentration camps (Eye Drops by Mohammad Bakri). An old Arab man, who lived in the US for years, manages a swimming pool. Here we find Palestinian families, who have never seen the sea, but then then bossy Israeli settlers come to invade this space. (Kareem's Pool by Ahmad Bargouthi). An Israeli soldier, during a break from his drills, remembers an episode from his childhood: his mother was washing his hair in the bathtub, while his father was urging him on to hurry up. (Drops by Pini Tavger). A young and shy orthodox Jew is waiting for her parents to take her to a Shidduch, the meeting to combine a marriage. In the meanwhile, she has a bizarre conversation with an Arab plumber through a closed door. (Now and Forever by Tal Haring).
Every short-film in this film has a strong message of Love, Emotions and Bonding. And this is where lies the victory of it's maker. There are few stories in the film which might be very hard to digest, But as soon as the film is over and you start thinking about the entire courageous concept, You over-come those undigested stories at once.
The best picks out of the seven films according to me would be Still Waters (Nir Sa'ar e Maya Sarfaty), Raz and Raja which is a Killer knock-out with Humor (Yona Rozenkier), Eye Drops (Mohammad Bakri) and Now And Forever (Tal Haring).
The story Eye Drops by Mohammed Bakri may look out-of-the-match if you go by the theme "Water". But the makers claimed that even the "Liquid" that is used in any Eye Drops is Water. The story Eye Drops definitely is an honest effort which will surely move you even if you don't care about the Theme.
Water is an honest effort which stand out and surely deserve the appreciations.