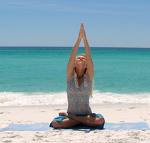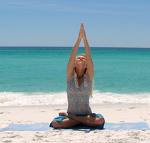 Only weeks after Islamic leaders conditionally ruled against yoga, the popular Indonesian tourist resort of Bali is hosting an international meet to popularise the ancient Indian form of body and mind workout.
An International Bali-India Yoga Festival starts here Tuesday and ends March 10 with participants set to pour in from many countries including India.
The gathering will seek to set up the first Yoga Association of Indonesia, the world's most populous Islamic nation, said Somvir, an Indian academic here who heads the Bali-India Foundation and is one of the key festival organisers.
"The gathering is designed to teach people about yoga as a simple method for healthy living," Somvir said. "Our foundation is engaged in teaching yoga to doctors of Bali, in order to train them in alternative lifestyles based on yoga.
"In Indonesia today, more than 10 million people from different walks of life practice yoga. Yoga is also accepted by more and more people each day," he added.
On Jan 26, Indonesia's top Islamic body asked Muslims not to go yoga if it involved Hindu rituals as that could erode Muslim faith. But Muslims could do yoga as long as it was only for physical exercise and did not include chanting 'mantras' or meditation, it added.
That controversy will be discussed at the yoga meet, Somvir said.
"Scholars from the Islamic State University of Jakarta will take part in the meeting to discuss Islam and yoga," he said. "The controversy over the practice of yoga by Muslims will be discussed at the festival."
Somvir, who has lived in Bali for long years, said that although yoga was universally known, some people confused it with Hindu religion due to lack of knowledge.
"This practice is what Islamic people have opposed. Therefore, this is an important time to discuss various issues related to yoga. This festival will provide answers to all related yoga concerns," said Somvir.
Besides mass yoga practice and a national yoga competition, the festival will see seminars and the links between yoga and beauty as well as health.
There will be discussions on yoga and spiritualism, workshop on yoga and globalization and a yoga dance and fashion show. There will also be an exhibition of books on yoga.
The festival also aims to promote Bali as a destination for spiritual tourism and to strengthen relations between Bali and India.
"There has not been sufficient promotion of Bali as a tourist destination for Indians," Somvir said. "This event will introduce Bali as a second major spiritual tourist destination after India."
"Bali is famous for scenic beauty and surrounded by the sea. It will soon become a major destination for yoga lovers," said Somvir, who is chairman of the festival.