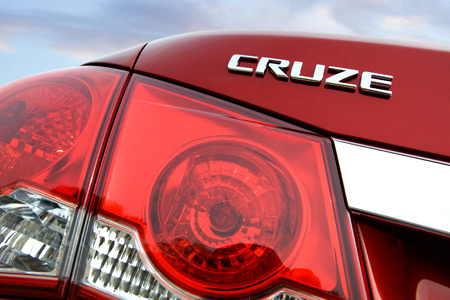 You can publish this article on your website as long as you provide a link back to this page.
This article was last updated on April 16, 2022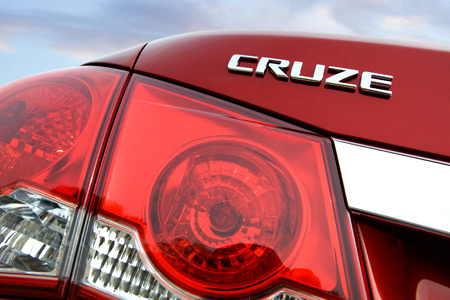 2011 marks the arrival of what is arguably Chevrolet's best compact vehicle to date. The all-new Cruze is more stylish, capable, better equipped, and more fuel efficient than any car from General Motors in this segment.
When it comes to styling, the Cruze doesn't disappoint. The front face consists of a two-tier grille flanked by bold front headlamps. Slightly above the headlamps, the hood bulges out and draws a line back to the A-pillar as if to hint at the power contained within the engine bay. The raked front windshield, arched roofline, sloping rear pillars and short trunk proportion evokes a coupe-like side profile for the Cruze. Combined with 18-inch alloy wheels – standard on the LTZ Turbo model – this new compact car from Chevrolet seems to have all its styling bases covered.
The interior – not to be outdone by the exterior styling – sports a well laid out, stylish cockpit outfitted with a plethora of soft-touch materials. The circular gauge cluster located behind the steering wheel is separated into three sections with tachometer and speedometer on either side of the larger center section that houses a vital information screen that can display everything from fuel economy to vehicle maintenance intervals. Depending on the trim level and choice of interior colour choice, the Cruze always comes decked out in a two tone interior that is never the drab grey/black that has become much too common for cars in this segment.

True to Chevrolet's claims, our test vehicle's interior felt and functioned as a carefully refined automobile's should. For a vehicle in this segment, the Cruze surprised us not only by the quality of its interior but also by how quiet everything was inside. When it comes to interior refinement the Cruze puts almost all other compact vehicles in this range to shame.
The Cruze comes with two engine options: a 1.8L inline-4 and a 1.4L turbocharged I-4. Both engines churn out 138 hp, though the turbo 1.4L model produces peak horsepower earlier on at 4900 rpm while the 1.8L model does so at 6300 rpm. The primary power difference comes in torque, with the turbo 1.4L managing 23 more with 148 ft. lbs of torque at just 1850 rpm. All engine options are mated to either 6-speed manual or automatic transmissions. It's encouraging to see manufacturers make 6-speed transmissions standard on their smaller displacement cars; the ability of a 6-speed transmission to optimize both city and highway driving fuel efficiency and performance is just too great to ignore.
That being said, the Cruze's fuel economy is severely hampered not by its lack of a good transmission – which it does have – but its colossal weight, which can almost be compared to cars from the mid-size segment. Helping the car's weight problem is the Cruze Eco model which boasts segment leading fuel economy numbers by trimming down weight. To do so the Eco model comes standard in manual transmission, drops the spare tire in favour of an inflation kit, uses lighter wheels and low resistance tires, and plays host to a great many other techniques that can be traced all the way back to its dedicated assembly as a low-weight Eco model.
Safety for the Cruze comes in the form of an astonishing ten standard airbags, electronic stability control and for those who opt-in to it, GM's famous OnStar system that can remotely monitor accident statistics and alert first responders accordingly.
Chevrolet is calling the Cruze their world car, and being sold in over 60 countries does indeed warrant the claim. In a nod to its global adaptability, the Cruze is available in other markets as a hatchback, and even with a diesel powertrain. Options that this scribe wishes would also be offered here in North America.
In a saturated market of compact cars, that includes the likes of the Toyota Corolla, Honda Civic, Mazda 3, Ford Focus, Hyundai Elantra and Kia Forte the Chevrolet Cruze has quite the uphill battle considering its predecessor the Cobalt did little to strengthen Chevrolet's position in the segment. The Cruze bears little if anything in common with its predecessor, and easily outclasses many of its rivals in the segment, and although initial consumer response to the Cruze has been less than stellar, Chevrolet is confident in the abilities of its compact world car; having spent some time with it, so am I.

Follow Kanishka Sonnadara on Twitter
here