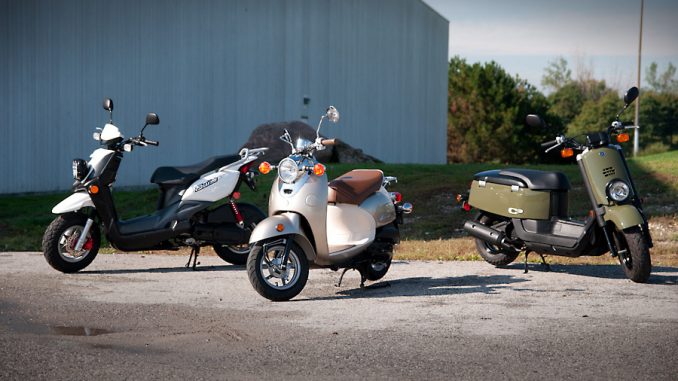 Bicycles are one of the oldest forms of wheeled personal transport, when an engine got added to a bicycle sometime in the mid-1800's early motorcycles were born. The birth of scooters however has been much less defined; today, we primarily identify scooters by their overall shape, riding position, and use of automatic transmissions. For the North American market, 50cc scooters are as small they come, and Yamaha gives us three choices in this segment.
As a company Yamaha is known for a number of product lines including the company's founding business in musical instruments — in fact, this history in music is where the Yamaha Motor Company's logo of three tuning forks is derived from. Recognized as the second largest motorcycle manufacturer in the world, and the brand with the most road race victories, Yamaha's claim to fame in the world of motorized two wheeled transportation is substantial.
It is perhaps no surprise then that Yamaha's three scooter offerings not only cover a wide spectrum of the 50cc segment, but each model manages to stand out in its own right.
The Models
BWs 50 (known as the Zuma 50 in the American market) – Updated for 2012, this model has a 4-stroke 49cc fuel-injected motor. A single piston, 180mm disk brake up front and a drum brake in the rear work to bring the scooter to a stop. 120 width front and rear tires compliment the BWs 50's rugged off-road(ish) look. Road ready, the scooter weighs in at 205 lbs.
Vino 50 – This classic looking scooter is powered by a 4-stroke 49cc carbureted motor featuring an automatic choke for easier cold starts and a kickstart system for when all else fails. Stopping comes from front and rear drum brakes with road contact points being 90 width tires. Road ready, the scooter weighs in at 178 lbs.
XF50 (better known as the "C-Cubed") – This uniquely styled machine is powered by a 4-stroke 49cc fuel injected motor and includes a kickstart system alongside the standard electric starter. Stopping the scooter is credited to front and rear drum brakes mated to 120 width tires. Road ready, the scooter weighs in at 198 lbs.
The Rides

BWs 50
Often referred to as the "BeeWee", the BWs 50 is by far the quickest of the Yamaha 50s. The 2012 model features a new engine and reworked exhaust system making it both faster and more fuel efficient while producing less harmful emissions — in my book that's a winning combination any day.
Off the line the BeeWee is a hoot, twist the throttle, push your weight back and you might even catch some air with the front wheel as the scooter's power pours on in an instant. Getting up to city traffic speed (60km/h) is easy, and feels fairly effortless on the motor. With 200 lb me as a rider, the scooter managed average speeds of 65-68km/h, more than enough speed to comfortably move with city traffic in Toronto. On one occasion heading downhill with a decent tailwind the BeeWee registered a top speed of 78km/h on the speedo; I've heard rumours that other riders have managed a bit more — they likely weighed less than I did. Rumours also hint that the new BWs 50's speed may possibly be the result of a bike with a bit more displacement than the neat 49cc number noted on the specifications sheet… but since Yamaha will not officially confirm it, all I've got for you is a *wink, wink, nudge, nudge*
A great suspension setup coupled with the 120 width tires on the BeeWee also breeds confidence when riding through pothole laced city streets. Besides being great to ride, the BWs 50 also plays on practical with a small storage area just below the handle bars — just big enough for a wallet, some keys, and cell phone — in addition to respectable under seat storage.

Vino 50
The classically styled Vino 50 couldn't be a more different machine from the BWs 50. The carbureted Vino 50 motor and front and rear drum brakes seem to be a perfect match for this retro machine. Looking at the design and styling of a Vino 50, it seems very much a carbon copy of machines from times of yore. There's definitely appeal here for those who want a little nostalgia in their scooter while getting all the perks of a new buy.
Despite being the lightest and physically smallest of the three scooters, the Vino 50 also happens to be the slowest. Although peppy off the line, the machine takes a serious hit on top speed. I regularly found myself struggling to keep up with city traffic in 60km/h zones. Forget average speeds — 50-55km/h — my top speed was an unimpressive 63km/h on downhill stretches. Appropriately perhaps then, the Vino 50 was designed as a single seat scooter; I couldn't imagine what the ride would have been like had I added just another 100 lbs in payload.
Smaller riders will benefit from the full front fairing the classic styling of the Vino 50 affords — I couldn't get my legs tucked in neatly behind them, but I'm sure they'll be appreciated by those who can. The Vino 50 also has a storage area below the handlebars similar to that of the BWs 50; and in addition to the under seat storage, there's also a great luggage rack fitted to the back as standard kit.

XF50 a.k.a. C-Cubed
One of the most recognizable of all the 50cc scooters on the market today, the C-Cubed stands out for its look above all else. And why not, says I, the look makes the machine here, and it's not a bad one at that.
In terms of performance, the XF50 slots right in between the speedy BWs 50 and sedate Vino 50. Riding around town I managed average speeds of 60-65km/h while topping out downhill at a touch above 70km/h.
Performance however, isn't what makes this scooter a winner for me; it's simply the look and the feel. Oh, and the copious amounts of under seat storage doesn't hurt either.
Speaking of feel; of these three scooters I felt the most comfortable riding the C-Cubed. The BWs 50 may take the prize on having the best suspension setup, but the XF50 delivered on a number of intangibles that just made my riding experience an overly pleasant one — perhaps I'm being biased here because I liked the style and the army green paint scheme so much.

The Verdict
Each one of Yamaha's three 50cc scooter offerings brings something unique to the table. Whether it was speed and efficiency, nostalgia, or a sense of funky style, these three machines have impressed quite a bit.
I do however, have one major bone to pick with all three models… they could all use a major upgrade on braking components! Stopping abilities on all three models were adequate, but some of the competition in this segment features superior braking setups that do better. Yamaha being the behemoth motorcycle builder it is, I see no reason why they shouldn't elevate their game to match or even do better.
Overall as a package, the BWs 50, Vino 50 and C-Cubed each make great scooter choices for those in search of a small displacement runabout. Considering how easy it is to ride one of these, and how much fun they are to actually ride, you can't really go wrong with any one of these three.
As I rode each of these three 50cc scooters, one recurring theme became clear: these are really well built machines backed by sound engineering principals. Time I spent talking to other Yamaha scooter owners echoed this sentiment repeatedly. People put their small displacement scooters through hell sometimes, and these Yamahas can take a real beating and still keep ticking.
Photographs courtesy of Yamaha Motor Corp., Wilson Lo, and Kanishka Sonnadara
Follow Kanishka Sonnadara on Twitter @autoKsS