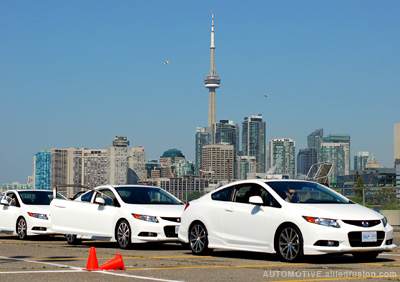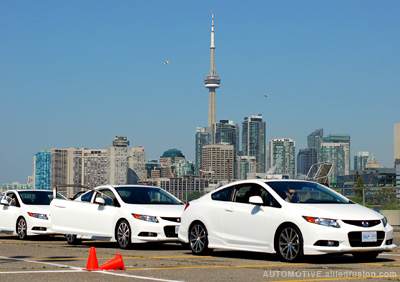 It's no secret that North American drivers buy automatic transmission equipped vehicles in droves. It is estimated that only about 10% of all cars on our roads today are manual transmission vehicles. The EPA (Environmental Protection Agency, American) released a report stating that 6.7% of all new cars sold in 2009 were stick shifts; and that's a 5 year high. The figures however aren't deterring automakers from touting stick shifts through their commercials and other marketing material.
We can make the logical argument that the biggest reason vehicle manufacturers showcase manual transmissions is that consumers often associate it with performance. Watch any number of new car commercials, and there's inevitably a driver reaching down to a shifter and moving it about as we are shown shots of the car racing down twisty roads — you might even catch a few ads where the car being showcased doesn't even come equipped with a manual transmission; yet there's still that image of shifting. Take a stick shift car out for a spin, and suddenly the logical arguments are irrelevant.
Driving manual is about feel and emotion.
There are real car enthusiasts behind big car companies, and sometimes their passions and what's best for business align. This is how I found myself on the banks of Lake Ontario with a beautiful Toronto skyline across from us, driving brand new Honda Civic Si HFP's on a makeshift mini-circuit.

Honda Canada recently invited members of the media to join them at Polson Pier in Toronto to experience manual transmission driving with instruction from a number of racing veterans including young pro-driver and fellow Canadian, Daniel Morad.
In addition to instruction on how to attain near perfect shifts and the mechanics of it all, the highlight of the event for most was undoubtedly having an opportunity to ride shotgun while the professionals whipped the Civic Si HFP's around the course showcasing what these vehicles could do in the hands of skilled drivers.

"A manual transmission vehicle is a very rewarding driving experience" says Honda product planner Jonathan Weir; it was a sentiment echoed right through the Honda camp.
As a motoring enthusiast, it's always nice to see auto manufacturers promote the true joys of driving. Driving manual transmission may quite possibly be one of the most pleasurable aspects of driving a car and perhaps with this kind of push from automakers, we'll see more adopters of the manual way.
Honda currently offers the Civic, Fit, Accord, and CR-Z in manual transmission configuration; the CR-Z also happens to be the only hybrid in North America sold with stick shift. For those who want something with more luxury, Honda's premium brand Acura offers up the TSX, TL, and soon to arrive ILX in manual transmission as well.

Having only learned to drive manual transmission less than two years ago, I've become a staunch supporter of driving stick. Perhaps it's the personal delusion that I'm a better driver than I actually am, but knowing that I can shift gears myself leaves me feeling a little cooler about myself as a driver.
Photography by Kanishka Sonnadara.
Kanishka Sonnadara is a member of AUTOMOTIVE.alliedfusion.com and can be found on Twitter @autoKsS