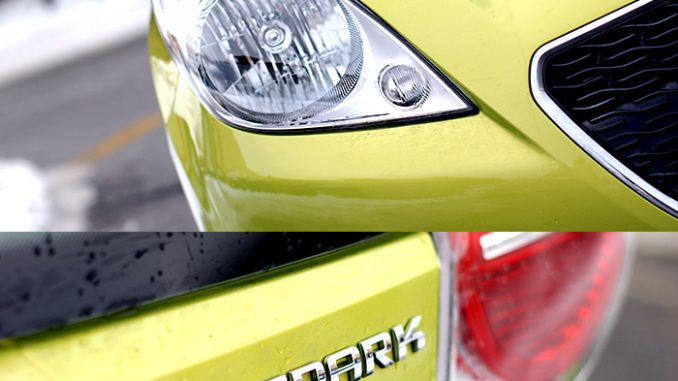 This article was last updated on April 16, 2022
Canada:

Oye! Times readers Get FREE $30 to spend on Amazon, Walmart…
USA:

Oye! Times readers Get FREE $30 to spend on Amazon, Walmart…
Really small, really cute, and surprisingly capable, just keep it off the highway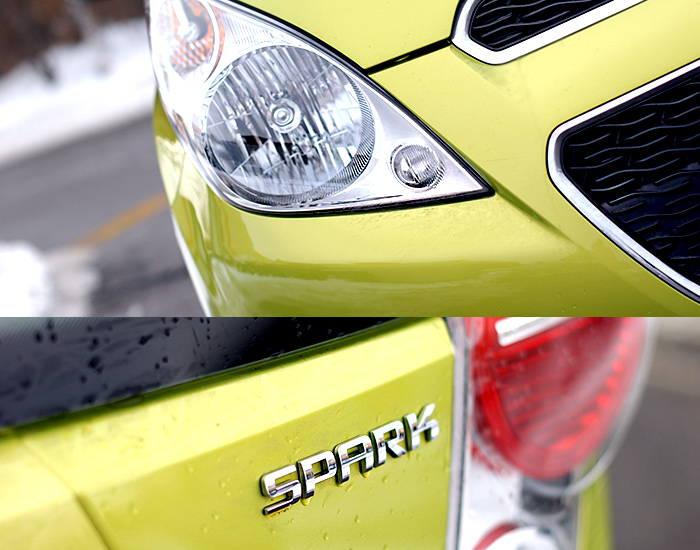 Chevrolet has a compact car in the Cruze, a sub-compact car in the Sonic, and now for the first time, a mini-car called Spark. All new from General Motors for the 2013 model year, the Chevrolet Spark falls in to that market segment that has gained quite some popularity after so many fell in love with the new Fiat 500.
Take a close look at the 2013 Chevrolet Spark and it quickly becomes clear that small, budget transport doesn't necessarily have to feel quite like it. The Spark looks great from nearly every angle and even has a few treats to keep drivers happy.
Design
Only available as a 4-seater, 5-door hatchback, the Spark has the smallest overall footprint of any Chevrolet vehicle. It does however have some great big headlamps, and sits quite tall for such a small vehicle.
Available in colours like Salsa, Jalapeno, Techno Pink, Denim, and Lemonade, Spark buyers have the opportunity to really give their already dramatic mini-car a very notable presence. Further enhancing the personality of the vehicle, the Spark can also be equipped with interior accent colours to match the exterior colour of the car.
With an interior gauge cluster design inspired by motorcycle dash boards, it's hard not to love the simple but stylish Spark cabin.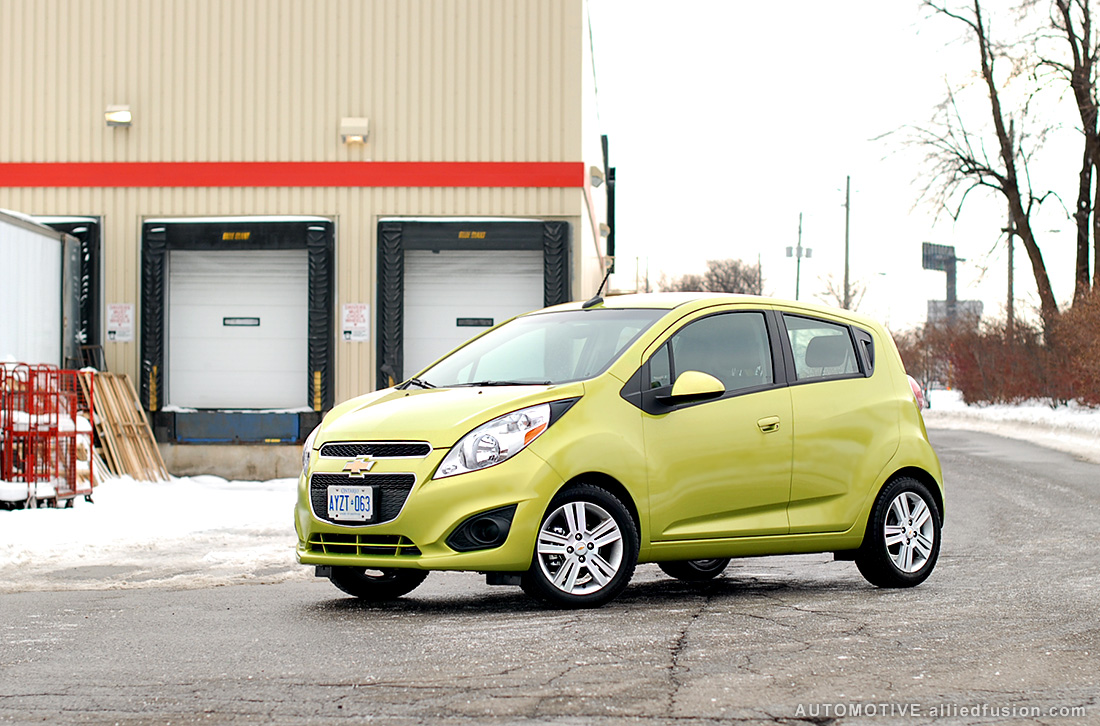 Tech
The one and only entertainment set-up every Spark buyer ought to have is the Chevrolet MyLink Touch. Integrated in to the dash, this well rendered 7-inch display is the gateway to the Spark's infotainment system.
It comes standard with AM, FM, XM, USB, Auxilary, and Bluetooth audio; keen readers will note I didn't list CD/DVD, and that's because the Spark doesn't have a disc drive. There wasn't one in my test car, there isn't one on another trim level, or available as an option anywhere, Chevrolet has done away with optical discs altogether in the Spark. Despite much moaning folks soon forgot that cars once came with cassette players, and if Apple did away with discs five years ago it's about time that some cars started doing the same.
As for the Chevrolet MyLink Touch system, it's a great centralized control system for all your entertainment needs and even allows users to stream internet radio through their smartphones.
Although I would've liked to have seen a dedicated navigation system available for the Spark, Chevrolet saw to this by allowing the integration of a navigation capable smartphone app with the vehicle's MyLink system. Using the 'BringGo' app (currently available for iPhone and Android) means your phone does all the heavy lifting for location tracking, live traffic, and map updates but allows for the whole system to display itself and be operated seamlessly through the 7-inch touch screen display.
Allowing the integration of a smartphone app for navigation may just be one of the cleverest tricks Chevrolet pulls off with the Spark, but not having used it, I can't comment on how well or poorly the system works.
Power
Equipped with a 1.25L inline 4-cylinder engine, the Spark manages 84 hp at 6,400rpm and 83 lb-ft of torque at 4,200rpm. Power is not exactly a highlight on the 2013 Chevrolet Spark, and there definitely isn't any Camaro DNA to be found here.
Opting for the 4-speed automatic transmission with the Spark may be a foolish move; why you ask? Paying $1,250 more for an auto means the already underpowered Spark has even more of its power robbed by the auto transmission's torque converter. In my test car this meant continually finding my foot pressed to the floor and listening to the little engine rev as high as it would go –not the greatest driving experience. Buy it with the 5-speed stick shifter folks; besides don't we all enjoy shifting gears manually anyway?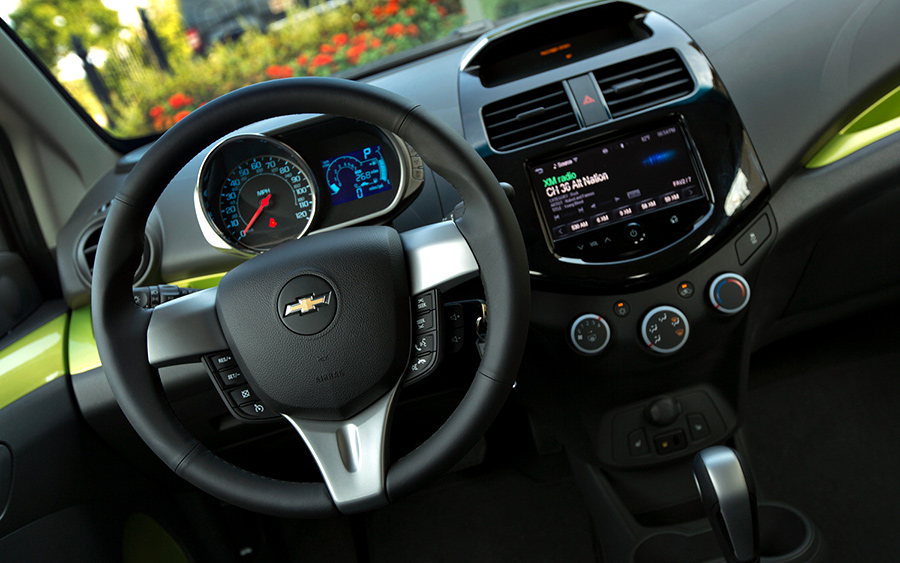 Driving it
Driving around Toronto in a car with a colour called Jalapeno isn't exactly discreet, but I did enjoy fitting myself in to tight parking spots and weaving in and out of traffic. The latter of course was only possible with the relatively slow moving traffic of city streets; trying keep pace on the highway feels like a workout for the car however, and forget about the quick passing manoeuvres, it just won't happen.
At highway speeds the cabin of the Spark can get quite noisy with wind, road, and engine noise penetrating easily. On the plus side, great big windows and a good seating height ensure excellent outward visibility for the driver which makes driving the Spark in crowded city streets and tight parking lots a breeze.
At 6'1 I was quite comfortable behind the wheel for an extended 4 hour long drive. More supportive and softer seating would've been great, but for its price point, the Spark really does shine.
Value
The value proposition offered by the 2013 Chevrolet Spark really is the reason anyone should stand up and take note. Ringing in at a base MSRP of $11,845 which includes traction and electronic stability control systems, ABS, 10 airbags, power windows, and even 15-inch alloy wheels means that buying base isn't going to feel a whole lot like a compromise.
Opt for the 1LT package for $15,195 and buyers will be treated to A/C, power mirrors and locks, remote keyless entry, and the must have Chevrolet MyLink system. If you're the kind of buyer who can't bear the thought of not getting the highest trim level on a car, then the 2LT will please. For $16,995 the Spark comes equipped with fog lights, fancier 15-inch wheels, heated front seats, a lot of painted to match body color exterior panels, a slew of chrome accents, and of course the obligatory bits of leather in the interior.
The mini-car segment isn't all that crowded in North America, but there are some very good choices for drivers who spend most of their time in urban environments and value small vehicles for all their conveniences. Considering the only other 4-seater mini-cars sold in Canada are the Scion iQ priced at $17k, and Fiat 500 starting at $13.5k, the Spark shines out as a bargain at under $12k.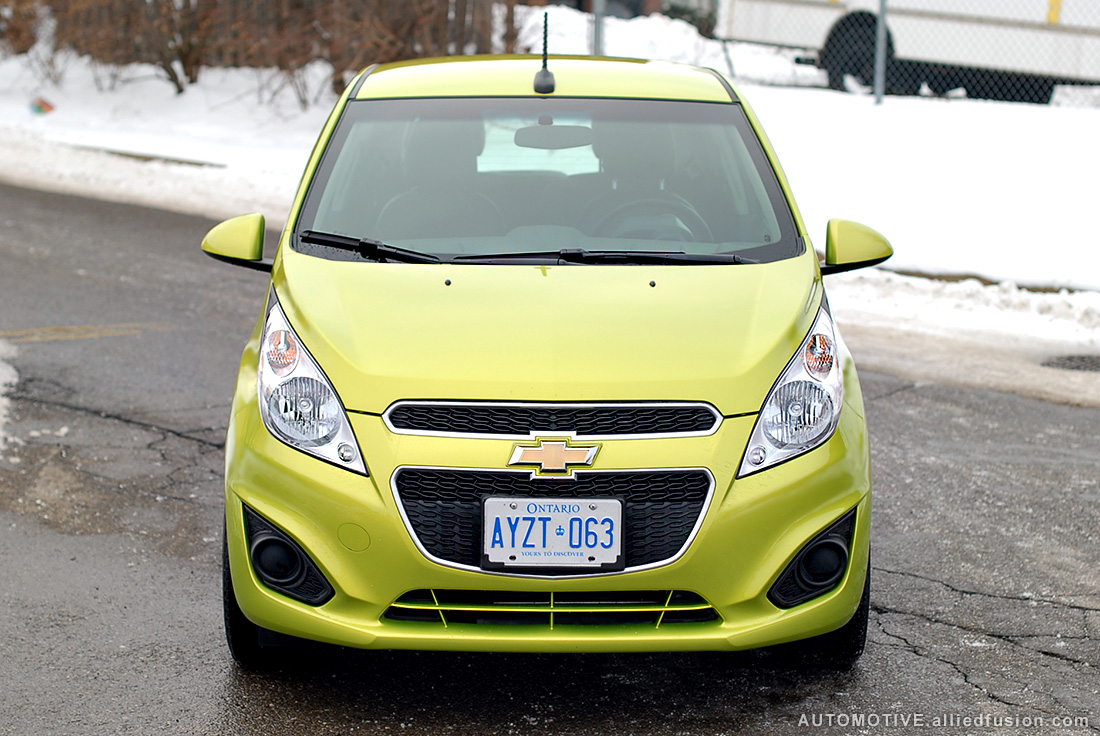 Final thoughts
The 2013 Chevrolet Spark makes for a great urban commuter that offers excellent features at a remarkable price point. With its vibrant colour options and fun loving design, the Spark gives the budget minded small car buyer a vehicle option that doesn't feel all that much like a compromise.
Photographs by Kanishka Sonnadara and General Motors
.
You can publish this article on your website as long as you provide a link back to this page.