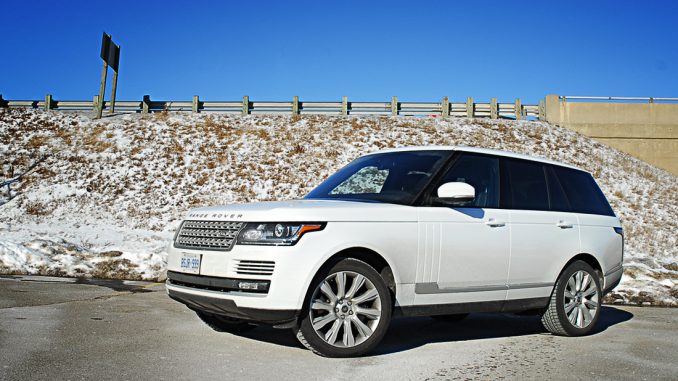 You can publish this article on your website as long as you provide a link back to this page.
This article was last updated on April 16, 2022

The fourth generation Range Rover is being billed by Land Rover as the "world's most refined and capable SUV". Not that I've driven every luxury SUV the world has to offer, but based on what I have, and what I know, Land Rover may be on to something.
The past

Land Rover first started building four-wheel drive wagons after the Second World War as a cash flow generator so the British Rover Company could return to building cars. These early utilitarian machines were designed to be a sort of cross between a farm tractor and a light truck. As the vehicles went in to production it was decided that they would focus on being light trucks more than tractors, with off-road capability and dependable durability. Simply known as Land Rovers at the time, they sold exceptionally well and proved to Rover that there was more money in these off-roaders than in their cars.
It wasn't until 1970 when the first Range Rovers hit the market. At the time they were far from the opulent luxury status symbols we associate with similarly named models today. Rather they were more capable off-road than the popular Series I, II and III Land Rovers and vastly more comfortable. In fact, the Range Rover Classic, as it is known today, featured better off-road capability than nearly any other light utility vehicle of its time. It even outshone many cars of that period with its performance and occupant seating room.

The new
First introduced as a 2013 model, the all-new Range Rover starts off with a complete redesign that manages to be both contemporary and classic simultaneously. The new sleeker body style lends itself for better aerodynamics than any previous generation model. This body design also yields to a softer look for what used to be a boxy upright SUV, it may not have the commanding presence it used to but a more sophisticated look isn't a bad thing.
Aerodynamics however aren't what make this Range Rover remarkable, its weight does. Much like the Series I Land Rovers, the new Range Rover features an all-aluminum body which helps the SUV shed a whopping 700 lbs (317 kg) compared to the previous generation models –that's the equivalent of taking a full-size Harley Davidson motorcycle out of the trunk.
These SUVs are forever linked in our minds for luxury off-road performance and capability. The 2013 Range Rover does not disappoint in this front, featuring an even more capable Land Rover Terrain Response system that analyzes real-time road conditions and adjusts vehicle settings to best suit the driving condition at hand. The SUV also features an impressive wading depth of 3 feet (900 mm) along with better approach and departure angles made possible by a little more ground clearance.
In the cabin luxury comes in the form of supple leather all-round broken up by beautifully lacquered surfaces. The polished metal knobs and carefully hewn lines of the cabin lend a Bentley-esque quality to the interior.

The ride
Refined on-road ride quality is a highlight of the all-new Range Rover. It's quiet, comfortable and goes around corners better thanks to stiffer suspension. Whether putting on the miles on a road trip across North America or kicking up dust across sub-Saharan Africa, the cabin of the new Range Rover keeps you in a constant state of relaxation thanks to a multi-zone climate controlled cabin equipped with heated and cooled massaging seats.
Though what you really want to know is how this five thousand pound, 510 hp, 461 lb-ft of torque, 5.0L supercharged V8 drives. Get in, buckle up, push button to start, shift to drive and give it the beans. The Range Rover Supercharged lets out a mighty roar as the front end picks up, all four tires bite down for grip and shoots down the road with the kind of oomph that'll put most sports cars to shame. 0 – 60 comes up in a mere 5.1 seconds and it'll keep going all the way to 145 mph (225 km/h) or 155 mph (250 km/h) when equipped with the optional 22-inch wheels.
That kind of performance however comes at the cost of fuel-economy. Although the claimed figures are 13.6L/100km for combined city/highway driving, I struggled to keep my test vehicle readings under 19L/100km in mixed city/highway driving. A 105 L fuel tank did however allow me 500 km between fuel stops, but when I did stop I found myself going pale at the pump when a full tank of premium grade fuel rang in at over $150. That said, if you can afford the $130k+ tax-in price tag for this beautiful beast, then price of fuel surely won't be a concern.

Equipped with an air ride suspension that can be raised and lowered according to driving conditions –which I'll admit to using as a party piece just to show off what nearly a foot of ground clearance looks like– the new Range Rover is more than capable of going over nearly any curb, ahem, I mean obstacle. At even its lowest access height, getting in the Range Rover can be a bit of a challenge for most, which begs the question why Land Rover doesn't offer the side steps as an OEM option.
In addition to all the standard passive safety systems –reinforced body structure and airbags– the 2013 Range Rover features a host of active systems that I've come to appreciate after driving through a couple of brutal December snow storms.
Responsible for keeping the Range Rover flat through the corners is a system Land Rover calls Dynamic Response which electronically adjusts the sway bars minimizing body roll. Also helping drivers keep stable through the corners is a system that actively adjusts braking pressure called Cornering Brake Control. Combined with Land Rover's proven full-time 4WD system along with traction and stability control systems, the Range Rover is more than apt at taking you anywhere and keeping you safe.
Whether driver or rear seat passenger, there's no shortage of technology within the Range Rover's cabin to keep occupants informed and entertained. Up front an 8-inch touchscreen navigation unit serves as the main control and information hub for all the vehicle's secondary functions. The central instrument cluster is also made up of a LCD screen that displays everything from digitally rendered speed and tachometers to primary vehicle settings information. The optional rear seat entertainment system comes with wireless headphones and a dedicated remote control to keep passengers young and old occupied and entertained.

For the audiophiles, Land Rover has paired up with Meridian Audio to offer up an optional 825-watt premium sound system that features 16 channels broadcast over 19 speakers for a properly immersive auditory experience. Combined with the superb sound insulation of the Range Rover's cabin, this system can make any drive a concert-like experience for $1,850. Don't want to blow the dough? The standard system is still a Meridian unit pumping out 380-watts spread across 13 speakers capable of delivering crisp sound.
We could make a case for Land Rover needing to source some new computing tech for their infotainment system. The current system can be a bit slow and unresponsive at times, but it is well rendered and offers every convenience a driver could want. The system's also easy to use and makes for quick learning, especially if you happen to own a new Jaguar –the two brands share the same systems.

The verdict
Usually I have a few nits to pick with British build quality, however, I was hard pressed to find much more than a wobbly paddle shifter to complain about on my tester. Whether this is the result of influence from Land Rover's new Indian parent company Tata Motors or the manufacturer truly raising the bar on what we can expect from them going forward, there really isn't much in the way of gripes to be had with the 2013 Range Rover.
With a starting price of $114,900 the 2013 Land Rover Range Rover has no equal in capability, luxury or price. The brand single-handedly gave birth to the luxe SUV market years ago, and today it not only redefines it, but decimates any perceived competition.
Continued refinement of fit, finish and tech options would further elevate this giant amongst SUVs to near godly levels of magnificence.
Images by Land Rover and Kanishka Sonnadara.
Kanishka Sonnadara can be reached by email at kanishka[at]oyetimes.com or on Twitter @autoKsS