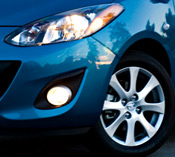 "Zoom, zoom" – "I don't get it, don't like it, and don't care about it."
That was me until I got behind the wheel of Mazda's all new sub-compact car, the Mazda 2. This vehicle is a whole new category for Mazda of North America, and will be the smallest car they have offered to this market.
Let's take a closer look and see how this car turned my opinion of the whole brand around.

Looks and Styling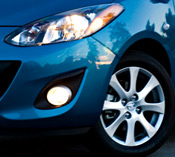 From almost every angle the Mazda 2 is a good looking car; the lines are bold and sleek, it has a sporty firmly planted stance (thanks to wheels pushed as far to the four corners as possible), and the 'smiling' front facia makes the '2' identifiably Mazda.
The GS trim puts the '2' on 15-inch alloy wheels, which look great on this car, adds a chrome exhaust tip, rear hatch roof spoiler, side sill extensions (side skirts), and fog lamps. The culmination of all this is one good looking sub compact that looks distinctive and sporty (we'll get to whether it's actually sporty, further on in this article).
My test vehicle was a blue colour GS trim model. It regularly drew in comments of "cute", "hot", "cool", and "that's the new Mazda?!"
Most of the comments we received were understandable because the '2' is such a small car on the outside. The dimensions, although uncommon for North America, are a standard in Europe and most of Asia. As Canadians start being introduced to these small and very stylish cars, expect the cars to draw progressively less attention to themselves.
Taking a look at the interior of the '2' we find it simple, yet functional. A well laid out center console and driver controls make operation of the Mazda 2's various electronics intuitive and easy to learn. If you're looking for flashing lights and spaceship-like gizmos, look elsewhere, this interior is about being modest and practical. Although a note must be made about the rather snazzy looking red trim on the seats, it really brings what would otherwise be a drab black interior to life.

Driving Dynamics
Here's where the Mazda 2 comes alive! One wouldn't expect a small $14k (base model) car to be described with words like "spirited", "agile", and "comfortable".
But that's exactly how the Mazda 2 feels. Driving this car you quickly realize that "sub-compact" and "economy" doesn't have to mean "boring" and "cheap".
It's evident that Mazda has put some thought into engineering a car that is not only economical, but at the same time, a lot of fun to drive. The suspension feels composed, firm, and very well balanced, yet the car manages to also be comfortable and compliant on rough roads.
The engine, although just a 1.5L 4 cylinder, is tuned in such a way that you have power available when you need it, and rarely feels sluggish. A large portion of that is thanks to the 5-speed manual transmission our test car was equipped with.
What made driving the Mazda 2 all the more interesting was a very captivating engine and exhaust note. You wouldn't expect an economy sub-compact car in factory specification to sound nice, but if you listen to the Mazda 2, you'd be pleasantly surprised.

The '2' has good brake feel, and despite the rear drum brakes, the car is capable of bringing itself to a stop in a hurry with little drama, thanks in part to the standard ABS and EBD systems.
One of the reasons this car drives and handles the way it does is its weight, or rather the lack thereof. The Mazda 2 weighs in at 1,051 kg (2,317 lbs), and that makes this car one of the lightest in this segment. Less weight means less power required to move the car, less force required to stop the car, and less mass being hurled around corners. All this makes for a car that's fun, not to mention cheap to drive.

Quality and Comfort
Leather? No. Walnut wood trim? No. Gold flakes? Of course not. This is a car that sells between $14 and $19 thousand, so there will be no touches of refined luxury, but here's what you do get: a car that feels like it's well put together using quality materials that are both comfortable and durable.
Take a seat in the Mazda 2 and you immediately notice that these seats are quite comfy, and unusually soft for a new car (most cars in this class have stiffer foam seating that is meant to hold its shape and not yours). All the interior components felt solid and there wasn't a single rattle or shake to be found in our test car.
Curiously enough, also not found was a place for the driver to rest his right arm. Normally sub-compact cars don't have arm rests, which is fine because they do have centre storage consoles with a flat top lid where you can rest your arm. However, there's no centre storage console in the Mazda 2. So you're left with a right arm that doesn't have a place to rest itself. It makes you wonder why no one at Mazda noticed this rather uncomfortable sitting position before releasing this car to the public.
The story of solid feel continues as you drive this car, whether over pot-hole ridden roads, or uneven driveways, there isn't a rattle or squeak to be heard. The wind, road, and engine noise don't intrude into the cabin very much either leaving you to enjoy your conversation with your passengers, or nod along to your favourite tunes. This is not always the case with sub-compact cars.
Why it's here
It makes perfect sense for Mazda to bring this car to North America, after all, gas prices will continue to rise, emissions and pollution from vehicles are big environmental concerns, and large crowded cities make it hard to own large vehicles. The '2' also gives new car buyers a cheaper entry point into the Mazda brand. Overall, it seems about time that Mazda brought a sub-compact to our market.

Competition
Toyota and Honda (Mazda's two big Japanese rivals) have had sub-compact cars in North America for some time now. Both the Toyota Yaris, and Honda Fit, are good cars in their own right, but it's the driving dynamics that make the Mazda stand out from the other two vehicles.
You'll also find the Hyundai Accent, and sibling Kia Rio in this class, along with Chevrolet's Aveo, and the relatively-large-for-a-sub-compact Nissan Versa. The Versa comes the closest in poised driving style to the Mazda, although the Nissan loses points for a not-so-comfortable ride due to a tighter, sportier suspension. In that respect, the Mazda takes the edge for a great balance of comfort and sportiness.

Verdict
If you were in the market for an economy sub-compact car, and bought one last year, or even a few months ago, you may be disappointed to know that there's a new car out which warrants a close look, and a second thought.

If you are amongst that group that don't think cars are fun, and they never will be, then you probably won't understand the Mazda 2. You'll wonder why someone would buy it over the better known Yaris, or larger Versa, or cheaper Accent; the Mazda 2 is a driver's car, and if you don't enjoy being behind the steering wheel, you might not understand this car.
The truth is the Mazda 2 may justify someone buying a small economy car because they want to, and not because they have to. That may be just about the most surprising thing we've seen all year.
Contact Kanishka Sonnadara at kanishka@oyetimes.com