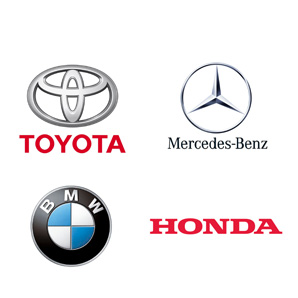 You can publish this article on your website as long as you provide a link back to this page.
This article was last updated on April 16, 2022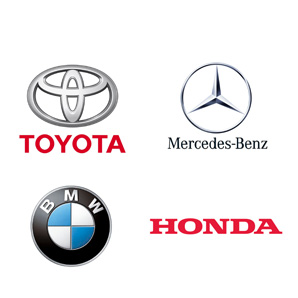 How do the car brands we know and love stack up globally in brand presence and performance? Here they are ranked according to brand consultancy Interbrand and their renowned annual list of Top 100 Best Global Brands.
In order, the top automotive brands for 2014 are:
Toyota in 8th position, sits right behind Samsung at 7
Mercedes-Benz is 10th, directly after McDonalds at 9
BMW follows at 11
Honda sits in 20th position
Volkswagen, 31
Ford, 39
Hyundai, 40
Audi, 45
Nissan climbs to 56th position from 65th last year
Porsche, 60
Caterpillar although not a carmaker, builds things with wheels and engines and sits at 61
Kia, 74
Chevrolet, 82
Harley Davidson, 87
Land Rover is new to this Top 100 list and rounds up the automakers ranked for Best Global Brands 2014 in 91st position
Interbrand uses a broad range of data to evaluate a brand's inclusion to Best Global Brands list. In specific these are:
– At least 30 percent of revenue must come from outside the brand's home region.
– It must have a significant presence in Asia, Europe, and North America, as well as broad geographic coverage in emerging markets.
– There must be sufficient publicly available data on the brand's financial performance.
– Economic profit must be expected to be positive over the longer term, delivering a return above the brand's cost of capital.
– The brand must have a public profile and awareness across the major economies of the world.
You can find the full list at: http://bestglobalbrands.com/2014/ranking/
Images courtesy of respective brands.
Kanishka Sonnadara can be reached at kanishka[at]oyetimes.com or on Twitter at @autoKsS