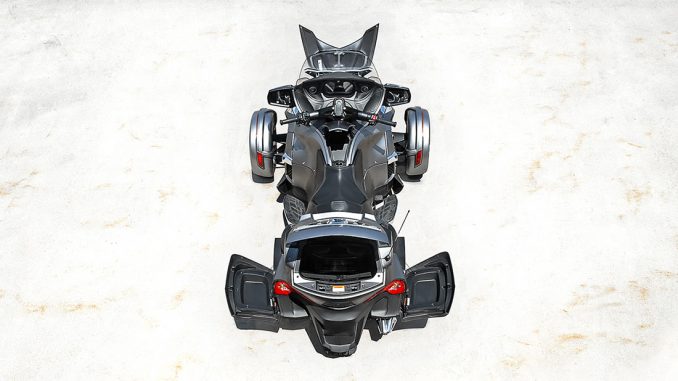 It's the end of the riding season for motorcyclists in Toronto. Although it doesn't have to be, not if your ride is a Can-Am Spyder. But first things first:
This is not a motorcycle.

Yes you need a motorcycle license to pilot a Spyder. You'll also need to wear a DOT approved helmet. But that's about where the similarities end. The Spyder experience is more akin to an ATV, snowmobile, or even jet ski –BRP, the company behind the Spyder, they build those too. Unlike any of the three prior mentioned machines, a Spyder is darn near impossible to tip over and is completely street legal in every province, territory and state.
Riding
With two wheels in the front the Can-Am Spyder has the correct wheel configuration for a properly stable trike. No matter how aggressively you throw a Spyder into a corner, it holds its line as long as you can hold on to the bars.
Tipping the scales at well over 460 kg (1,000+ lbs) the 2014 Spyder RT Limited test machine I was riding was no lightweight. Add a 90 kg (200 lbs) rider like me and you've got half a ton of mass that is elegantly supported by a double wishbone front suspension with an anti-roll bar that works to keep it all level.
Equipped with an electronically adjustable rear air suspension that goes from muffin soft to rawhide tight, the Spyder can be set up to suit a rider's level of exuberance with a single console mounted button.
Let's talk power for a moment.
Despite its size and considerable heft, the Spyder RT easily launches itself off the line like a racehorse out of the gate. The electronically controlled throttle is smooth, but lacks a sense of direct and immediate connection to the powerplant, tempering input through a computer that decides whether or not what you're asking the rear tire to do is sensible for the road surface you're on.
All Spyders come equipped with BRP's renowned Rotax motors. While the other Spyder models use a 998cc Rotax V-Twin, the Spyder RT gets a new, high torque, three-cylinder Rotax 1330 ACE motor. Delivering a claimed 115 hp and 96 lb-ft of torque, the new motor idles and cruises at a lower rpm than its 998 predecessor. Not only does this make the powerplant more apt for touring, but its improved emissions performance makes it capable of moving into global markets where emissions standards are stricter than in North America.
All 1,330cc come to work with spirited throttle application and the motor sounds happy to rev. The stock exhaust however is a quiet docile unit and those seeking a bit more of a visceral experience ought to opt for an aftermarket add-on.
Can it do a burnout you ask? Perhaps. But with linked braking and a semi-automatic transmission, it's darn near impossible to try.
The transmission is actually big news for the 2014 Spyder RT. A six-speed unit, it's all new for this model year and comes in either manual or semi-automatic and features a reverse gear as well. RT models only come with the semi-automatic transmission and allows riders to manually select gears or the system can act entirely on its own without rider input.
Shifts however weren't the smoothest on my tester RT. The change from neutral to first and first to second comes with a loud 'clack' as does the change from reverse to neutral. Once at speed, shifts are less noticeable, but this isn't much like the buttery smooth units some other motorcycle OEMs use (cue Honda's Goldwing transmission).
2014 Spyder RT models come with standard linked braking. Activated by a single right foot pedal, the electronically controlled hydraulic system is mated to 270 mm Brembo 4-piston calipers up front and a 270 mm single-piston caliper at the rear. Stomp on the brake and you better be well braced, or the Spyder's very rapid deceleration will have you eating windshield.

Sitting
You sit upright, legs bent 90-degrees at the knee, arms stretched out in front of you on the handlebars. The RT model I'm reviewing here also has an adjustable windshield which keeps the air space around your head and torso out of the drama of fast rushing wind.
A wide, comfy seat keeps the rider's rear-end feeling great even when the roads get choppy or the journey gets long. The passenger seat is even wider, and so large in fact that I was able to get two hotties to sit back there, BONUS! Wait, don't actually ride like this. Not only is it a major safety issue, but I'm sure Johnny Lawman wouldn't take it in such good humour when he spots the three helmets bobbing atop your Spyder RT as you cruise down the highway.
The advantages of the RT's passenger seating doesn't end there however. Your passenger is treated to heated grips, and even audio controls for your entertainment system. But most impressively perhaps, the passenger gets a large backrest that wraps around the sides, cradling her/him behind you. So even if they decide to take a wee nap, you can ride confidently knowing that no one's falling off the back.
At 6'1" I found the seating position for the rider worked well, albeit a bit cramped for my long legs and forcing me to move my knees out of the way of the handlebars when maneuvering through tight turns, i.e. parking lots. The raised seat behind me proved to be a great place to hop on to when riding solo allowing me to get a really nice stretch briefly if I was spending anything more than a hour at a time in the saddle.

Storage
Storage really is the Spyder RT's pièce de résistance. Between the front luggage bay, the two side panniers, rear top box and small glove box there's a total 155 L of storage.
Can-Am sells rigid luggage cases that fit all four major storage compartments. I found the front compartment was able to hold a XL full-face helmet, gloves and light jacket. The right saddlebag can hold a smaller full face helmet, while the left can manage a beenie and gloves. The rear top box is deep and can be split in two with a horizontally placed removable tray.
I was disappointed with the glove compartment however, and it wasn't for a lack of space. The compartment gets really heated up from the engine and as I learned the hard way, a terrible place to store snacks –although it was great for keeping some leftover fries warm.

Tech and Safety
Open up the rear top box and you find an auxiliary input for a music player and a 12-volt charging port tucked inside. The Spyder RTs entertainment system is capable of playing MP3s through whatever connected device, AM/FM radio, weather band and –although not equipped on my tester– is ready for satellite radio as well.
All RT models also get an integrated Garmin Zumo 590 GPS mount. The forced use of one particular make/model of navigation system however is a bit annoying, as I would've preferred a universal mounting bracket and charging port in its place.
Heated grips for the rider and passenger are sweet features and perhaps expected on a machine of this caliber. The Spyder RT also features a new 1200 watt alternator which makes running heated grips and a plethora of other pluggable accessories a worry-free affair.
From the first iteration of Can-Am Spyder, BRP has maintained a dialogue on the safety riding a Spyder represents. Yes three wheels are inherently more stable than two, and although that may be the crux of the matter, it doesn't stop there. All modern Spyders feature a Vehicle Stability System BRP has developed in partnership with BOSCH –a company known for their automotive safety systems.
Spyder VSS integrates anti-lock braking, traction control and stability control for a safer ride even when circumstances become less the ideal.
Final Thoughts
If like me, you come from a background of riding motorcycles, know that the Spyder is nothing the same. BRP is in fact working toward creating opportunities for future Spyder riders to do their licensing tests directly on a Spyder as the traditional motorcycle riding skill tests aren't completely applicable to a trike.
It's important to stress that riding a Spyder requires some learning and adapting to a skill set that's more akin to managing an ATV than a bike. With the right knowledge and some experience, a Spyder can be a properly amazing machine to call a daily commuter that can double as a getaway tourer.
In my week with the Spyder RT Limited I got more head turns, thumbs ups, questions at stop lights than anything I've ridden or driven in recent memory. It may be hard for younger riders and die hard motorcyclists to wrap their head around, but the Spyder strikes a chord with a large group of our population who want the open air feel of riding without the risks of balancing on two wheels.
I may still be under 30 and love riding crotch rockets, but there's something incredibly alluring about the idea of riding a Spyder RT long distance. Having done 5,000+ km road trips on a motorcycle, I can tell you that if I do a Toronto to Patagonia journey one day, I want a Spyder RT as my steed.
Photographs by Kanishka Sonnadara for Allied Fusion Media.
For editorial inquiries, Kanishka can be reached by email at kanishka[at]oyetimes.com or on Twitter @autoKsS