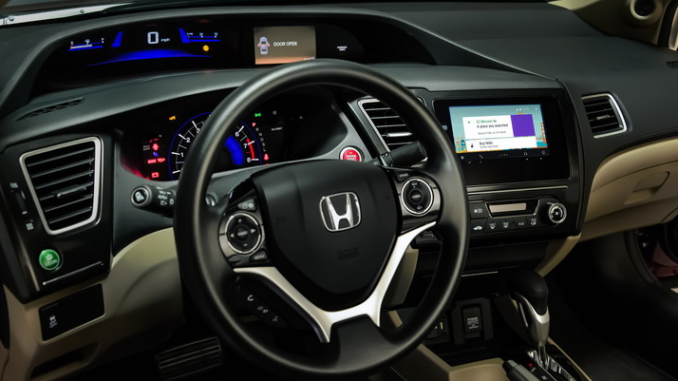 In a highly uncharacteristic move for an automaker, Honda has announced that they will be actively supporting third party software developers creating apps for Android Auto through a new facility in California.
Why is it uncharacteristic you ask? Because Android Auto isn't unique to Honda, or any one brand in fact. The freshly minted Google owned operating system (OS) is capable of running on a wide range of auto brands including future vehicles from Chevrolet, Audi, Ford, Chrysler, Dodge, RAM, Jeep, Mazda, Hyundai, Kia, Nissan, Volkswagen, Volvo, Subaru, Bentley and Mitsubishi amoungst others.
An extension of the Honda Silicon Valley Lab, the Honda Developer Studio consists of an online portal and a workspace/garage located in the San Francisco Bay Area.
Honda Developer Studio will enable app developers to test their Android Auto apps in a prototype vehicle environment and collaborate with Honda R&D teams. The goal is to help developers refine their ideas and accelerate the learning curve for newcomers to the automotive industry by encouraging them to consider 'automotive grade' engineering principles, as well as driver safety and privacy from the get go.

For those unfamiliar, Android Auto extends the Android smartphone user experience to a vehicle. The system's current highlights include making Google Maps and Play Music easily viewable on a vehicle's infotainment screen and controllable through steering wheel mounted controls.
That however, is just the tip of the iceberg.
By releasing the developer kit, Google expects the same sort of app variety found in today's Android smartphones to be available for future vehicles running Android Auto. Apps like Pandora, Spotify, Songza, Soundcloud, WhatsApp, TextMe and more are already available for Android Auto.
Automakers have long played at building in-car infotainment systems on their own. Each manufacturer developing their own versions and never with any uniformity. Third party app developers weren't much welcome in this world and they happily stayed away because of the complexities of writing software for systems that had no standardization.
It was the same in the world of mobile phones until iOS and Android took nearly complete control of mobile operating system infrastructures. This uniformity meant that apps could be written just once and would run on all devices running that OS regardless of device make or model. It seems Google is well on their way to making that a reality for consumer vehicles through Android Auto.
Although there aren't any vehicles on the market yet that runs the new in-car OS, Honda hopes to be on the front lines of integrating the new technology into their future vehicles.
As the Honda Developer Studio works with software developers to get new apps ready for the Android Auto marketplace, consumers win by having a wider variety and better developed apps to choose from when the OS makes it to production vehicles in the near future.
A company doing what's right for the consumer, what a concept. Kudos Honda, you done good on this one.
For editorial inquiries, Kanishka can be reached by email at kanishka[at]oyetimes.com or on Twitter @autoKsS