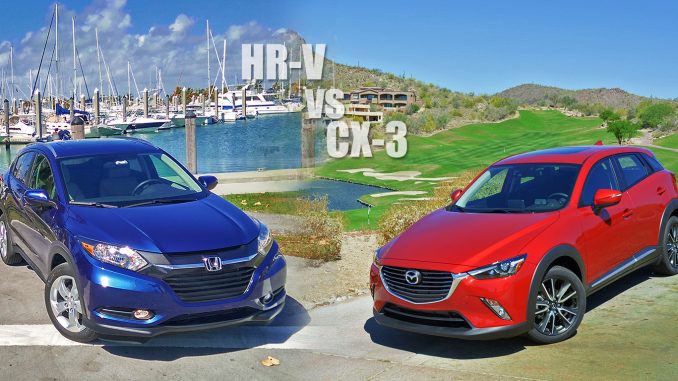 You can publish this article on your website as long as you provide a link back to this page.
This article was last updated on April 16, 2022
Battle of the subcompact crossovers, blow-by-blow, by the numbers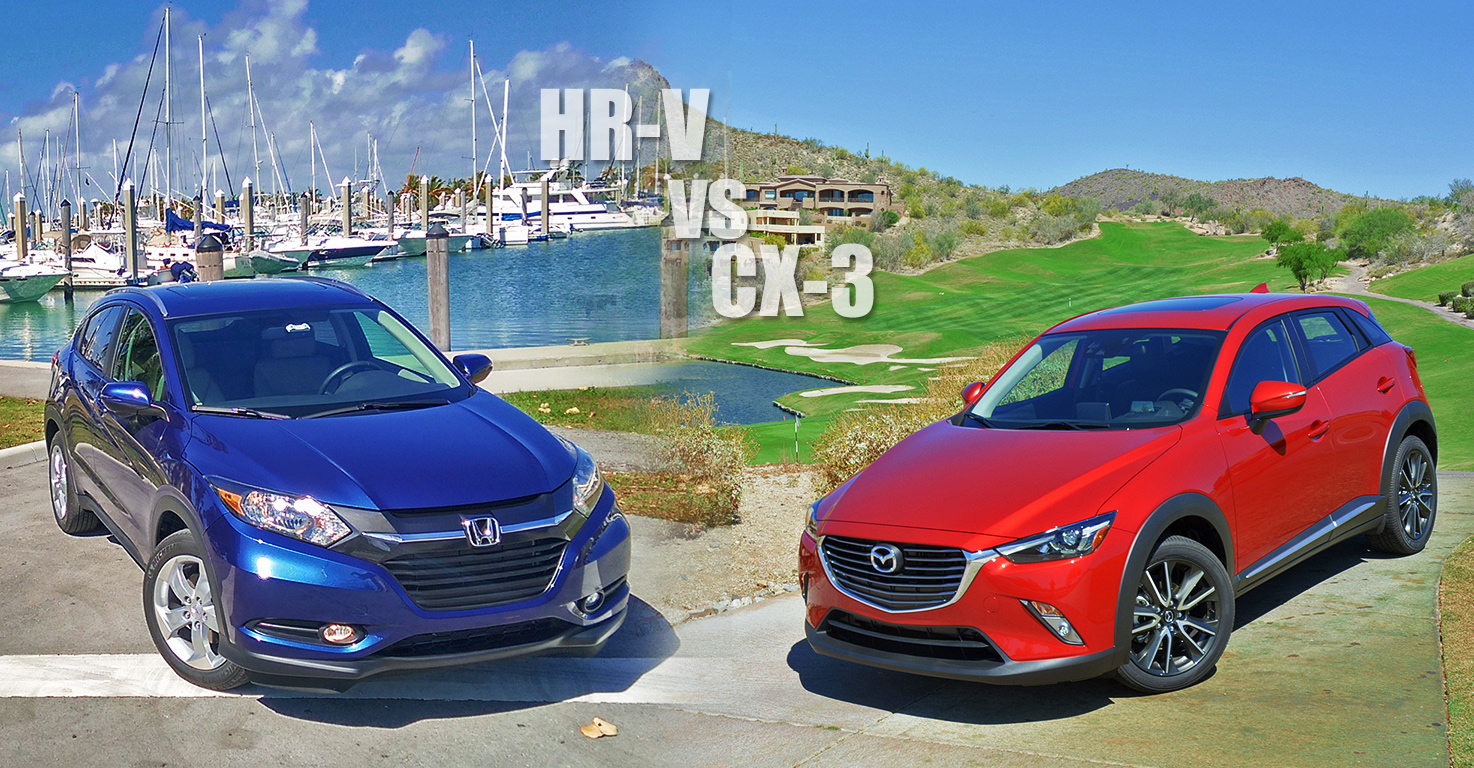 While folks are just getting used to the phraseology of what's what when it comes to SUVs, CUVs/crossovers, the industry has defined a new sub-category of the latter: the subcompact crossover.
From the stables of Honda and Mazda we get two of the freshest new additions to this segment: the 2016 Honda HR-V and 2016 Mazda CX-3.
Price
Let's begin with price, because it's an unbelievably close battle here. Honda swings the lowest MSRP with a base trim HR-V priced at $20,690. For literally $5 more, the base trim CX-3 kicks in at $20,695.
Fully kitted out, the HR-V and CX-3 top out at $29,990 and $30,495 respectively.
There's more to it than that however, the HR-V LX FWD (base trim) has a 6-speed manual transmission. The CX-3 GX FWD (base trim) has an automatic 6-speed transmission. To get an automatic with HR-V buyers will have to spend another $1,300. Score one for Mazda.
Keen readers will no doubt be thinking now, where's the manual transmission, the stick shift, the row-your-own on the Mazda? Well, there isn't one; at least not for model year 2016 in Canada.
Powertrain
Since we're on the topic, let's talk transmissions for a moment.
The HR-V offers either a 6-speed manual or an automatic Continuously Variable Transmission (CVT) on base LX and mid-grade EX trim levels. Top-end EX-L trim is CVT only. With the manual shifter, the relatively docile HR-V is plenty fun to drive. That said, the CVT is the more fuel efficient option, but fun isn't anywhere to be found with one.
CX-3 offers no transmission choices, you're getting an automatic 6-speed no matter which trim you choose. Opt for the top-end GT trim and column mounted paddle shifters make an appearance. Coupled with a user activated sport mode that rev matches on downshifts, the CX-3's automatic transmission is a real treat. It's almost like you won't miss the stick shifter, almost.
Score another point for Mazda, when it comes to an engaging automatic transmission, you'd be hard pressed to find one better in the compact crossover segment.
Both vehicles are powered by naturally aspirated inline 4-cylinder engines.
While the HR-V opts for a 1.8 L, the CX-3 goes for a 2.0 L unit. Horsepower figures on both are closely matched with Honda's motor managing 141 hp while Mazda coaxes 146 ponies from theirs.
Torque figures create separation for the two models, with HR-V producing 127 lb-ft while CX-3 does a grin worthy 146 lb-ft. It gets even better for Mazda here with peak torque being available earlier in the powerband at just 2,800 rpm. It's 4,300 rpm with the Honda motor.
Weight and power-to-weight
When comparing small vehicles, with small power, weight always matters. Outright, the 2016 Mazda CX-3 is the one with the advantage here. It weighs in at 1,275 kg for FWD and 1,339 kg for AWD models. The 2016 Honda HR-V comes in with figures of 1,314 – 1,325 kg for FWD while AWD models can range from 1,320 – 1,413 kg depending on trim level.
During the launch of the crossover earlier this month, lead project engineer Stan Hortinella credited Mazda's new compact component designs for the lightweight CX-3. Among others, these systems include: a new smaller AWD system specific to CX-3, a smaller 6-speed automatic transmission, a new lighter power steering system, and a more compact 4-2-1 exhaust.
So the CX-3 has more power and weighs less. To make an easier comparison, here's a quick look at how the two crossovers compare on power-to-weight ratios–lower numbers are better.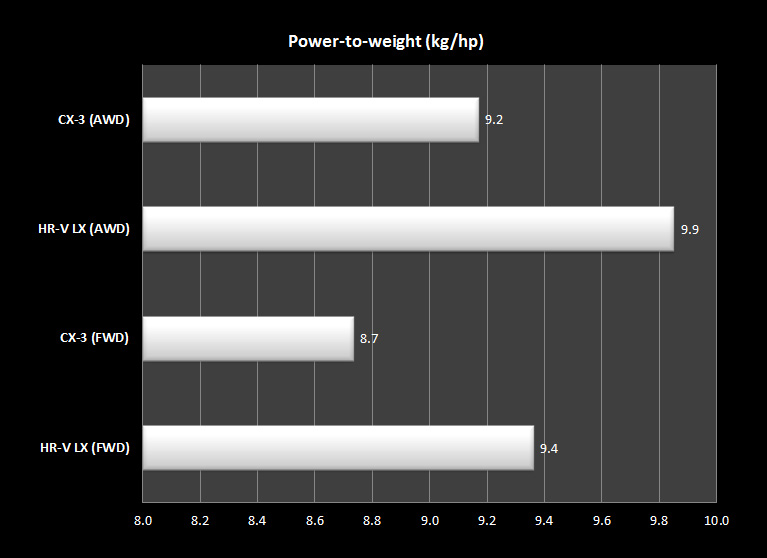 Each of CX-3's horses has to move a few hundred fewer grams than the HR-V. This makes Mazda's crossover feel more powerful despite only having 5 more hp in total. All of this power-to-weight measurements becomes abundantly clear when the crossovers are driven spiritedly.
More power, less weight, there's no hesitation from the judges, this round goes to CX-3.
Fuel economy
Typically weighing less would lead to better fuel economy. With the HR-V Honda tells us otherwise and posts fuel economy figures that go toe-to-toe with that of the CX-3.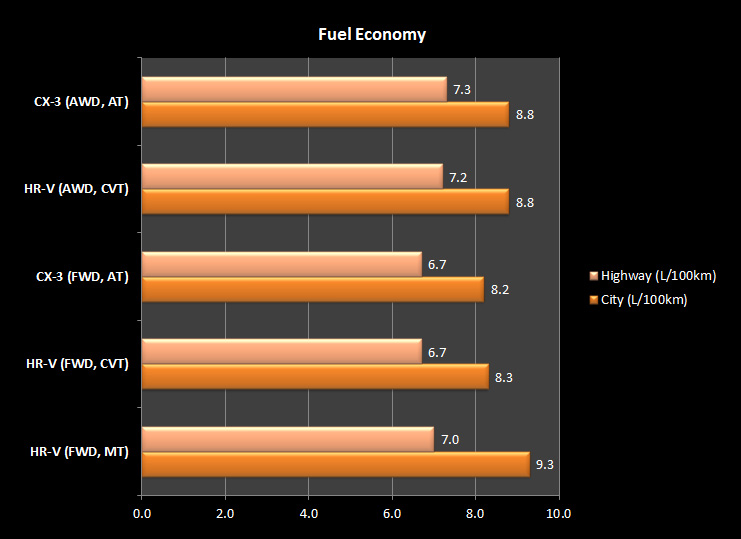 Honda, the company ever known for their legendary engines, credits HR-V's fuel economy figures to balanced engine design and tuning along with the use of a high efficiency, low friction CVT.
Cabin space and utility
Shopping subcompact crossovers in search of cabin space would seem a fool's errand, but both vehicles can deliver in this department. One, significantly more so than the other.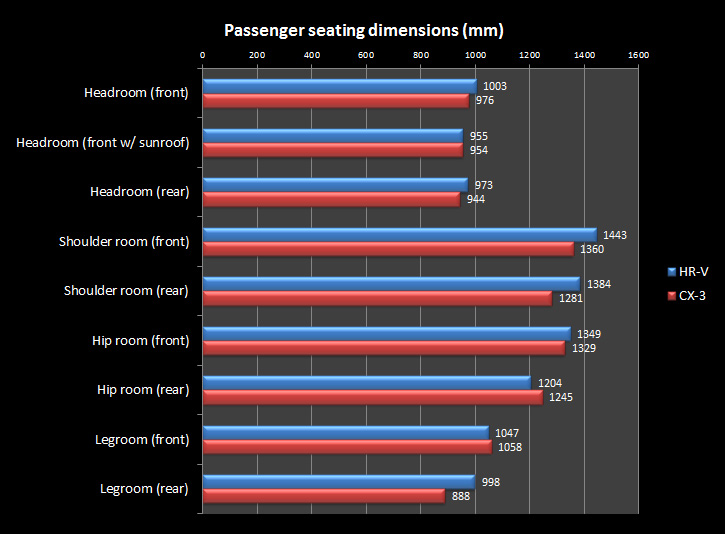 A quick glance at the chart above and it's clear that the HR-V leads the CX-3 on passenger seating space in all but two of the usual measurement metrics.
HR-V's lead on passenger seating space isn't significant sitting inside either crossover, except for when comparing rear legroom where it outdoes the CX-3 by a whopping 110 mm (over 4 inches).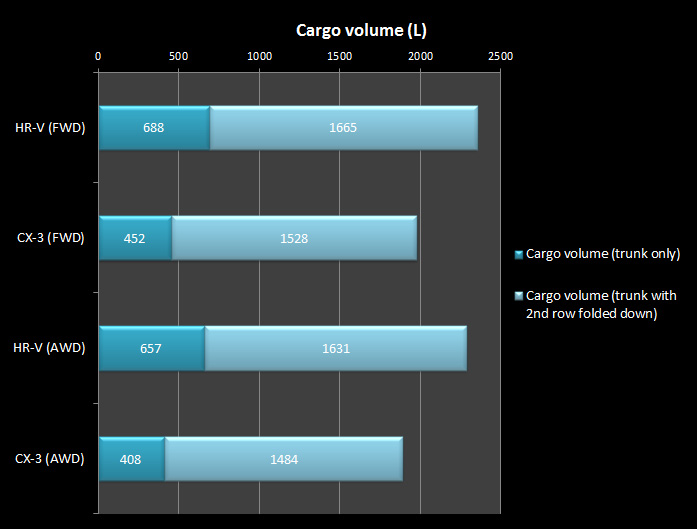 Cargo space is one category where Honda unquestionably pulls one over Mazda. The HR-V's cargo hauling abilities are unsurpassed in the segment–and that's before even considering the aptly named Honda Magic Seat.
HR-V utilizes a second row seat that can not only fold the back down, but can also fold the bottom seat cushion up. This opens up the second row storage space form the floor up to the roof. Honda calls this the Magic Seat and it was first introduced in their subcompact hatchback, the Fit.
CX-3 loses additional points on cabin storage with front cup holders that are pushed back too far while also lacking sufficient storage areas for things like smartphones. HR-V jabs its way in here again with a smartly laid out cabin inclduing a neatly placed split-level storage area positioned below the gear shifter.
I'd be remiss here to not quickly mention that all of the HR-V's controls are touchscreen based. In a word: dislike. I borderline loathe in-cabin touchscreens, especially when all the basic functions including climate control are based on touch–as it is on top trim HR-V. Without tactile feedback it's difficult at best to keep your eyes on the road while trying to change anything. CX-3 comes through marvelously here with a terrific control interface that combines a central knob/dial for infotainment and a few buttons with touchscreen only if the user wants to. Watch for a story on Mazda's new control layout (including the sublime HMI Commander) in the coming weeks.
Verdict
As the final bell rings, both of these subcompact crossovers have demonstrated strengths and weaknesses that are a byproduct of their manufacturers' intended use for them.
Honda set out to create a vehicle that offers something for everyone and utility that is unsurpassed in the segment. Mazda on the other hand focused on uncompromising style through design and a driving experience that is characteristic of the brand. Both vehicles deliver on these promises and together represent the best of what this new segmant has to offer.
There isn't a clear knockout in this fight, and we'd have to go to the judges on this one. Where do you stand, which traits are more important to you? Let us know in the comments.
Photography and graphics by Kanishka Sonnadara.
For editorial inquiries: kanishka[at]oyetimes.com
.