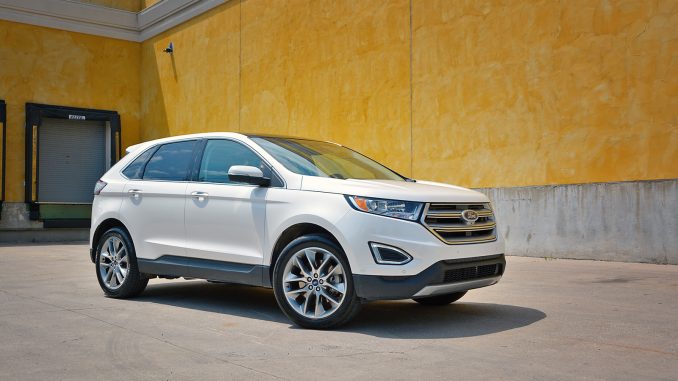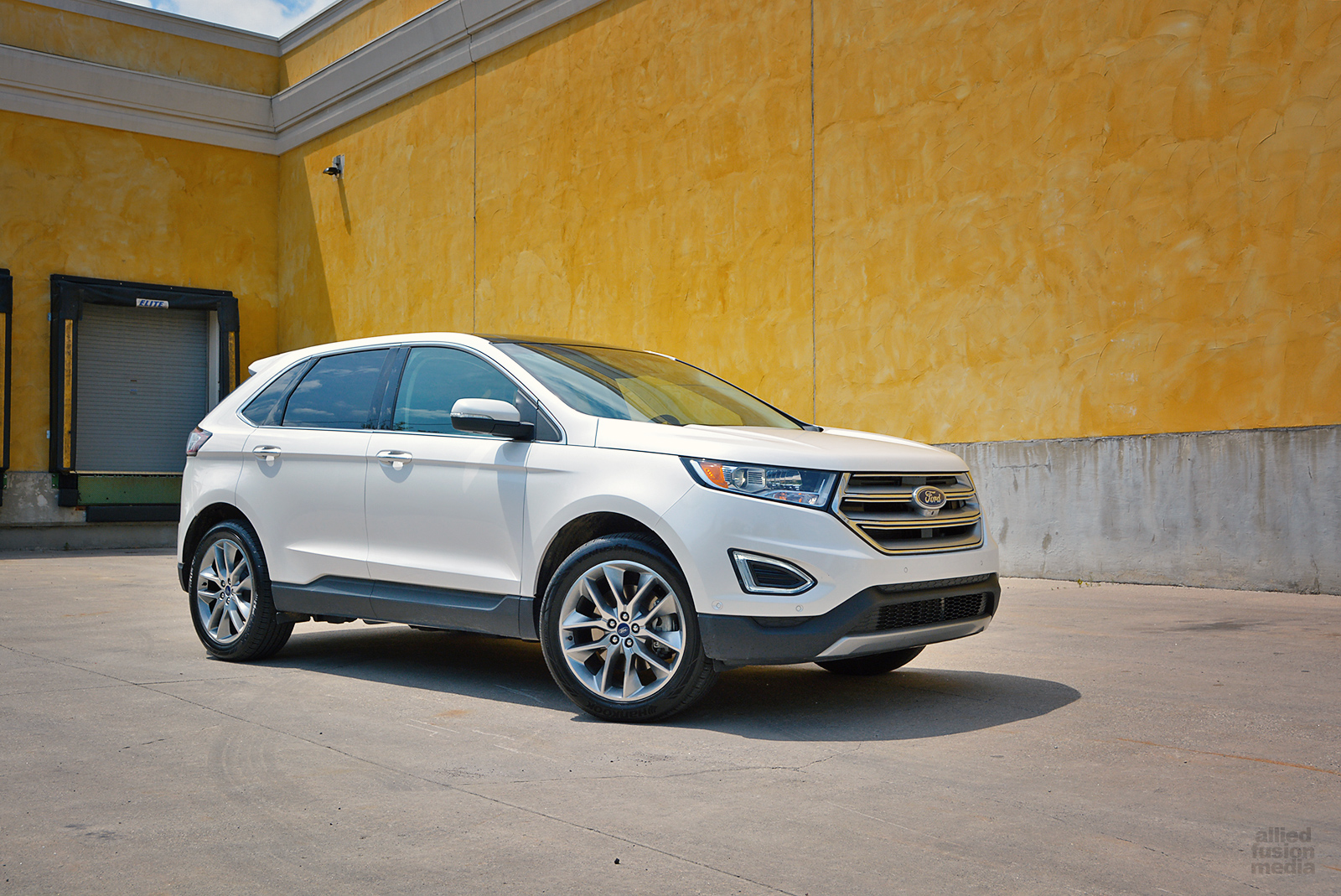 For 2015, the Canadian built Ford Edge sees the company's strong selling crossover with its newest and brightest tech features. After spending an afternoon with it, I come away with the impression that tech isn't the only thing Ford has going for the new Edge.
Power, Efficiency and Drive
Pick the right powerplant. Ford offers three options in the 2015 Edge: a turbocharged 2.0L inline-4, a 3.5L V6, and the best of the bunch, a turbocharged 2.7L V6. The latter, the most powerful, is capable of 315 hp and a stellar 350 lb-ft of torque.
It should go without saying at this point that the most efficient powerplant is the four-cylinder 2.0L motor which is good for 245 hp and 275 lb-ft of torque.
The naturally aspirated 3.5L V6 comes across as unnecessary in this powertrain lineup. Capable of 280 hp and a meager 250 lb-ft of torque, it is no more efficient than the more powerful 2.7L motor while being significantly down on power.


Put your foot down, and there's no question that the turbocharged (Ecoboost as Ford calls it) 2.7L V6 can be all kinds of fun. My only hesitation here is the noticeable hesitation the Edge has between when your right foot flexes and the vehicle responds. It may seem unnecessary, but if you're reading this Ford, please give us a 'sport' button in the 2.7L equipped Edge Sport that sharpens up throttle response.
It's worth noting that 3.5L V6 equipped Edge models are actually lighter than 2.7L V6 equipped models by up to 108 kg (238 lbs). Why? Because the 3.5L motor is an all-aluminum engine block while the 2.7L unit uses compacted graphite iron (CGI) block.
A six-speed automatic is the standard transmission across all 2015 Edge models.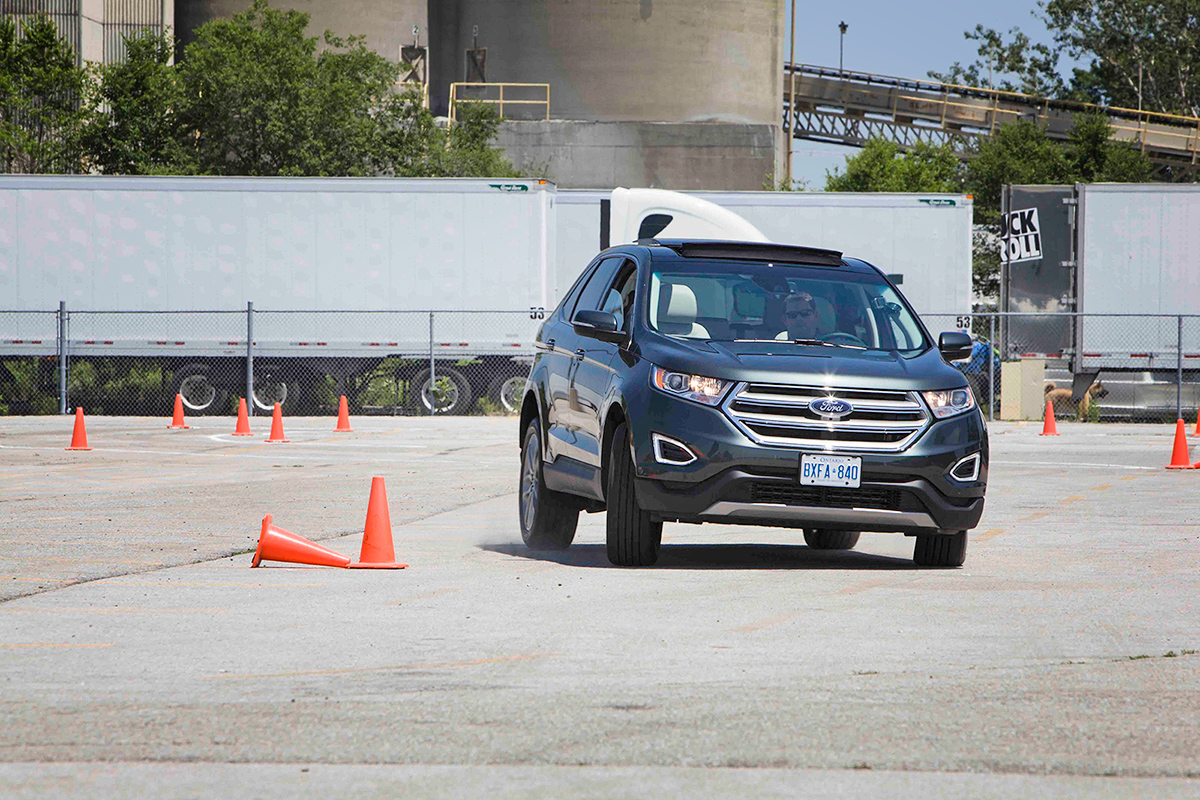 JD Shanahan, chief program engineer for Edge says: "With a structure more rigid than ever and a suspension tuned to the highest global standards, the 2015 Edge is a high-tech utility that delivers a special driving experience customers will feel from their initial moments behind the wheel."
Throw the Edge into a corner with gusto and the crossover stays planted and supremely confident despite it's 1,800 kg (4,000 lbs) curb weight. Understeer can be pronounced with FWD models, but this is where I remind you that we're testing a crossover, not a sportscar.
The long list of Tech
The aforementioned six-speed automatic transmission also comes with standard paddle shifters regardless of how basic your chosen Edge is. Paddle shifters however, are just the tip of the iceberg in the long list of tech features on the new crossover.
"The new Edge is a rolling showcase of Ford's commitment to developing and offering the most advanced technology in the business," says Shanahan. "Our customers have embraced technology – from smartphones to wearable devices that track their health – it's a part of their lives. We want to make technology a bigger part of their driving experience as well."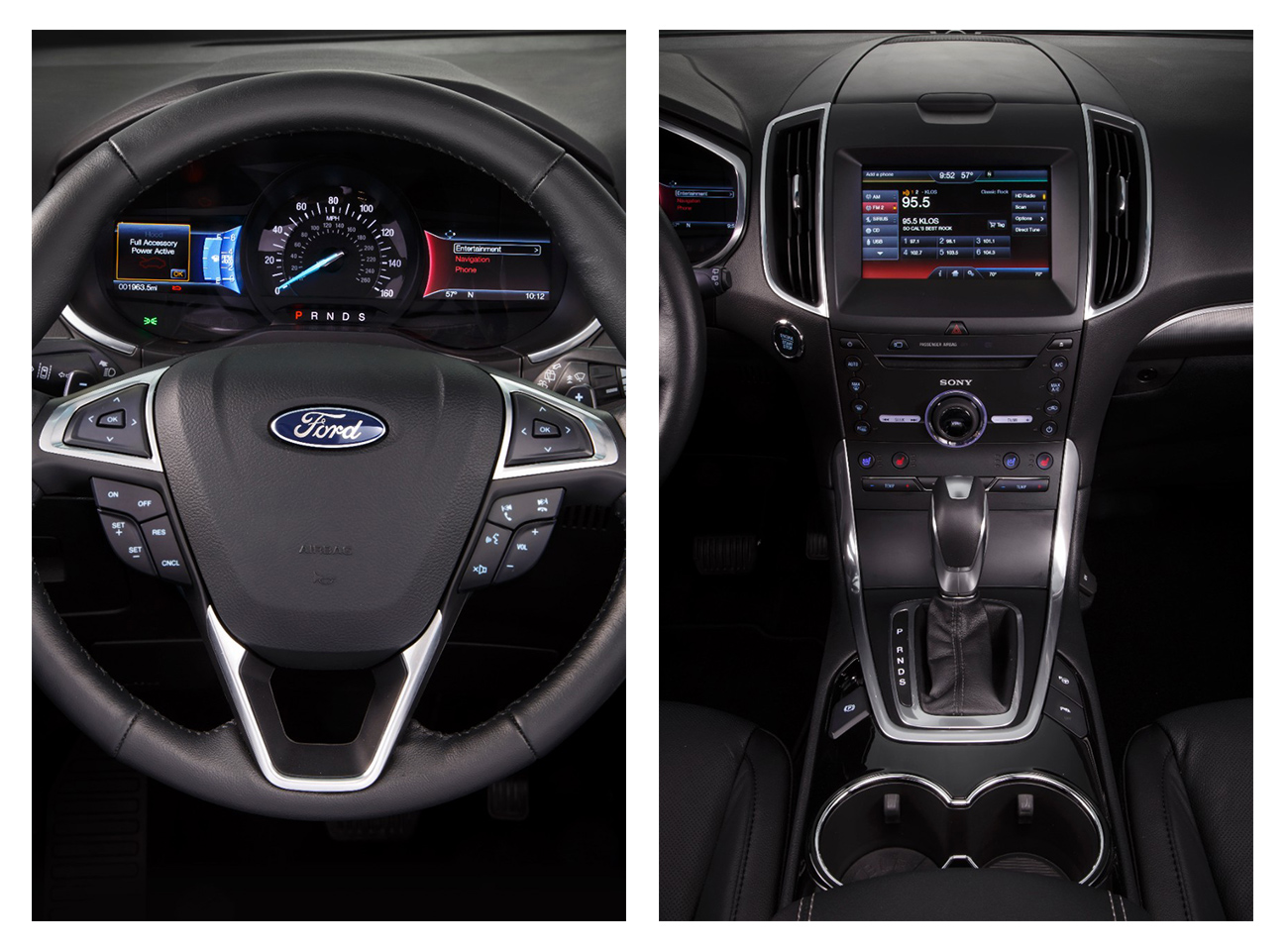 Key technology features in the 2015 Edge include:
– Active Grille Shutters: Helps improve aerodynamics, particularly at highway speeds
– Adaptive cruise control and collision warning with brake support: Uses radar to detect moving vehicles directly ahead and change the cruising speed if necessary
– Air Curtains: Creates a high-pressure curtain of air alongside the vehicle using smart duct work, improving aerodynamics at high speed
– Blind Spot Information System: BLIS uses radar to trigger a warning when another motorist is in the driver's blind spots
– Cameras: New 180-degree front camera with washer, standard rear camera
– Cross-traffic alert: Uses radar to help alert drivers to oncoming traffic when backing out of a parking space
– Enhanced active park assist: Builds on Ford's parallel parking technology and includes a system to guide the vehicle into a perpendicular parking space. The system can also steer the vehicle into and out of a parallel parking space
– Forward and reverse sensing systems: Provides audible alerts designed to help drivers avoid obstacles when parking
– Hands-free liftgate: Simple kick motion below center of rear bumper allows customer to unlock and raise liftgate
– Heated and cooled front seats, heated rear seats, heated steering wheel
– Lane-keeping system: Alerts driver to steer vehicle back into its lane if it has drifted
– Side parking sensors: Using algorithms, sensors measure speed and steering wheel angle to warn drivers of obstacles on either side of the vehicle during parking or low-speed maneuvers
– SYNC with MyFord Touch: Now available for more trim levels; standard on Edge Sport and Titanium trim
– USB fast-charge: a newer in-car USB charging standard auto makers have begun adopting where a phone chargers 2-3x faster than with USB connections found in previous versions of vehicles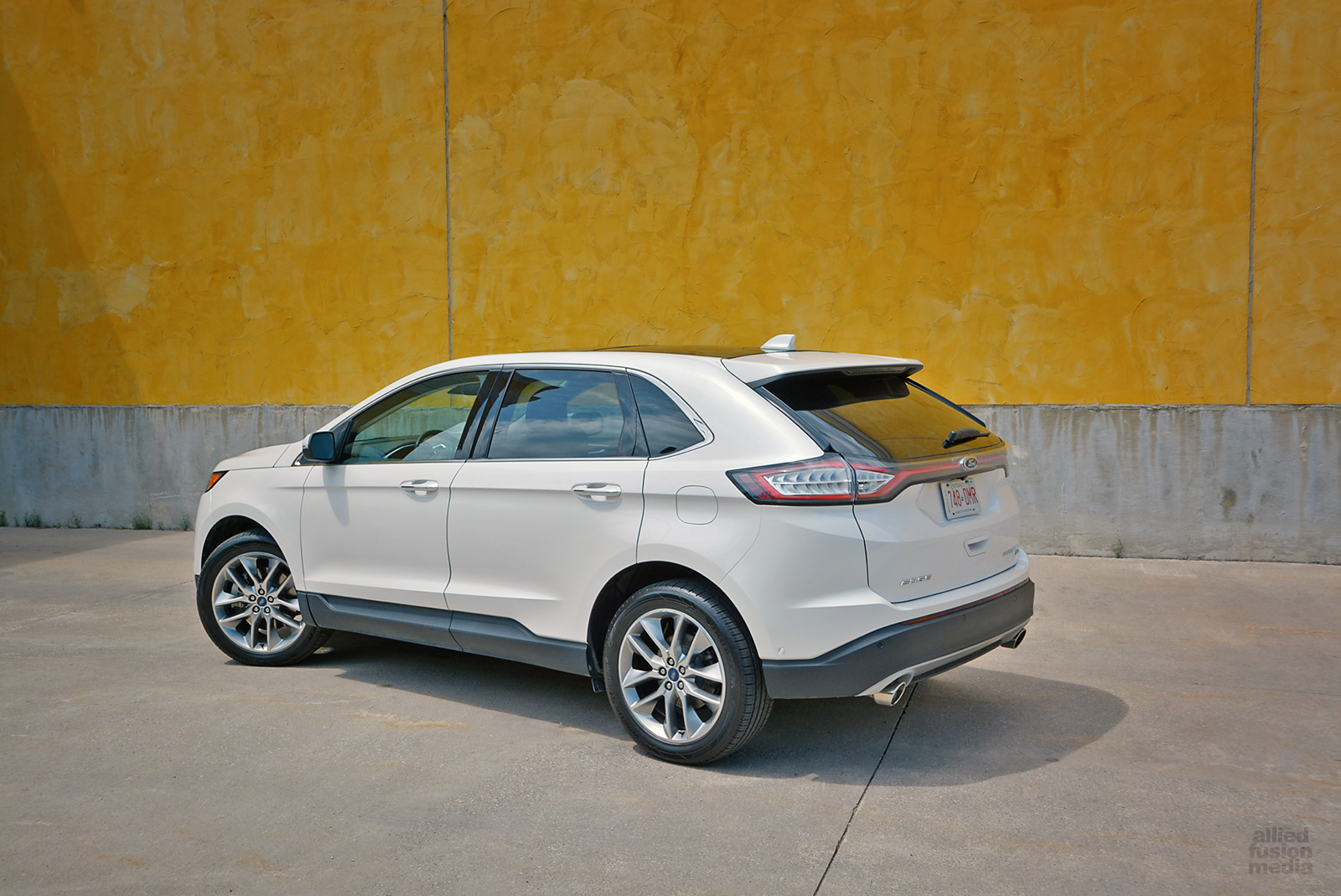 Ride and Comfort
Not only does the previously mentioned suspension provide a supple ride, engineers at Ford have made great efforts at making the cabin a quieter, calmer, smoother place to spend time in.
Standard across all trim levels, the new Edge features acoustic windshield glass, underbody panels and wheel liners designed to reduce road and wind noise. Titanium models also get acoustic glass on driver and passenger side doors.
Opt for the Edge Sport, and buyers will be treated to Ford's Active Noise Cancellation technology. Using three microphones placed throughout the cabin, the system generates opposing sound waves that are directed through the audio system aimed at enhancing overall cabin ambience.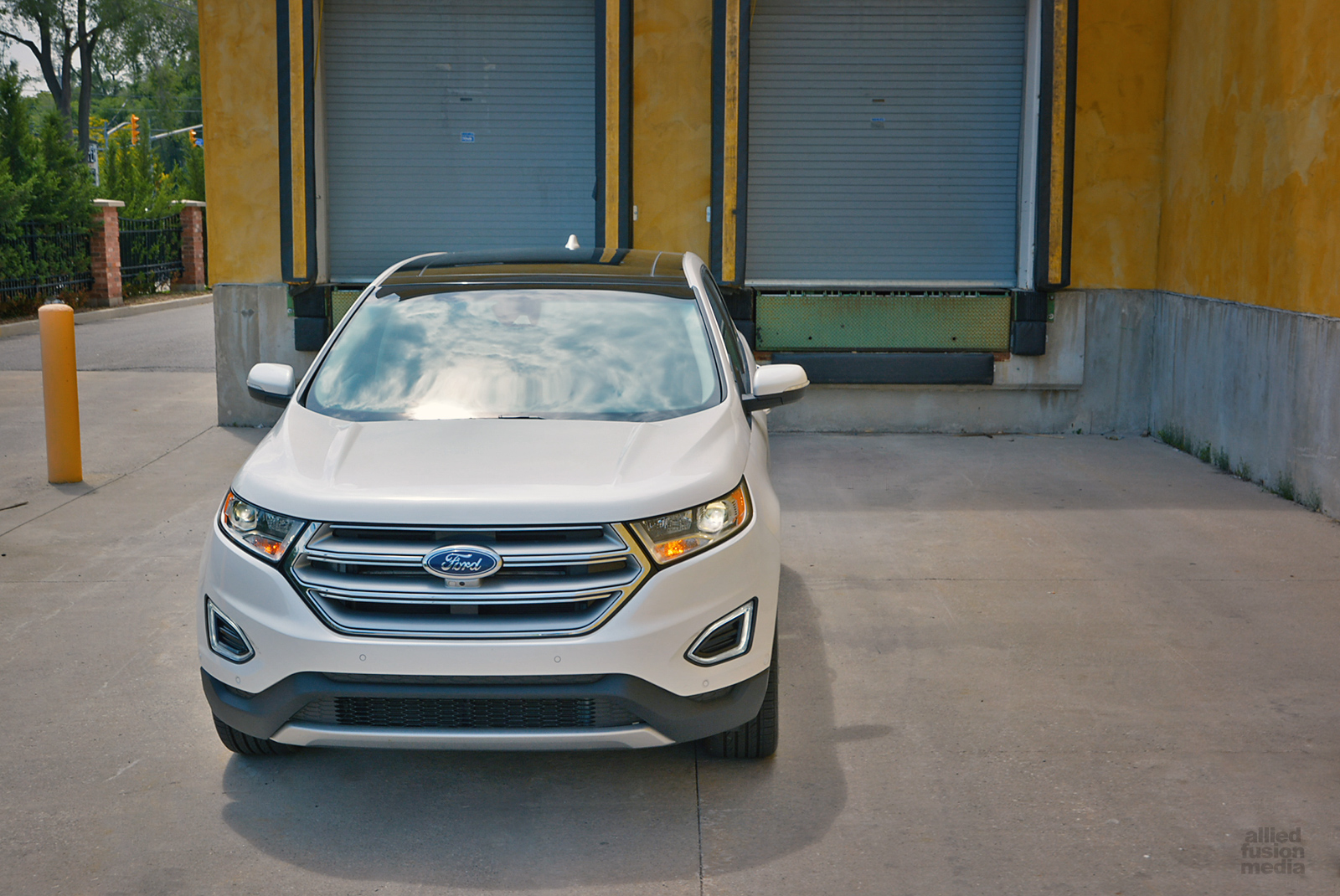 Final thoughts
When first launched in late 2006, the Edge was just finding itself in the fast growing crossover segment. Today, that segment is the largest in the world-wide automobile industry and the 2015 Edge is built on a global platform that is shared across over 100 countries.
From admirable powertrain choices to industry leading tech options and a distinctively pleasant ride, the 2015 Ford Edge delivers on nearly every front.
It's hard to fault a vehicle that offers such a variety of choice to the consumer and is a bit of everything for everybody. So that's exactly what I'll fault it for: it's too mainstream, too many people will like the new Edge. What a terrible thing that is.
Canadian prices start at $31,999 for base SE trim Edge with FWD and can top out at $45,199 for Sport AWD models.
Photographs by Kanishka Sonnadara and Ford Canada.
For editorial inquiries Kanishka can be reached at kanishka[at]oyetimes.com