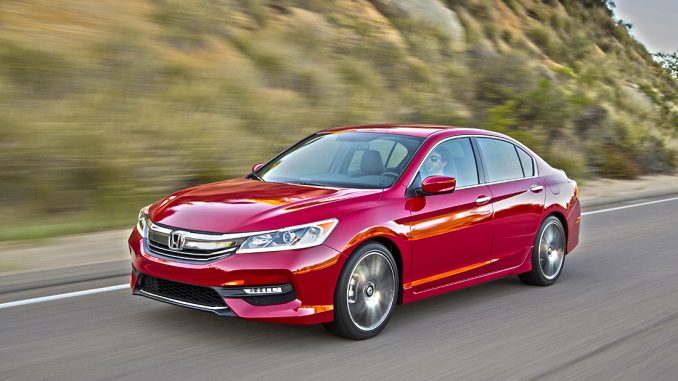 Some say there's too much technology in modern cars. With systems that are slow to respond, difficult to understand and use, in-car technology can often feel that way. With the 2016 Accord, Honda shows great promise in shattering the old norms as it firmly roots their midsize sedan as a contender for the future.
The obvious change to the 2016 Honda Accord is styling. It's not a complete redesign of the ninth-generation model from 2013, but at first glance, the two cars are as similar as pumpkins and pineapples. Up front the fascia is unmistakably modern Honda Accord, but the design update results in a car that looks far more sinister and aggressive than the outgoing model.
This new Accord works the technology angle on two major fronts: infotainment and active safety.
The age of smartphones and cars
Cue the singing angels. Google and Apple have arrived for your car.

Through Google's Android Auto and Apple's CarPlay, smartphones can now extend themselves to vehicles like the 2016 Accord in a way that was never possible before.
Android Auto works through a USB connection and an app on the phone; Android devices running operating system Lollipop 5.0 or higher is required. Once plugged in, the car and app immediately get to work loading the in-car interface on the Accord's capacitive touchscreen and even pairing up the phone's Bluetooth–which is often a hassle otherwise.
Users are encouraged to use voice control, which basically uses the phone's Google Talk feature and can do nearly everything your phone can do when using the "OK Google" function. For those who prefer, Android Auto's in-car interface allows for touch screen control of calling, music and basic navigation functions. On the app side, it disables all phone screen use while the phone is plugged in; forcing drivers to focus on the road instead of being on their phones.
Honda jumped on the Android Auto bandwagon early. Last year the company opened up the Honda Developer Studio, a space where smartphone app developers could test their software in both virtual and real world environments. Speaking to Honda's product planners, it quickly becomes evident that the company is committed to the future of in-car infotainment as seen through the eyes of Google and Apple.
Apple's answer to Android Auto is CarPlay. Users will need an iPhone 5 or later running iOS 8.3 or higher is what Honda recommends. The system currently works in a manner similar to Google's with a few key differences. CarPlay allows for full use of your phone even when the device is plugged in, leaving the decision of when to use the device up to the driver. While Android Auto uses the powerhouse Google Maps, CarPlay uses the iOS staple, Maps. There are the obvious interface layout differences, and although I'm quite obviously a fan of Android, I have to hand it to the slightly better layout and user-friendly nature of the CarPlay interface.
Both Android Auto and CarPlay are paired to the 2016 Accord's 7-inch Display Audio System and is standard kit on every trim level, even base LX and EX models.
A first for Honda, the top trim Touring model Accords also feature wireless charging. Wireless charging capability is currently only available on select newer smartphones, but any older model can be retrofitted to accept wireless charging through third-party accessories.
Democratizing safety technology
Honda first introduced components of their active in-car safety systems for the 2015 CR-V and the full suite with the 2016 Pilot. Known as Honda Sensing, this collection of technology is not only a showcase of the company's greatest technology achievements to date, but a peace of mind for anyone sitting behind the wheel of a vehicle equipped with it all.
Honda Sensing consists of Forward Collision Warning (FCW), Lane Departure Warning (LDW), Lane Keeping Assist System (LKAS), Road Departure Mitigation (RDM), Adaptive Cruise Control, and Collision Mitigation Braking System (CMBS).
In an unorthodox, but brilliant move, Honda offers this full suite of systems as an add on to even base trim 2016 Accords. Honda Sensing is available as an $1,000 option, on LX and Sport Accord sedans and EX Accord coupes. All higher trim levels come with Honda Sensing as a standard feature.
Making a vehicle's best safety kit available on any trim level is an unparalleled move in the auto industry and one that we should wholeheartedly applaud.

Much more than a family sedan
The 2016 Accord is a more capable driver's car than before thanks to stronger body rigidity, upgraded front and rear suspension components, bigger front brakes, more dynamic steering and small weight reductions like a lighter aluminum hood–available on the sedan only.
Powertrains are carried over from last year, a 2.4L 4-cylinder motor and 3.5L V6 mated to either a six-speed manual, six-speed automatic or optional CVT. Small fuel economy improvements are promised on 4-cylinder models where the engine receives small tweaks for more efficiency.
Honda's six-speed manual shifter, is by far one of the most satisfying row-your-own transmissions on the market today. The company say they expect 10-15% of 2016 Accords sold will be equipped with manual transmission.
Factory 19-inch alloy wheels are a first for the Honda Accord and come standard on Sport and Touring trim models. New LED daytime running lights and LED taillights are now standard across the lineup while higher trims also receive LED fog lamps.
In the cabin, the 2016 Accord is a symphony of darkness. From glossy finishes and silver accents to simulated carbon fibre panels, everything feels good to the touch and melts away quietly to the background leaving just the key driver information and control elements to draw your attention. This may not be the very best cabin in its class, but the Accord is a quiet, comfortable and inoffensive space to spend time in.
The 2016 Honda Accord is on sale now and ranges from $24,150 for a manual transmission LX model sedan to $35,790 for an automatic equipped Touring V6 model. Coupes range from $27,090 for manual EX to $36,830 for automatic Touring V6.

Images courtesy of Honda Canada