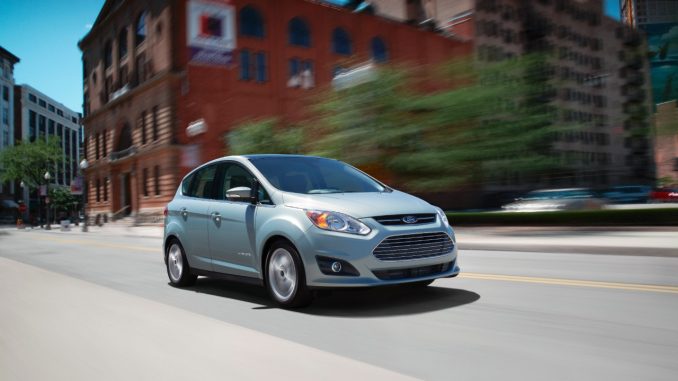 I've been a fan of Ford's C-Max wagon ever since it entered the North American market for the 2013 model year. I like it not because of its 0-100 km/h acceleration time or handling characteristics, but because of its simplicity. Cars can often be a ton of fun, but for a lot of average Joe and Janes, versatility trumps everything else.
While fuel prices are currently keeping steady at a (relatively) reasonable price in Canada, fuel economy is still undoubtedly a high priority for drivers. Ford's answer for those who want a vehicle that's both user-friendly and fuel-efficient is the vehicle I drove recently, the 2016 C-Max Energi.

"Energi" denotes Ford's electric lineup
All Ford vehicles with the "Energi" moniker denote a model that can be plugged in for electric-only power. The C-Max is what's known as an extended-range EV, meaning it can go for a short time on electric power, but it has a conventional internal combustion engine that kicks in when electric power is no longer available.
To the driver who does little more than commute to and from work five days a week, but loves to go on weekend adventures, it's the best of both worlds. As long as you live within 15 kilometres of work, the vehicle's approximately 33 km EV range can get you to and from your place of business without using a drop of gasoline. After that's used up, there's still hundreds of km of gas-powered range after that according.

My apartment building unfortunately isn't equipped with plug-in stations, so the only charge I used during my week with the C-Max Energi was what was available when I picked up the vehicle. Even so, of the 428 km I drove, 156 km used only electric power. That means more than a third of my total mileage was done in EV-only mode – impressive to say the least.
Versatility isn't overlooked
The C-Max Energi is good for other reasons too. Its wagon bodystyle allows it to swallow all kinds of stuff, even with the lithium-ion battery pack impeding noticeably on the cargo area. The seats are supportive and comfortable, and there's plenty of room for four passengers to sit comfortably (although there are enough seatbelts for three passengers in the rear bench).
The vehicle is equipped with a 2.0-litre naturally-aspirated engine, mated to a continuously variable transmission. As I alluded to earlier, this is by no means an exciting setup, but you can be sure it'll help keep your trips to the gas station minimal. The vehicle also takes regular fuel, so to reiterate one more time – the C-Max Energi is really, really efficient.

All sorts of available technology
For the driver who loves his or her fill of technology, the C-Max Energi comes available with an option package that includes all sorts of goodies to help make life easier. It costs an extra $3,695, but includes things such as Ford's new SYNC 3 infotainment system, navigation, parking sensors, heated and leather-trimmed front seats, and more.
I'm a fan of a lot that SYNC 3 has to offer – its menus are simple enough to navigate, and the voice activation stuff really does help to keep the driver's hands on the wheel, as do the handy directional pads on both sides of the steering wheel. I just wish the software itself was more responsive to touch inputs – it's not a huge thing, but it would help the system feel more advanced.

Forgoes style for substance
Beyond SYNC 3 and a few new exterior colours, the C-Max Energi is essentially a carryover from the 2015 model year. It may not be the coolest ride on the road – I tried giving "the wave" to a fellow driver of an extended range electric vehicle behind the wheel of a Chevrolet Volt, and he didn't even glance over at me – but it doesn't have to be.
This C-Max is plenty fuel-efficient, and when properly equipped can offer a healthy dose of high-tech stuff for the techno-phile. It may not turn heads, but the savings at the pump are sure to make up for the lack of attention.
Images courtesy of Ford.