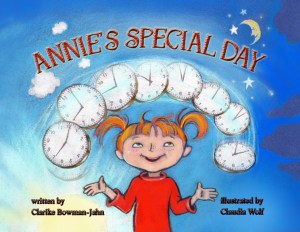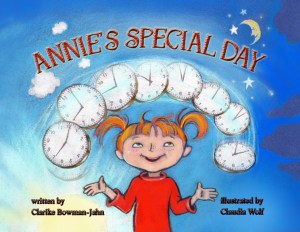 Paul Collins: Today we have Clarike Bowman-Jahn introducing her Children's book, "Annie's Special Day". I haven't read this book myself, but Clarike Bowman-Jahn was kind enough to agree to do an interview about her book to any readers who might be interested in the subject.

Clarike: how would you describe your book to your prospective readers? In broad terms, what is your children's book about?
Clarike: The elevator speech I have for this is that "Annie's Special Day" is a children's book about time and clocks and how a little seven year old girl celebrates her birthday with an adventure every hour.

Paul Collins: What themes does your book explore and what do you hope the reader will take away from the experience? Is there a particular feeling or experience that you hope to evoke in the reader? Essentially, do you hope your book will mean to a reader?
Clarike: The overarching theme is Annie's celebration of her birthday in a whole day and night segment of time and the fun she has with it. Each hour is represented by a different clock, ie watch, living room clock etc. I hope the readers will have a better understanding of time and hours in particular. This is a basic concept book for ages four to seven.

Paul Collins: What prompted you to write this book and did you have a specific inspiration in mind? Were you influenced by a certain author or work that inspired you to add your voice to this genre? What motivated you to write this book?
Clarike: One morning as I lay weak and recovering from a fever I heard the morning birds singing outside my window starting at four am. First it was the crows then the more musical birds and they were so beautiful I wanted to record it somehow. Always a writer, I started writing it down. How the birds came out and in what order. Then I started writing a child's story book from it soon wanting others to critique it and then wanting it published. I worked on it for over a year along with my kindergarten teacher sister and must have rewritten it a hundred times each time improving it. Finally it was good enough to have an editor look at it and then I took it to a writing class I was taking and got even more input on it

Paul Collins
: If you could compare your book to any other existing works, which ones would it be and why? If the one thing you could say to a prospective reader was, "If you like X, you'll love my book!" which work would be invoked so that a reader could judge whether or not your children's book is their cup of tea?
Clarike: Other books similar to mine are "The Clock and the Mouse: A Teaching Rhyme about Time" by Sandy Turley, Sara Peterson and Brian Lindstom. Mine doesn't rhyme and there are no facts about clocks but the way the story is about each hour is similar. Another rhyming book is "The Clock Struck One: A time Telling Tale (Math is fun!) by Trudy Harris and Carrie Hartman, This book also has back matter which includes facts about clocks and basic info about telling time. My book, instead of animals deals with a real child having real experiences in her life every hour rather than a romp through the barnyard. My book does not have facts about time or clocks but has an audio link on the back where a child reading this can follow along. It is easy for a child to read to himself and it is easy for the child to identify with the main character of Annie.
Paul Collins: Is this your first or only published work, or have you published other book?
Clarike: I do not have a large repertoire of published works. Three of my flash fiction stories appear in the anthology of "Champaign Challenges 2011" collected by Rachael Harrie and edited by Katharina Gerlach available on Amazon. One is a children's story, one is a piece of fiction and one is a piece of creative nonfiction. Other than recipes and an essay in a newsletter, I have not been published because I am just starting out.

Paul Collins: Where can readers obtain a copy of your children's book for them to enjoy? How can they contact you with any thoughts or questions? And do you have a means by which they can "sign up" to be notified when your next book or writing comes available?
Clarike: You can buy "Annie's Special Day' from the eTreasure's web site or from amazon. If you are interested in the anthology that too is available from Amazon. I blog at
http:://clarbojahn.wordpress.com/
and my twitter handle is @Cbojahn. You can also reach me at Clarikebowmanjahn at yahoo dot com.
Since this is a children's book there is no first chapter but I would urge you to look at
www.Claudiawolf.com
as the illustrator of the book's web page.
You can contact me at Clarikebowmanjahn at yahoo dot com. Or my twitter handle, @Cbojahn.

There will also be Amazon on Kindle editions. Thank you, Paul. It has been an honor to have been interviewed by you.

Oh, no. Thank you! All the best!

Paul Collins, author of Mack Dunstan's Inferno/ Mystery of Everyman's Way
Article viewed on Oye! Times at www.oyetimes.com