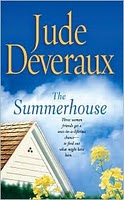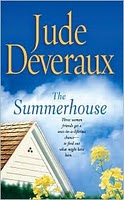 Have you ever wished that you could re-write your life? I can hear many Ahs! & If Only's! Jude Deveraux takes you through a journey that gives you hope, excitement & entertainment.
The Summerhouse is the story of 3 women Leslie, Madison & Ellie who had met 20 years back in New York, the fact that they share their birthdays gives them a reason to bond like old friends. All of them are on the brink of a journey to realise their dreams, they share their stories, dreams & aspirations and move on.
Some 20 years later at the behest of Ellie they meet at "The Summerhouse" to bring in their 40th birthday. They meet only to realise that each of them is far away from their dreams & life hasn't gone as they had planned.
Leslie, a housewife who had left everything for love now ponders "what would have been her life if she had chosen differently".
Madison who had left her modeling career to nurse her childhood boyfriend, who had once jilted her, wonders "what if she has chosen not come back."
Ellie a bestselling novelist has lost all her wealth in a bitter divorce & is now struggling to come out of her depression. She is trying to write a novel but inspiration alludes her. She too wonders "what if she had done things differently".
During their stay at The Summerhouse they meet a mysterious lady called "Madam Zoya" who promises to rebuild their lives albeit with few conditions
They need to choose a point of time of their life where they would want to go back & thereon can re-live the new life for 2 weeks. And at the end of the 2 weeks they have an option to choose
The new life & forget every thing from their past
The new life but remember the past
To continue living their life as they were but remember these 2 weeks.
To continue living their life as they & forget these 2 weeks.
What starts as a time pass & disbelief turns out to be a journey which changes the lives of these 3 women. Empowered with a knowledge of what is about to happen these ladies re build their lives and how.
A tad unrealistic but the book leaves you with a hope that we are the architects of our lives if only we have the will power & wish to make it the way we want it. An entertaining fast paced read good for a rainy day or while traveling.
This book was picked purely on instincts and is one of those rare books which I have read in the book store itself 😀
My Rating 3 on 5
Price: 270/-
Publisher: Pocket Books
Click HERE to read more book reviews.