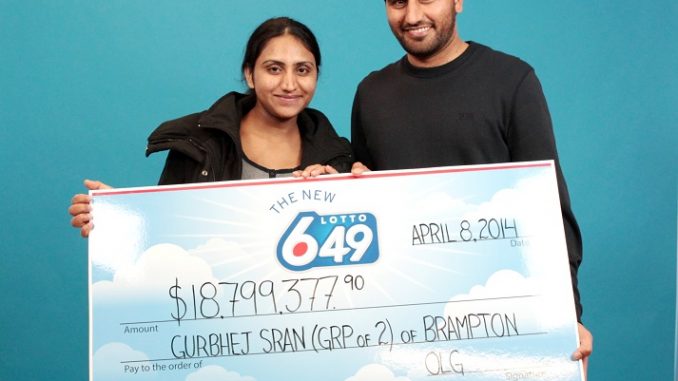 Brampton residents, Jaspreet and Gurbhej Sran, are still grappling with how their world has changed, literally overnight. From being a couple, they're now new parents, from being middle class, they're now new millionaires, all in a span of 3 weeks.
Never having played the lottery back home, the couple only bought the ticket here, because Jaspreet was pregnant, and it is popularly believed that a new baby could bring prosperity to the home. On the advice of a friend they bought a Lotto 649 ticket from Mac's on Peter Robertson Boulevardin Brampton, which won them a Free Play. It was that Free Play that won the Srans the $18,799,377.90 jackpot from the March 22, 2014 LOTTO 6/49 draw
The couple migrated toCanadafrom the state ofPunjab,India, over 3.5 years ago. Gurbhej works as a truck driver here, while back home he was a farmer. Jaspreet was an accountant who came toCanadato study for an accounting diploma atSheridan. Living in a rented basement apartment, with a baby on the way, the couple applied for a visa for Jaspreet's mother to come and support the family during this happy but challenging time, but they could not afford to bring her toCanada. Winning the lottery has changed all that.
They remember the moment of the win with happy smiles. Jaspreet decided to go with Gurbhej to check the ticket, with an unexplainable feeling that they were going to win something.
"I had a feeling we should go to the store and check our ticket," shared Jaspreet, as the couple collected their winnings from the OLG Prize centre inToronto. "The self-checker said 'Big Winner, see retailer,' so we thought maybe we'd won $10,000. We were so surprised to find out it was much, much more!"
Cradling their one-week old baby, the sleep-starved new parents haven't had time for future planning. Definitely, they want to get their parents to come toCanadato share in their joy and to help with the little one. They are reassured that the baby's future will now be secure. With Jaspreet's background in finance, investing is also top priority, as is buying a home. Hardworking and God fearing, Gurbhej plans to buy his dream truck and continue working, and is also keen to reach out to the less fortunate in Canada and in India.
The moral of this fairytale ending? Someone's going to win the lottery, it could be you.