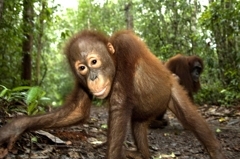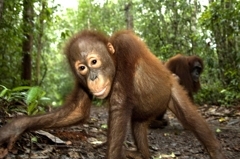 Orang-utans have lived in the forests of South East Asia for over a million years. Yet, due to the action of mankind, their immediate future is extremely uncertain.
Infant orang-utans sound remarkably like human babies. In fact, orang-utan even means "person of the forest" in Indonesian. They are one of our closest cousins, made all the more endearing by their shaggy red hair.
But they face huge threats – the most serious of which is habitat loss. Indonesia has the second highest rate of deforestation in the world. In around a decade's time only 2% of its forests could remain if we don't act now. Protecting their habitat is the only way to secure a future for them in the wild.
FFI is working hard to conserve their forest home in West Kalimantan, on the Indonesian side of the island of Borneo. We've set up orang-utan protection and monitoring units, consisting of community members and forest rangers, to patrol critical orang-utan areas in two national parks in this province, Gunung Palung and Danau Sentarum. This was the first community-based protection unit for orang-utans in Indonesia.
1. Protect the endangered orang-utan.
2. Protecting orang-utan habitat from deforestation.
Donations Go To

Paul Collins, author of Mack Dunstan's Inferno
Article viewed on Oye! Times at www.oyetimes.com